61% say Energy-Saving is most popular reason for replacing windows & doors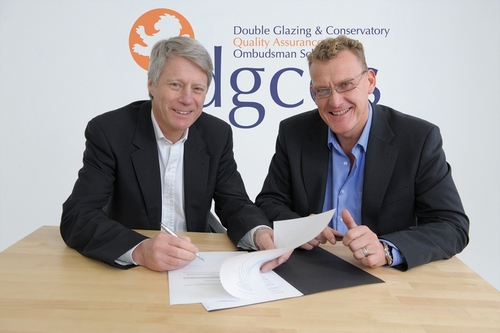 Manchester, United Kingdom - DGCOS (The Double Glazing and Conservatory Ombudsman Scheme) commissioned a survey by Opinium Research , which revealed that 61% of homeowners now consider reducing energy bills as the most popular reason for replacing windows and doors. This radical change constitutes a major shift in consumer priorities. Over the last 30 years homeowners have usually cited improving the comfort or look of homes, or improving security as their top reasons. Now the next most important reasons trail 18% behind energy-saving in the survey: 43% say making their home more comfortable is their most important reason, and 42% say it is making their home look better.

This summer, newspapers were full of headlines of soaring domestic energy price increases which may have prompted homeowners to give energy-saving as their number 1 reason for replacing their windows and doors.

Tony Pickup (DGCOS Founder) says "Energy-saving used to be an accidental by-product of installing new windows and doors; it wasn't even on the radar but suddenly it's front of mind because of rocketing energy bills this summer: gas prices rose 22% and electricity prices rose 12%. People living in outlying areas are particularly hard-hit and almost being held to ransom by a price hike of 28% in heating oils since last September, so homeowners have grasped an important message that more energy-efficient windows and doors will help them cut fuel bills."

In response to continuing consumer misery highlighted in TV programmes such as Rogue Traders and Cowboy Builders, Tony Pickup founded The Double Glazing and Conservatory Ombudsman Scheme (DGCOS) to help the industry clean up its image. DGCOS provides the most comprehensive consumer protection cover in the home improvement industry and has over 200 members nationwide who install double glazing products, conservatories, doors, porches, fascias, soffits, roofline products and orangeries.

The organisation's ambassador is TV presenter and consumer champion Nick Rosswho fronted BBC Watchdog and Crimewatch for many years.

Tony observes "Even when energy price rises headlines fade, the need to reduce fuel bills long term remains strong because of the recession and squeezed incomes because even more energy price rises are expected."

But before signing contracts with an installer, Tony recommends homeowners do their research into the strength of consumer protection being offered. He says 'There are numerous trade bodies and organisations offering very different levels of consumer protection. You have to read the small print or, for genuine peace of mind, use DGCOS members who automatically offer full deposit protection and Insurance Backed Guarantees."

Under DGCOS, in the unlikely event that an installer goes into liquidation or ceases trading, consumers are still protected unlike other schemes which may leave consumers stranded. DGCOS also provides a completely free dispute resolution service, whereas other schemes may charge for these services. Most importantly, the DGCOS Ombudsman has the authority to adjudicate and make legally binding awards backed up by a Compensation Fund so consumers are comprehensively protected.

Tony's parting shot is 'If you invest in new energy-efficient double glazing, you not only insulate your home but you future-proof your wallet against energy price increases as well! And if you use a DGCOS member, you are guaranteed a job completed to the highest levels of customer satisfaction!"

The online Omnibus survey of 2,014 nationally representative UK adults over 18 was carried out between 27th and 30th September 2011. Of these, 1,224 or 61% were homeowners.
END
Word count 550


Appendix: Other key findings including age & regional differences : -

Reducing their carbon footprint seems to have failed to convince homeowners or capture their interest, with only 12% of respondents placing it within their top three reasons for replacing windows or doors.

18-34 years olds emerged as more influenced by making their home look better than older age groups, with 45% of 18-34s citing aesthetics an important reason for installing windows and doors as opposed to only 39% of over 55s.

Making their home look better was significantly more important to homeowners in Yorkshire & Humberside (48%), East Midlands (51%), West Midlands (49%) and the South East (44%) than in the South West (25%).

Over 55 year olds (48%) emerged as more likely to replace their windows and doors to make their home more comfortable than 18-34s (32%) but increasing the value of your home emerges as of less importance as homeowners get older. 34% of 18-34 year olds cited it compared with 25% of 35-54 year olds and just 18% of over 55's

Image caption: TBC

Issued on behalf of: The Double Glazing and Conservatory Ombudsman Scheme (DGCOS), Centurion House, 129 Deansgate, Manchester M3 3WR
Website: www.dgcos.org.uk Email: info@dgcos.org.uk Tel: 0845 053 8975

Press enquiries to: Rhona Jack, MRA Marketing, 15 Market Street, Wotton-under-Edge, GL12 7AE. Tel: 01453 521621 Email: rhona@mra-marketing.com

Notes for editors:
The Double Glazing and Conservatory Ombudsman Scheme (DGCOS - www.dgcos.org.uk) offers homeowners effective peace of mind and protection if jobs go wrong and communications break down. Homeowners who use DGCOS members get access to professional mediators, independent inspectors and a legally binding dispute resolution service, all free of charge. DGCOS ensures that every customer of every member has deposit and work-in-progress insurance and an insurance-backed guarantee, provided by an approved supplier.

This press release was distributed by ResponseSource Press Release Wire on behalf of MRA Marketing in the following categories: Home & Garden, Personal Finance, Construction & Property, for more information visit https://pressreleasewire.responsesource.com/about.