greentomatocars brings chip-fat-fuelled cars to London streets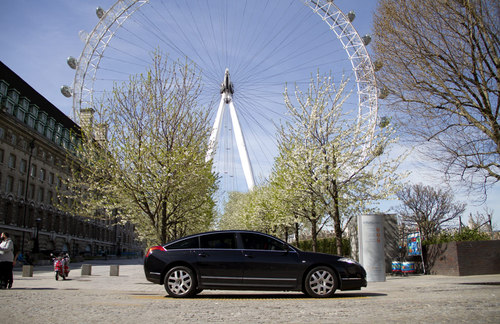 we wanted to maintain our green identity and biodiesel-fuelled vehicles fit this requirement perfectly
GREENTOMATOCARS EXPANDS FLEET WITH BIODIESEL-FUELLED VEHICLES
- London's greenest private hire service now offers chip-fat-fuelled executive and MPV options -

Reacting to customer demand, greentomatocars has expanded its fleet of environmentally-friendly private hire vehicles with the addition of biodiesel-fuelled 8-passenger MPVs and executive cars. Complementing the existing fleet of 200 Toyota Prius, the six executive cars and fourteen MPVs will enable greentomatocars to provide an even better service for clients, without compromising on their green credentials.

After listening to clients who needed bigger vehicles for transporting larger groups of people, as well as those seeking a more executive experience from their journey, greentomatocars has been piloting the luxurious Citroen C6 and the roomy Citroen Combi Dispatch over the past few months and has been delighted with the positive feedback.

Head of Innovation at greentomatocars, Hamish Phillips, comments "Since we launched five-and-a-half years ago, our fleet has been exclusively comprised of the hybrid Toyota Prius, an unquestionably green choice for people travelling from A to B in London. Recent feedback from customers has shown that they needed other options but still wanted to make a consciously green decision when choosing their private hire provider. With this in mind, rather than simply bolting on a non-green solution, we wanted to maintain our green identity and biodiesel-fuelled vehicles fit this requirement perfectly."

The non-hybrid fleet is fuelled by biodiesel refined from locally-sourced waste vegetable oil – oil that has already been used in the cooking process – meaning that emissions are greatly reduced in comparison to vehicles using petrol or diesel: international research has shown that life cycle CO2 emissions are reduced by 60%-90% when using 100% biodiesel from waste vegetable oil. To begin with, the biodiesel fleet will run on a 30% biodiesel blend (due to limitations with manufacturer warranties) which equates to a reduction in CO2 emissions of at least 20%. greentomatocars has further big plans for 2012 and is in discussions with a number of large clients in London to develop truly sustainable transport partnerships whereby the private hire company will use its clients' waste vegetable oil to power cars for their own staff.

Hamish comments, "We, and our clients, find the idea of closed-loop recycling incredibly exciting – giving businesses the option of reducing their emissions by using their own waste vegetable oil to fuel cars for their own staff is a perfect way of enhancing their existing CSR plans whilst keeping their transport decisions consciously green."

With over 200 environmentally-friendly vehicles now on London's roads, greentomatocars has firmly positioned itself as the greenest option for the Capital's taxi and minicab-users and remains the most innovative private hire service in town. For further information or to book your car, visit http://www.greentomatocars.com or download the free iPhone App from the iTunes App Store.

-ends-

Notes to editors:
For further media information about greentomatocars, please contact:

Lesley Singleton
LS Media Ltd
Lesley@LSMedia.co.uk
01234 752 663 / 07852 451 093

About greentomatocars:
greentomatocars is London's leading green private hire service. Established in 2006, the fleet of 220 vehicles consists exclusively of the most viable environmentally-friendly cars on the market. The company offsets any unavoidable emissions by planting trees and engaging in energy-saving projects, while office and other equipment is procured from environmentally-friendly sources wherever possible. Prices are in line with, and often lower, than competitors meaning that choosing the green option need not cost more.

Biodiesel Q&A:

OK – I'm intrigued. I know a bit about it, but what exactly is biodiesel?

Biodiesel is a form of diesel fuel manufactured from vegetable oils (used or new) or animal fats. It can be used in its pure form (B100) or blended with regular diesel in various proportions (eg, B20 is 20% biodiesel, 80% petroleum diesel).

Don't biofuels have a bad reputation?

Well yes, in some cases they do. Biofuel made from food crops (e.g. soy bean, rape seed and corn) in particular have been partly blamed for rising food prices, and there is also evidence that some of the world's rainforests are being cleared to make way for biofuel crops (such as palm oil.)

That doesn't sound good. So why are you using them?

Rather than using biofuel from new vegetable oil, we are sourcing our biodiesel from Waste Vegetable Oil (sometimes known as WVO) – oil that has already been used in the cooking process. Instead of disposing of this oil, we refine it, and turn it into biodiesel that we use to fuel our vehicles.

You're running your vehicles on used chip fat? You crazy fuels!

That's right. But it's not that crazy actually, and it's not even that new. In the 1890s the first diesel engine ever made ran on peanut oil.

So, not as "nuts" as it sounds. But what about emissions?

International research has shown that life cycle CO2 emissions are reduced by 60%-90% when using 100% biodiesel from WVO. To start with, our cars will run on a 30% biodiesel blend (due to limitations with manufacturer warranties). This will mean a reduction in CO2 emissions of at least 20%.

About our new fleet:
After researching several vehicles, the cars we have chosen to use to start with are the:

Executive: Citroen C6
MPV: Citroen Combi Dispatch

Our choices are based on a number of factors, including comfort, performance, space, manufacturer warranties, and of course the environment.

Warranties: Except Citroen and Peugeot, the car manufacturers that we spoke to would not allow us to put biodiesel into their vehicles and maintain the warranty.

Environment: Already with relatively low CO2 emissions for cars of their size and specification, by fuelling our MPVs and Executive Vehicles using B30, the cars achieve effective CO2 emissions more often associated with a large family car (D-segment). Further to a six month trial, we will approach Citroen to increase the biodiesel warranty to 50%. Using B50, the cars achieve CO2 emissions more often associated with a small city car (A-segment).
This press release was distributed by ResponseSource Press Release Wire on behalf of Playtime PR in the following categories: Environment & Nature, Motoring, Transport & Logistics, for more information visit https://pressreleasewire.responsesource.com/about.