Apply Now Or Yule Miss Out On The Best Christmas Credit Cards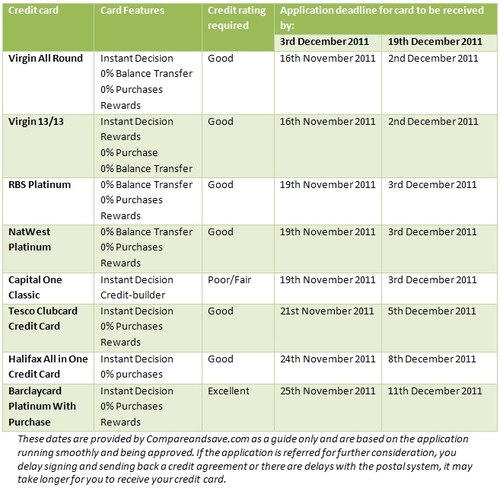 we recommend that you apply for your chosen credit card as soon as possible if you want to use it this Christmas
Compareandsave.com is urging UK consumers to compare and apply for credit cards as soon as possible if they want to get and make the most of credit card deals this Christmas.

With just 39 days left before Christmas, consumers only have a matter of days to apply for some of the best credit card deals currently available on the market if they want to receive their credit cards by the first Saturday of the Christmas Shopping season, 3 December.

The credit card company needs time to process the application, make a decision, possibly send out credit agreements which need to be signed and sent back, send out the card itself and a PIN, etc – all of which can take time.

To help ensure Brits receive their credit cards in plenty of time to bag a Christmas bargain, Compareandsave.com has researched the application deadlines for eight of the best UK credit cards offering deals that help with Christmas finances.

Michael Jacklin, Head of Money at Compareandsave.com, explained the research: "We have established what dates organised shoppers must apply for their Christmas credit cards in order to receive them by Saturday 3rd December. However, we know that some Brits will inevitably leave things until the very last minute so we have also researched application deadlines for last-minute shoppers to receive their credit cards by Monday 19th December. By publishing this information we hope to help people ensure that they receive their credit card in plenty of time."

In order to receive their credit cards by 3 December, consumers choosing the Virgin 13/13 and Virgin All Round cards should make their online applications by Wednesday 16 November. Customers applying for an RBS Platinum, NatWest Platinum or Capital One Classic card have until Saturday 19 November to make their application. Consumers looking for a Tesco Clubcard Credit Card need to apply by 21 November and those choosing a Halifax All in One card can apply up until 24 November. Consumers wishing to get a Barclaycard Platinum with Purchase card have until Friday 25 November to apply.

Similarly, applicants for the Virgin All Round and Virgin 13/13 should complete the online process by 2 December if they want to receive their cards by 19 December. RBS Platinum, NatWest Platinum or Capital One Classic applicants can apply up to the 3 December. Consumers choosing a Tesco Clubcard Credit Card need to apply by 5 December and those wanting a Halifax All in One card can apply up until the 8 December. Those wanting to receive a Barclaycard Platinum with Purchases card by 18th December have until 11 December to apply.

Mr Jacklin warned: "It's vital that you compare credit cards to find the right one for you rather than just choosing one by the application deadline. However, with potential postal delays and increases in demand we recommend that you apply for your chosen credit card as soon as possible if you want to use it this Christmas."

-Ends-

Michael Jacklin is available for further comment. For further information please contact Emma Skinner at Compareandsave.com on 0207 195 1967 or email emma@compareandsave.com.

About Compareandsave.com

Launched in 2005, Compareandsave.com, a part of the Bankrate Online Network, is a leading online credit card marketplace, where consumers can search, compare and select the best credit cards and personal finance products for their needs.

Every year, more than 5 million UK consumers visit Compareandsave.com to compare personal finance products.

The free online resource Compareandsave.com evaluates hundreds of credit card and savings offers by category, includes the latest best buys on products ranging from credit cards, prepaid cards, loans and savings accounts through to broadband. It also provides consumers with the tools, latest news, money saving advice and tips from the industry to help them stay on top of their finances and plan for the future so they can make the best possible financial decisions.



This press release was distributed by ResponseSource Press Release Wire on behalf of Compareandsave.com in the following categories: Personal Finance, Business & Finance, Retail & Fashion, for more information visit https://pressreleasewire.responsesource.com/about.