"OVER ONE MILLION YOUNG PEOPLE UNEMPLOYED AND WITHOUT ANY IMMEDIATE HOPE OF A JOB IS A DISGRACE."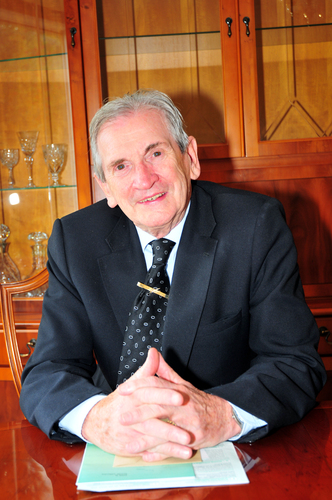 The recession can help business when you accept the market place has changed and you adapt the way you run your business to accommodate clients wishes
"RECESSION CAN HELP YOUR BUSINESS IF YOU ACCEPT CHANGE" TREVOR MITCHELL INTERNATIONAL CHAIRMAN TELLS GUESTS AT HIS LATEST SALON OPENING

"With the latest employment figures released with over one million young people unemployed and without any hope of a job in the near future is a disgrace," said Britain's top competition winning hairdresser Trevor Mitchell. "A major factor in the hairdressing industry is that the minimal wage has stopped many hairdressers investing in employing an eighteen-year-old apprentice, as most students stay in education until eighteen, so paying the minimum wage plus national insurance stamps and holidays means the employer is funding the apprentice's training. Many colleges have "Hairdressing" as one of the careers they teach but because the students do not learn their craft in a businesslike salon environment they are always ill-prepared. When they seek employment, the employers always has to make further investment as they are never ready to go straight into the salon without further training and careful supervision.

"Another thing that could reduce unemployment in the hairdressing industry is for major hairdressing chains to embrace change that is being forced upon them by uncertainty in the marketplace which has caused recession and to move with the times instead of down-sizing and making staff redundant. Every young hairdresser made redundant is a tragedy for that person and makes them feel not wanted, affecting not only their earnings but also damaging their self confidence. Trevor Mitchell International Group saw their trade initially contract but we changed our way of working so we did not have to make a single person redundant – in fact we have bucked the trend, increased staff and have opened three new salons in 2011."

Trevor Mitchell's good friend football legend Lawrie McMenemy did the honours when the Trevor Mitchell International Group opened its latest salon at Sarisbury Green under the control of their newest director, local girl, Kylie Hookway.

Trevor boldly proclaimed to a host of guest at the opening - "The recession can help business when you accept the market place has changed and you adapt the way you run your business to accommodate clients wishes rather than just carry on as you did when business in the High Streets were booming. By opening three salons this year the Group has bucked the trend of many hairdressing chains that are reducing the number of salon in their portfolio."

"The secret of our success has been that the TMI Group has down-sized its salons but have increased the number of salons by expanding our business into the local district shopping centres as more and more people are seeking local quality hair styling and colouring at competitive prices. Being able to shop locally is better for the environment as most people do not need to use their car. Also with the hassle and cost of inner city car parking which adds to the cost and discourages shoppers. Heaven forbid, if you return late to your car when it is parked on a meter, then you could find a parking warden has just made your city centre haircut rather more expensive than planned.

"The recession, and the increase to 20% of value added tax, has decimated the profitability of many salons causing them to shed stylists and to reduce their investment in the future by not employing and training apprentices – all bad for the employment of young people and business in general. The average age of all our staff including main board directors is only 28 years and six months and we will continue to invest our money in training apprentices. We have an excellent blend of the enthusiasm and energy of youth coupled with the experience and wisdom of the senior members of the team that has generated an ethos of quality hairdressing and customer care which has driven our expansion plans.

"By encouraging senior staff members to become a director and to invest in individual salons under the TMI brand with just a director, one senior stylist and an apprentice in a local district centre has proved this model is a winner. Each new salon offers high quality styling and colouring, competitive prices and easy access, as most local district centres have two hours free car parking.

"The recession has meant that the market is changing and those who fail to embrace the changes, that are being forced upon the industry, will do so at their peril. I have listened to my staff and they are hungry for success so when the going gets tough the tough get going and this "can do" attitude that percolates upwards from my youngest apprentice right through to all the directors is proving the right path in these challenging times."
End

Issued for and on behalf of Trevor Mitchell International, 111 East Street, Southampton S014 3HD by Steamship Public Relations 2000, 11 Cobbett Road, Bitterne Park, Southampton SO18 1HJ. For further information please contact TREVOR MITCHELL on 023 8033 2260/8033 3251 or mobile 077 66 900 336 or email mitchellinter@aol.com or JOHN SLADE on 023 8067 1621 or mobile 07890 526 539 or email john@steamship2000.co.uk



Information on Trevor Mitchell

• Trevor Mitchell established his first salon in 1956.
• Trevor Mitchell is Chairman of the Trevor Mitchell International Group and the winner of the prestigious "Golden Scissors Award" for hair styling.
• He competed at national and international level winning Scottish championship twice: the English championship twice and has represented England in international competitions in Vienna, Athens, Brussels, Paris, New York, Sweden and Denmark.
• He was a member of the British world championship team in Düsseldorf, Paris and Las Vegas.
• Twice his male celebrity heads have been name "Head of the Year" award winners.
• After he laid down his scissors in international competition he was appoint manager to the British World Cup Champions and then went on to manage the British World Cup team – training John Phelps to win two Individual World Championships and the World Junior Champion.
• He coached the Russian, Japanese and Finnish national hairdressing teams - all moved from being below twentieth to being in the top ten in world hairdressing rankings.
• His other duties in the international hairdressing competition arena has been as Juryman to the British world championship team
• The OAI representative for Great Britain.
• Trevor has judged international hairdressing competitions around the world and three times been given the accolade "the world's number one hairdressing judge".
• Trevor held the world record for the fastest haircut as recognised by the Guinness Book of records for more than a decade at 1 minute and 11 seconds.
• Trevor Mitchell was the technical advisor on the film "Blow Dry" that starred Alan Rickman, Natasha Richardson, Rachel Griffiths, Bill Nighy, Warren Clarke, Rachael Leigh-Cook and Josh Hartnett. He even had a cameo role in the film.
• Trevor has starred in hairdressing shows around the world including a show in the Kremlin before an audience that included the first Lady of Russia – Mrs Boris Yeltsin and over 5,000 professional Russian hairdressers.

Editors please note a high quality jpeg is attached to this email.




This press release was distributed by ResponseSource Press Release Wire on behalf of Steamship Public Relations 2000 in the following categories: Women's Interest & Beauty, Business & Finance, Education & Human Resources, for more information visit https://pressreleasewire.responsesource.com/about.