ekmPowershop.com SMEs win big on Mega Monday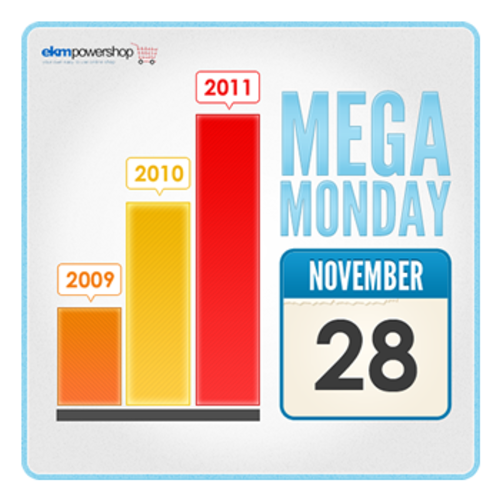 Independent retailers outstripped industry predictions once again on 'Mega Monday' this year – dubbed the biggest day for online shopping in the UK calendar.

As UK shoppers get set to spend around £300k per minute from now until Christmas*, ekmPowershop.com's independent study finds that for another successive year, independent retailers have seen a significantly bigger spike than the industry average from the same time last year.

With sales up 25.2% across the board compared to Mega Monday 2010, the SME sector continues to grow at a greater rate than the rest of the industry.

IMRG predicted an increase in sales on last Mega Monday of around 14%, with Visa predicting similar, around 13%. That's only around half the increase seen amongst online shops on the ekmPowershop.com network.

ekmPowershop.com's Mega Monday analysis, the largest independent study of its kind, sampled around 10,000 online shops with live data from yesterday's shopping frenzy. The study suggests that as the industry grows year on year, the real growth area is the SME sector – great news for entrepreneurs up and down the country.

Melisa Young, Business Analyst at ekmPowershop.com comments, "We conduct this study each year, with technicians and analysts staying up through the night monitoring our network. This gives us the stats we need hot off the press - quite unique in the sense that nobody else can actually sample such a large volume of online retailers in such depth, so quickly.

There seems to have been a trend developing over the past couple of years – our users are seeing double the demand increase of the industry average. Last year the industry predicted a 30% increase on Mega Monday 2009, whilst we actually saw an increase of around 62%. This year the percentage increases are smaller, which we expected; but again our study indicates roughly double the increase in demand for ekmPowershop.com online stores over the industry averages."

ekmPowershop.com user, Jon Spriggs from HSS Tool Shop (www.hsstoolshop.co.uk) provides a little insight into how his online shop achieved a 3 fold sales increase on Mega Monday: "78% of our customers answered 'Google Shopping' to the 'how did you hear about us' question on the checkout, which goes to reinforce the importance of a well maintained Google feed."

Mega Monday usually falls in the last week of November, as shoppers place orders to ensure delivery in time for Christmas. Last year, it (Mega Monday) was infact gazumped by the first Monday in December, which was technically the biggest day for online shopping in 2010. Could we be in for another 'Mega Monday Double'?


*According to 'This is Money Magazine'

==ENDS==

For more information please contact Steven Hickey at Ekm Systems Ltd on 0844 858 858 0 or stevenhickey@ekmsystems.co.uk

==About Ekm Systems Ltd==

Founded in 2002 by then 22 year old Antony Chesworth, the main products ekmPowershop.com and ekmResponse.com have grown to become the UK's largest ecommerce and email marketing software provider, powering 1 in every 5 online shops in the UK.*

Clients include Lotus Cars, O2, Michelin Tyres, Future Publishing, Madame Tussauds, The NHS, ITV, The BBC and thousands of SMEs.

ekmPowershop.com and ekmResponse.com have become the dominant forces in 'off the shelf' ecommerce and email marketing throughout the UK and beyond, helping over 17,000 businesses sell their products over the internet since its inception.

Other Ekm Systems products and services include website CMS (ekmSiteBuilder.com), Web Design (ekmWebDesign.com), web hosting (ekmHosting.com), Geo IP Redirection (ekmCompass.com), Web Statistics (ekmPinpoint.com), Postcode Lookup (Postcodeferret.com) and digital delivery (ekmDigitalVault.com).

*According to stats from IMRG and Hitwise there are around 20,000 - 30,000 'transactional' websites in the UK.



This press release was distributed by ResponseSource Press Release Wire on behalf of ekmPowershop.com in the following categories: Consumer Technology, Business & Finance, Media & Marketing, Retail & Fashion, Computing & Telecoms, for more information visit https://pressreleasewire.responsesource.com/about.