FileLab Web Apps – New Approach to Web-Based Technologies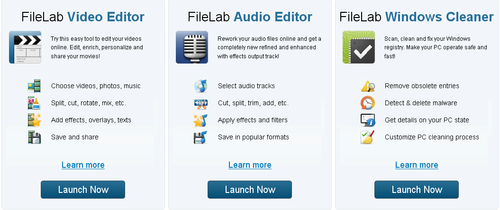 We have refused from developing traditional-type web applications as they envisage submitting all the required data to the server.
Ascensio System SIA launches FileLab Web Apps, a series of applications
enabling users to perform a range of demanded online operations.

Ascensio System SIA, the developer of IT solutions for personal and corporate use, announces the launch of FileLab Web Apps, a set of multifunctional web applications.
They currently comprise multimedia editors and a Windows registry cleaner, providing users with online solutions for processing video and audio files as well as eliminating a number of common PC problems. In the future Ascensio System SIA plans to increase FileLab's focus by adding more applications with different scope.

The advanced technology, applied to develop the web services, has provided FileLab with an array of competitive strengths with high-speed performance being the most demanded of them. In contrast to similar applications FileLab Web Apps implement all necessary operations on the client side and there is no need to send requests (for example, to apply effects) to the server. It means users can see the result of their operations immediately.

FileLab Web Apps are launched in browser after the instant one-time download of a plugin. Users are relieved from any bulky installation sand setup hurdles. Necessary updates upload automatically.

Aiming to make the apps accessible and convenient for the widest possible range of users, FileLab is available in six languages and has support for all the popular browsers: Mozilla Firefox, Google Chrome, Internet Explorer, Opera and Safari. To save the results of video or audio editing or apply the registry cleaner recommendations, users are asked to sign in with Facebook, Yahoo or Google account.

Vyacheslav Bushuev, Project Head, says: " We have refused from developing traditional-type web applications as they envisage submitting all the required data to the server. In this case considerable delays in multimedia processing are very likely to happen and too large amount of server resources is required that brings about queues for users. To cut it short, it appears resource-intensive both for us and our customers. First users of our Beta versions proved that we were right to bet on our technology: according to the feedback received the vast majority has found our apps fast and reliable."


About Apps

FileLab Video Editor lets users edit multiple videos, split, cut, rotate, mix them, add
transitions, overlays and visual effects and save them in formats suitable for uploading to popular social networks and devices. You can find more information on FileLab Video Editor and launch it at: https://www.filelab.com/video-editor

FileLab Audio Editor allows users to edit audio tracks, split, cut, trim, mix them, apply effects and filters and save them in the most popular formats.You can find more information on FileLab Audio Editor and launch it at: https://www.filelab.com/audio-editor

FileLab Windows Cleaner is intended to clean the PC registry from obsolete entries, detect and delete malware.You can find more information on FileLab Windows Cleaner and launch it at: https://www.filelab.com/windows-cleaner


First Reviews

To be honest, I was really impressed with the web service as it allowed me to do so much, in such a less time – also the fact that it is free can not go unnoticed! Whether it is; making a ringtone, or saving your music file in another format, cropping your video or just applying effects or text to it – FileLab will let you do it all in the shortest interval of time, with the least hard work required! - http://www.technicallydigital.com

Ever since JayCut was bought out by RIM (Blackberry), educators have been looking for a replacement web-based video editor. FileLab Video Editor may just be the ticket. -http://jeffthomastech.com

This software is feature rich, fast and surprisingly elegant for a completely free browser based package. - http://www.ghacks.net


Follow us on

http://www.facebook.com/Filelab

http://twitter.com/filelab


For further information, please contact:

Ascensio System SIA
Lubanas st. 125a-25,
Riga, Latvia, EU, LV-1021
Phone: +371 66016425
Email: info@filelab.com
This press release was distributed by ResponseSource Press Release Wire on behalf of Ascensio System SIA in the following categories: Consumer Technology, for more information visit https://pressreleasewire.responsesource.com/about.