TurniTable - The play table with a twist!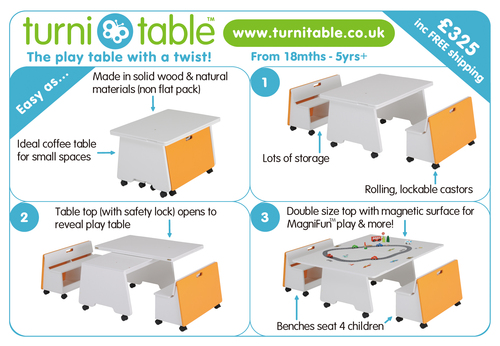 TurniTable™ - The play table with a twist!

Aimed at children from 18mths to 5 years TurniTable™ is designed for a whole host of activities with a unique twistable top that doubles the size revealing a huge magnetic play surface.

When closed with storage bench seats tucked away it can also be used as a coffee table – should you get the time to put your feet up!

Sold in conjunction with this, or separately if you so wish, are a collection of 3 fun magnetic play sets for £12 each – MagniFun™.

I hope our products recognised and selected by Jo Jo Maman Bebe and NotOnTheHighStreet.com and winner of a recent innovation award find their way onto any relevant features you may have planned.
How the journey began. With two children of our own, we knew all too well the pain of treading on Lego bricks in bare feet or the fear of falling over a railway layout strategically placed in the middle of the room. With this in mind, we were eager to buy a play table on which our children could build their train and Lego sets, even race their cars upon. We soon found that a traditional play table would take up too much space and with nothing available to suit our needs, we decided to design our very own play table.
The design, right back to the original sketching, material and production process started in December 2009. Right from the conceptual stage, the project was awarded an Innovation and Sustainability Grant through Brighton University, and after much work and deliberation on how best to produce a play table, TurniTable™ was born.

The play table with a twist. TurniTable™ offers a multi-functional, space saving solution: a child's table or coffee table which transforms, in seconds, into a double sized magnetic play table and back again anytime the extra floor space is needed. TurniTable™ comes with two children's benches with handy storage for toys, and is crafted in solid wood and natural materials. Finished in white with the option of white, blue or orange bench backs. The table and benches all sit on lockable castors making the furniture easy to position or to move from room to room.

Whilst being design led, TurniTable™ is a functional piece of furniture and particularly handy for retaining toys and craft items within the bench storage compartments. The TurniTable™ itself has passed the relevant safety tests and has a locking mechanism which allows the table top to be fixed in position to protect little fingers.

All play tables deserve a play mat! TurniTable™ goes one step further from the traditional, static play mat with the option to buy accessory packs, MagniFun™ – Vibrant, individual, brightly coloured magnets, designed in collaboration with local illustrator, Noriko Sato. MagniFun™ is currently available in farm, fairytale and race track themes. With around 30 magnets per set, children can create their own changeable play scenes and let their imagination sparkle.

Hours of fun. Giving children their own play table encourages freedom to play, discover, and put their creativity and imagination to great use, it is in effect their own desk! "Everyone needs a workspace, especially children who learn through their work of play! We think TurniTable™ is the perfect solution and gives children their own place on which to draw, write, paint, complete puzzles, build Lego and train sets, race cars and much more."

The benefits of the play table are not limited to the child, parents benefit too. Having two boys means there is inevitably lots of physical activity in the form of 'bundling' – of course it's all part and parcel of growing up and whilst this is great outside in the garden, we did grow a little tired of the noise and mess created from this kind of 'play'! Since having our own TurniTable™ life has genuinely been transformed and is a lot less stressful. When our children are inside the table is constantly in use as they gravitate away from playing on the floor. They are much more focused in their play and use far more of their toys now.

There are so many possibilities for little ones to enjoy hours of fun and when they are finished, in seconds the table can be turned back to a coffee table for some well deserved adult time….easy!
Ends

Notes to editors
To source high resolution images or for more information, please contact Bella at bella@turnitable.co.uk or call on 01825 891338/07876 792231

TurniTable™ is available from The Secret Play Company Ltd for £325.00 inc FREE shipping and comes fully assembled. MagniFun™ packs, £12 or £30 for all 3. MagniFun™ samples available on application.
The Secret Play Company Ltd, 13 Palehouse Common, Nr Framfield, East Sussex TN22 5QY Website: www.turnitable.co.uk

This press release was distributed by ResponseSource Press Release Wire on behalf of The Secret Play Company in the following categories: Children & Teenagers, Home & Garden, Education & Human Resources, for more information visit https://pressreleasewire.responsesource.com/about.