Ecommerce fulfilment made easy with ekmPowershop.com and SixWorks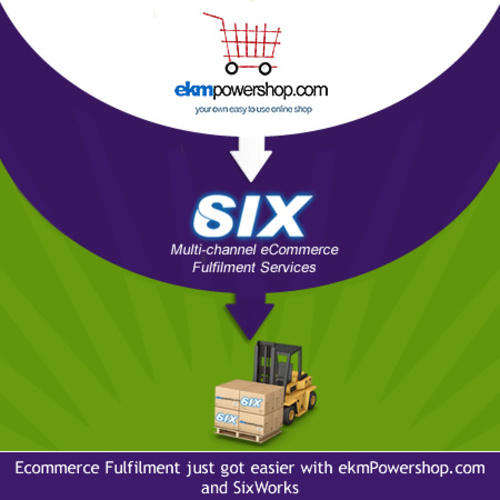 1 in every 5 online shop owners can look forward to hassle free order fulfilment this week, through ekmPowershop.com's latest cloud partner, SixWorks.

Six provides a complete order fulfilment service at the push of a button, allowing for truly hands-off selling. This latest integration with ekmPowershop.com not only takes care of the warehousing and delivery of products; but also provides customisable, branded paperwork, customer emails and much more.

Automated order transfer, return of delivery/tracking info and up-to-the second stock level sharing are all easily achieved through SixWork's comprehensive fulfilment solution, combined with ekmPowershop.com's market leading ecommerce software.

How do online shop owners take a much deserved break when their business is open 24/7, 365 days of the year? In a word: fulfilment. And that's exactly what Six does with a process that's invisible to the end user.

John Bradbury from ekmPowershop.com comments:

"The 'final mile' is often overlooked by many businesses when they start selling online. As the operation scales, fulfilment of the order efficiently and on time can be one of the biggest challenges they face.

If consumers experience any problems in receiving their goods ordered over the internet, then you can be sure to garner a bad reputation quickly in a market that's full of competition. Six's integration with ekmPowershop.com means clients can re-route all of their stock to Six's warehouse facilities, and forget about the hassle of despatches and holding their own stock - for good."

ekmPowershop.com's back office integrations now include multi channel stock control, order fulfilment, pick and pack solutions and an accountancy software integration due for announcement in a matter of weeks.

"We're pushing the back office aspect of ekmPowershop.com in terms of 3rd party integrations, and for us this latest integration ticks a very large box, as
Six offer such a comprehensive fulfilment solution."

==ENDS==


For more information please contact Steven Hickey at Ekm Systems Ltd on 0844 858 858 0 or stevenhickey@ekmsystems.co.uk

Get your first month of pick and pack fees with SixWorks for free! *

* Discount applies to all picking and packing fees as well as any management costs. Excludes storage, goods in, postage and packaging materials (if used). To qualify for this offer, companies must agree to use our services before the end of February 2012, and must claim their free month before or during June 2012.


==About Ekm Systems Ltd==

Founded in 2002 by then 22 year old Antony Chesworth, the main products ekmPowershop.com and ekmResponse.com have grown to become the UK's largest ecommerce and email marketing software software platforms, powering 1 in every 5 online shops in the UK.*

Clients include Lotus Cars, O2, Michelin Tyres, Future Publishing, Madame Tussauds, The NHS, ITV, The BBC and thousands of SMEs.

ekmPowershop.com and ekmResponse.com have become the dominant forces in 'off the shelf' ecommerce and email marketing throughout the UK and beyond, helping over 17,000 businesses sell their products over the internet since its inception.

Other Ekm Systems products and services include website CMS (ekmSiteBuilder.com), Web Design (ekmWebDesign.com), web hosting (ekmHosting.com), Geo IP Redirection (ekmCompass.com), Web Statistics (ekmPinpoint.com), Postcode Lookup (Postcodeferret.com) and digital delivery (ekmDigitalVault.com).

*According to stats from IMRG and Hitwise there are around 20,000 - 30,000 'transactional' websites in the UK.

==About SixWorks:==

Six is a leading UK-based fulfilment company, offering stock management, pick, pack & despatch services. Based in Cambridgeshire on the M11 corridor, Six ship domestically and internationally through a variety of couriers.

Six is entirely invisible to the end customer, providing customisable, branded paperwork and customer emails. Six's fulfilment software platform is bespoke, developed in-house as a fully cloud-based application. This, combined internal processes, help Six to achieve a 99.98% accuracy rate on order processing (that's fewer than 1 mistake in every 5,000 orders).

Six guarantee to despatch 100% of orders placed before the 3pm daily cut-off the same day. Six's secure web application lets clients check on goods-in, stock levels and order status in real-time, any time, from any device with an internet connection.

Other key benefits include:

• Six keep a complete and searchable history of everything we do, and use it to generate insightful management reporting

• Six serve clients from all round the world and in all markets, from health food to home brewing, trainers to thermal underwear.

• Most clients need never handle their stock, their suppliers send directly to our warehouse - we simply send out samples to them as required

• Ability to receive and process returns

• Our storage rates only consider the actual space used, no rounding up to full pallets or minimum storage commitments

• Clients have a named account manager always available by phone and email

For more information on SixWorks please contact James Hyde on enquiries@sixworks.co.uk or call 01223 967 610.



This press release was distributed by ResponseSource Press Release Wire on behalf of ekmPowershop.com in the following categories: Consumer Technology, Business & Finance, Media & Marketing, Computing & Telecoms, for more information visit https://pressreleasewire.responsesource.com/about.