New Online Photography School, MyPhotoSchool, launches with courses from world renowned photographers and a FREE photography website for students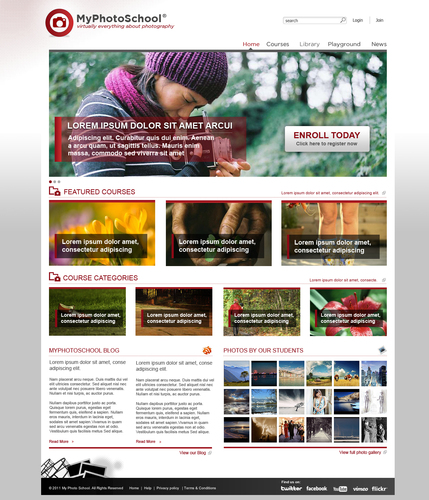 Registration to the MyPhotoSchool website is open now, and interested photographers can sign up to receive all the benefits of membership.
MyPhotoSchool, a new online photography school – where every course is taught by a world leading photographer – has launched today. Students not only get access to the world's top photographers and professional critiques of their assignments, but also get their own photography website, completely free of charge. Registration to the MyPhotoSchool website is open now, and interested photographers can sign up to receive all the benefits of membership. The first courses run from April, and can be booked from February 4th.

The team behind MyPhotoSchool is Associate of the Royal Photographic Society and member of the British Institute of Professional Photographers, Duncan Heather; and ex eBay and Skype Director, Elspeth Briscoe. The team also launched the world's first online gardening school, MyGardenSchool, last year. They bought all of their experience in perfecting an online school model to bear when creating MyPhotoSchool: outrageously good tutors; a keen understanding of the mindset and skills required for effective teaching and learning in a digital world; compelling content; and the very latest in technology.

Duncan Heather said: "When we were creating MyPhotoSchool we looked at the competition and asked ourselves, 'What don't they offer? What more could we give our students? We came up with quite a comprehensive list.

"We wanted to offer a wide variety of photography courses, for every level of expertise and experience, from the novice to the hobbyist to the aspiring professional. We wanted to enable our students to get 1-to-1 feedback with the best photographers in the world, and to be able to build camaraderie with fellow students in our online classrooms. We wanted to be able to provide our students with their own free photography website, together with the tools and templates to create a professional design, on which to display work – and ultimately sell, if they chose to upgrade. We wanted to provide a themed competition every month, with the winner's work promoted on the main website. These were our aims, and I am proud to say that we have achieved them all with MyPhotoSchool."

MyPhotoSchool courses cover everything from getting to grips with the equipment, understanding light and exposure, perfecting composition, professionally editing and making money from photography. Tutors at MyPhotoSchool, include world renowned wildlife photographer Heather Angel, former president of the Royal Photographic Society (RPS); David Newton, professional photographer, journalist and author of technical guides to photography; Nigel Hicks, Associate of the British Institute of Professional Photography (BIPP), professional photographer and author; Tony Worobiec, Fellow of the Royal Photographic Society, founder member of Arena, journalist and author; and Paul Harcourt Davies, professional photographer, author and conservationist. For more information on all of the MyPhotoSchool tutors and the courses that they teach, please go to the MyPhotoSchool courses page.

MyPhotoSchool will also run a monthly themed competition for members registered to its website. It will feature 8 categories: Landscape & Nature; People; Abstract; Digital Manipulation; Travel & Architecture; Garden & Flower; Macro; and the Monthly Theme. The first place winner in each category will have their work displayed on the MyPhotoSchool homepage for a month, receive a £25 coupon code to spend against any MyPhotoSchool course, and be entered into the People's Choice Award for the best photo of the year. The winner of the annual competition will win a DSLR camera.

All MyPhotoSchool courses cost £120, last four weeks and begin on the first Saturday of every month. The beauty of the course being online is that students learn at their own pace, and in the comfort of their own home. Each course includes step by step video tutorials, downloadable course notes, and the facility to chat with tutors and fellow classmates online, in a 'virtual classroom'. The classroom may be 'virtual' but the camaraderie is real, and the technology is very intuitive and easy to use.

World renowned photographer Sue Bishop will be teaching 'Flower Photography' and 'Improve your Landscapes' courses at MyPhotoSchool, and is also a tutor at MyGardenSchool. She says: "MyPhotoSchool is a great opportunity for me to share my passion for photography, using the very latest digital means, with students from all over the world. I know from my experience at MyGardenSchool that it's an energising experience to have enthusiastic new students every month, and I look forward to welcoming them at MyPhotoSchool."

About the Directors:

Duncan Heather
Duncan is an Associate of the Royal Photographic Society and member of the British Institute of Professional Photographers. Although he still considers himself an amateur he has twice been a IPA-Lucie award winner; has won the SWPP & BPPA Monochrome Photographer of the Year and was placed first in the RHS Garden Photographer of the Year Competition.

Elspeth Briscoe

GMG member Elspeth Briscoe spent 15 years working in strategy and marketing, developing some of the world's most successful internet companies. She was amongst the first 30 people at eBay.co.uk and relished the innovation, creativity and hard work it took to build the ground breaking internet company that eBay.co.uk is today. She is also a winner of International Garden Photographer of the Year (Seasonal), and enthusiastic blogger. See www.elspeth.tumblr.com.

About MyPhotoSchool

MyPhotoSchool Ltd is a global online photography classroom. Whether you are a novice, a hobbyist or an aspiring professional, MyPhotoSchool has an online photography course to inspire you. At MyPhotoSchool, world class photographers can teach you everything there is to know about photography: virtually. From back yard to big game photography; from black and white photography to discovering colour; from low light to understanding light, as well as how to take beautiful baby, wonderful wedding, perfect pooch and fantastic flower photos. For more information, please go to www.my-photo-school.com

Press contact: Tara Sinclair at MyPhotoSchool, Tel: 07968 514 802, tara@my-photo-school.com

This press release was distributed by ResponseSource Press Release Wire on behalf of MyPhotoSchool in the following categories: Children & Teenagers, Men's Interest, Entertainment & Arts, Leisure & Hobbies, Women's Interest & Beauty, Environment & Nature, Consumer Technology, Travel, Education & Human Resources, Media & Marketing, for more information visit https://pressreleasewire.responsesource.com/about.