Schwartz and McCormick reveal the hottest culinary trends for 2012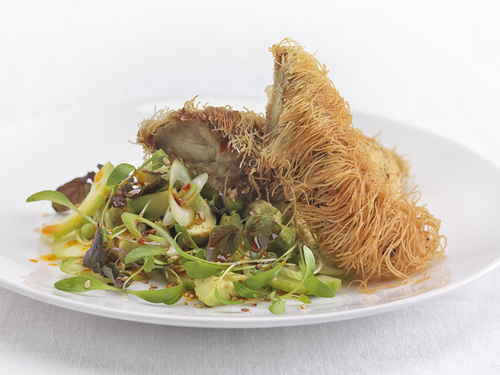 the trends driving our food choices are strikingly similar from region to region, even though the specific foods and ingredients we enjoy are rooted in our local cultures
UK leading herbs and spices brand, Schwartz, releases McCormick's Global Flavour Forecast® report Schwartz collaborates with renowned Chef Maria Elia to bring the trends to life in the UK

Herbs and spices expert Schwartz, in partnership with parent company McCormick & Company, Incorporated, a global leader in flavour, uncovers the future of flavour and releases its first ever global Flavour Forecast. Since 2000, the report showcases McCormick and Schwartz leadership in culinary trends and innovations. It pinpoints common trends and flavours driving culinary innovation and reveals a singular set of forces driving what we will eat across the globe in coming years. In the UK, Flavour Forecast was released annually since 2008.

Trends highlighted in the report include honouring a cuisine's traditional roots, seeking the ultimate in sensory stimulation, a focus on vegetables, simplicity, flavourful swaps, and breaking boundaries.

Flavour Forecast 2012 shapes the future of flavour and is based on a year-long process of culinary exploration, data discovery and insight development. An international panel of chefs, sensory scientists, trend trackers, marketing experts and food technologists from Schwartz and McCormick collaborated to identify the trends and flavours.

Paola Bassi, Schwartz UK Marketing Director, comments, "This year's report is the first ever global edition of the Flavour Forecast and underscores our commitment and passion to flavour. No one knows flavour better than McCormick. We make a difference in the way people create and experience food every day. Flavour Forecast 2012 reveals the surprising finding that the trends driving our food choices are strikingly similar from region to region, even though the specific foods and ingredients we enjoy are rooted in our local cultures."

To bring this year's culinary trends and flavour combinations to life in the UK, Schwartz is collaborating with Chef Maria Elia, who has added her twist on Flavour Forecast by developing six contemporary new recipes appealing to the UK palate. A further six recipes have been crafted by Schwartz Concept Development Chef, Steve Love, a member of Schwartz's dedicated team of Development Chefs, who collectively identified these flavours which showcase the trends. A total of twelve inspiring on-trend recipes were created for flavour enthusiasts to replicate at home.

TV personality and author Maria Elia, who is head chef at acclaimed Joe's Restaurant in South Kensington, says "Being on top of culinary and flavour trends is something I'm passionate about as a chef, so it's a pleasure to work with Schwartz on their Flavour Forecast 2012. I get to experiment with my love of flavour combinations and create innovative recipes, applying a fresh perspective on tradition that balances modern tastes and cultural authenticity. It's a fun and exciting challenge; a global adventure to inspire the palate!"

Steve Love adds, "Flavour Forecast 2012 demonstrates six global trends with some inspiring and delicious regional flavour combinations and food experiences, allowing you to eat in many countries without leaving your home nation. Now in its fourth year in the UK, the Flavour Forecast is a catalyst for innovation amongst food manufacturers and foodservice professionals alike, inspiring the food we eat every day, from supermarket products to restaurant offerings. Trends pinpointed in past editions have moved once-edgy ingredients into mainstream popularity and we have no doubt it will continue to further enlighten the global culinary scene."

With over 100 years of experience and genuine passion for flavour, Schwartz is McCormick's leading "herbs and spices" brand in the UK, offering the greatest variety of herbs, spices and seasonings. Our spice experts from McCormick have travelled the world in search of the best spices and herbs available. With a family of brands in more than 100 countries, McCormick has unrivalled insight into global flavour trends.

Schwartz's extensive product portfolio spans into different sectors including recipe mixes, wet sauces, gravies and innovative stir fry seasonings.

To learn more about Flavour Forecast 2012 in the UK, visit www.schwartz.co.uk and to explore the future of global flavour, visit www.FlavourForecast.com.

McCormick – together with Schwartz – FLAVOUR FORECAST 2012
A summary of the six trends and corresponding flavour combinations:

TREND
FLAVOUR COMBINATIONS

RECIPES BY
MARIA ELIA & STEVE LOVE

Honouring Roots
Celebrating the origins of a cuisine is a renewed global priority. Chefs are preserving these roots by applying a fresh perspective that balances modern tastes and cultural authenticity.

Korean Pepper Paste with Sesame, Asian Pear & Garlic – BBQ with a global twist
Cumin with Sofrito – Authentic Hispanic foundational flavours

MARIA ELIA
Raw Lamb Kibbeh and Asian Pear Salad

SCHWARTZ, STEVE LOVE
Almond & Date Bulgur Salad with Sofrito

Quest for the Ultimate
Culinary explorers are seeking out combinations that create powerful, harmonic bursts of elemental flavours for the ultimate taste experience. For some, this equals superlative quality; for others, it is about a patchwork of textures, colours and layers of enjoyment.

Dill with Mint, Melon & Cucumber – The ultimate refresher
Meyer Lemon with Lemon Thyme, Limoncello & Lemon Peel – The ultimate lemon experience

MARIA ELIA
Watermelon Cooler Cocktail

SCHWARTZ, STEVE LOVE
Lemon Blanc Cocktail

Veggies in Vogue
Veggies have long suffered from overcooking, over saucing and lack of inspiration. Now, thanks to the enthusiasm of chefs, the quality of seasonal produce and the unstoppable growth of fresh markets, it's finally veggies time to shine.

Aubergine with Honey & Harissa – Worldly vegetable with sweet heat.

Squash with Red Curry & Pancetta – Versatile veggie with a touch of Thai.

MARIA ELIA
Honey, Harissa Marinated Aubergines wrapped in Kataifi

SCHWARTZ, STEVE LOVE
Squash Ribbon Salad with Red Curry Vinaigrette

Simplicity Shines
The most memorable food is often the simplest. Cooks are focusing on quality ingredients with simple preparations. Clear, unpretentious flavours celebrate the basics – and remind us what real food tastes like.

Vanilla with Butter – Pure essentials for real goodness
Ginger with Coconut – Warm spice meets tropical favourite

MARIA ELIA
Jerusalem Artichoke and Vanilla Soup with Seared Scallops

SCHWARTZ, STEVE LOVE
Gingered Banana Tarts with Coconut Ice Cream

Flavourful Swaps
Small changes can help us make consistently better choices for the mind, body and soul – without sacrificing enjoyment. Herbs and spices are a great way to add flavour and improve taste with less fat, salt and sugar.

Red Tea with Cinnamon and Plum – Better-for-you drink meets fruit and spice
Grapefruit with Red Pepper – A new take on lemon pepper

MARIA ELIA
Red Tea Ganache with a Cinnamon and Plum Compote

SCHWARTZ, STEVE LOVE
Cuban Chicken with Salsa Fresca

No Boundaries
Culinary trailblazers are cooking outside the lines by discovering, reinventing and even playing with food. We now have the freedom to explore, shedding the confines of traditional 'rules'.

Blueberry with Cardamom & Corn Masa – From every day to extraordinary
Sweet Soy with Tamarind & Black Pepper – Steak Sauce with an Oriental Flair

MARIA ELIA
Blueberry and Cardamom Glazed Ham

SCHWARTZ, STEVE LOVE
Tofu, Butternut Squash and Brussels sprout kebabs

-ends-

For further information or to arrange interviews contact:
Melanie Rawlings / melanie.rawlings@hkstrategies.com / 0207 413 3342
Kat Bayang / kat.bayang@hkstrategies.com / 0207 413 3734

About Flavour Forecast

Since 2000, McCormick has been on the forefront of identifying emerging culinary trends through its signature Flavour Forecast, a delicious expression of our passion for flavour. This annual look at the future of flavour is highly anticipated, acting as a catalyst for innovation within the broader food industry. The Flavour Forecast makes a difference in the way people create and experience food around the world. Visit www.FlavourForecast.com for more information.

About Schwartz

With more than 100 years of experience, Schwartz is McCormick's leading "herbs and spices" brand in the UK, offering the greatest variety of herbs, spices and seasonings. Schwartz's extensive product portfolio spans into different sectors including recipe mixes, wet sauces, gravies and innovative stir fry seasonings. Visit www.schwartz.co.uk for more information.

About McCormick

McCormick & Company, Incorporated is a global leader in flavour. With more than $3 billion in annual sales, the Company manufactures, markets and distributes spices, seasoning mixes, condiments and other flavourful products to the entire food industry—retail outlets, food manufacturers and foodservice businesses. Every day, no matter where or what you eat, you can enjoy food flavoured by McCormick. McCormick brings passion to flavour™. Visit www.mccormickcorporation.com for more information.

This press release was distributed by ResponseSource Press Release Wire on behalf of H+K Strategies in the following categories: Home & Garden, Women's Interest & Beauty, Food & Drink, for more information visit https://pressreleasewire.responsesource.com/about.