Bee my Valentine - 'Life is the flower for which love is the honey' Victor Hugo (1802-1885)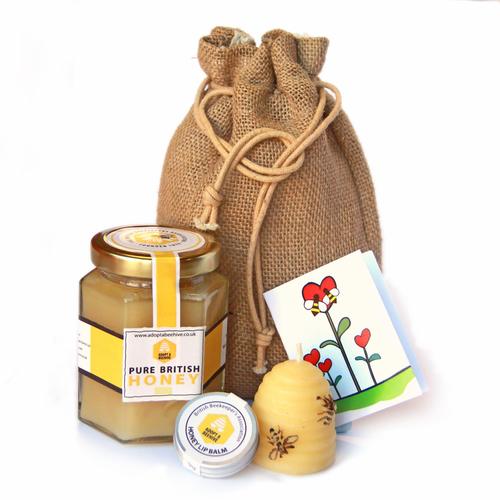 express the love you feel both for your partner and for honey and the honey bee with the perfect Valentine's Day gift
From time immemorial, the sweetness of love has been associated with honey, and has been expressed in poetry, prose and song, from the Old Testament to the lyrics of ABBA.

This Valentine's Day the British Beekeeping Association (BBKA) is giving you the chance to express the love you feel both for your partner and for honey and the honey bee with the perfect Valentine's Day gift.

The £19.99 'Honey I Love You' pack consists of a jar of delicious British honey, a pure beeswax candle, a miniature tin of honey lip balm and a gift card with the memorable honey quote 'Life is the flower for which love is the honey', all enclosed in an attractive eco-friendly Hessian bag.

The British honey bee is in trouble, under threat from the voracious varroa mite and habitat loss, with new concerns springing up all the time such as pesticide use or diesel fuel particulates, but with your help the BBKA can make a difference. 100% of the profits from your purchase will go to helping to preserve the British honeybee population through funding research, beekeeper training and breeding programmes.

To support us further, you could adopt a beehive for only £32.00 per year. As well as guaranteeing that you have helped fund honeybee support schemes, you will receive an Adopt a Beehive gift pack containing either a jar of British honey or a jar of honey mustard, a welcome letter from BBKA President, a packet of wildflower seeds to help feed the honey bee and other pollinators, a delightful set of bee notelets, a Pocket Guide to the Honey Bee, and a lip balm and 10% discount voucher on products from our sponsor, Burts Bees. Plus you receive seasonal updates from your adopted beekeeper and our newsletter, Hive Talk.

Both packs are available to order from www.bbka.org.uk or you can order by phone on 0845 680 7038.

This press release was distributed by ResponseSource Press Release Wire on behalf of Twelve Comms Limited in the following categories: Home & Garden, Environment & Nature, Food & Drink, for more information visit https://pressreleasewire.responsesource.com/about.