Money Saving Giant Battles Against RBS Chief's Bonus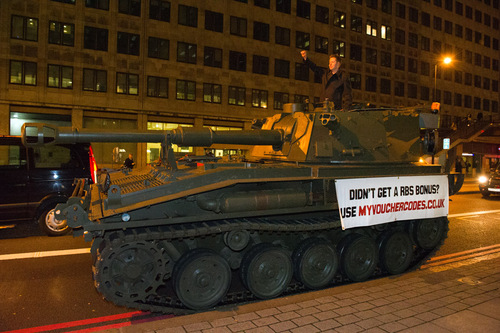 The chairman of the UK's leading discount website has responded to the news of the Royal Bank of Scotland's CEO Stephen Hester's £1,000,000 bonus, by deploying a tank in Central London today with a clear message to consumers.

With the news today that the CEO of the taxpayer-owned Royal Bank of Scotland, Stephen Hester, is to receive a bonus of nearly £1m despite earning a basic salary of £1.2m, the UK's leading discount website has reacted in true fighting style to show there's still hope for the public.

Mark Pearson, the chairman of the UK's leading discount website www.MyVoucherCodes.co.uk deployed an army tank in Central London today, with a clear message for consumers to support them in this tough economic climate, on the brink of another recession.

The tank displayed banners with the simple message 'Didn't get an RBS bonus? Use MyVoucherCodes.co.uk' in a bid to show passers-by that there's still hope for them. It set off from Shoreditch High Street and travelled around London to Westminster, passing by various RBS head offices and spreading the word.

Mark Pearson, Chairman of MyVoucherCodes.co.uk, commented on the tank:

"We thought it would be great to highlight that not everyone is fortunate enough to get a £1 million bonus in this tough economic climate, let alone earn that much on a basic salary as well and knew there was no better way to get the message across than by driving tanks straight through the middle of London!"

"Average Joe on the street can't rely on a huge bonus to get them through the year, but they can save money wherever possible by using discounts readily available to them. We want consumers to remember to check out discounts before they buy, and who knows, if they do it often enough, they may well save the equivalent of a banker's bonus."

Images and a video of the tank can be found here
http://www.myvouchercodes.co.uk/whats-hot/money-saving-giant...

ENDS

LINK: http://www.MyVoucherCodes.co.uk

For more information, or for an interview with Mark Pearson, please contact Shannon Haigh of 10 Yetis Public Relations Agency on 01452 348211 or shannon@10yetis.co.uk.

Editor's Notes

Mark Pearson, chairman of MyVoucherCodes is a regular media contributor regarding online shopping and the credit crunch. At 31, his personal worth is more than £60 million. Mark was previously a trainee chef working for Gordon Ramsay at Claridges, London.

Mark appeared as a 'Secret Millionaire' in the series on Channel 4, in which he donated £115,000 of his own money to worthy causes.

MyVoucherCodes has had sales exceeding £481m in the last year

Consumer savings on online shopping via MyVoucherCodes.co.uk up from £28m in 2008 to £52m in 2009.

MyVoucherCodes is the UK's most popular discount site.

This press release was distributed by ResponseSource Press Release Wire on behalf of 10 Yetis PR and Marketing in the following categories: Personal Finance, Business & Finance, Media & Marketing, for more information visit https://pressreleasewire.responsesource.com/about.