Wireless in the Warehouse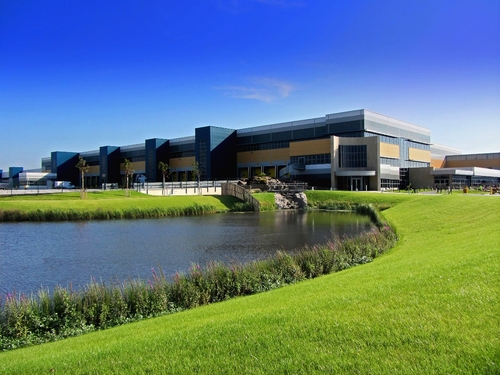 Redditch, 30 January 2012 - Networks First, an independent provider of support services for network infrastructure, has successfully designed and implemented a new LAN and WLAN for James Hall & Co.

The north of England distributor for the SPAR convenience stores called on Networks First to manage the IT challenges of moving to larger custom-built premises, including a new corporate head office and a vast new distribution warehouse. Networks First were also called upon to manage the design and implementation of the network infrastructure in these new premises.

As a new build project, James Hall & Co. made use of Networks First's Consultancy team throughout the building stages who had to face the challenges of designing a network for two different environments. Corporate Wireless LAN involves a known set of metrics whereas the warehouse environment had some unique difficulties to address.

For example, the warehouse required 100% wireless coverage so that staff could receive order information through their wireless headsets anywhere on the premises. Onsite testing wasn't going to be an option as the building only existed on paper so Networks First used specialist planning software to predict the wireless coverage.

The warehouse environment had further unique challenges as explained by Paul Lewis, Network's First's lead consultant on the project: "New build premises are something of a double-edged sword for network engineers, particularly in the case of wireless implementations. It can be beneficial to start from scratch with design and implementation. But at the same time the building process can be unpredictable due to the nature of the warehouse environment, and the lack of any physical premises to inspect can make planning and testing more difficult."

Constant dialogue on every aspect of the marriage between the construction and IT implementation processes was required. James Hall & Co.'s IT director, Dominic Hall, comments: "It was vital that our partners were willing to take a flexible and collaborative approach. The adaptability of Networks First, and Amillan staff was key throughout the project from an IT perspective, and helped the construction of the building to run smoothly as well."

For a network-critical business like James Hall & Co., a long period of downtime during the changeover was simply not an option. For this reason, Networks First facilitated the parallel running of the old and new networks during the changeover period so that the business could continue to function as normal.

"Without a doubt, the network switchover was the smoothest part of the move to the new premises. There was the absolute minimum of downtime and fuss," said Dominic Hall. "Now that we are in the new building the network is working faultlessly and exactly as was specified."

To read the full case study, please click here

Ends

Notes to Editors:

About Networks First

Networks First is a leading independent provider of converged network support services, helping organisations to achieve more from their existing communications infrastructures. A services led organisation, Networks First's highly experienced team of consultants and engineers guarantee business critical communications through a range of multi-vendor and mixed technology services and solutions.

Headquartered in Redditch, Network First operates throughout the UK, working with a broad range of vendor partners such as Cisco, HP, Mitel, Avaya and Extreme, to provide guaranteed support to customers. A centralised Network Operations and Technical Assistance Centre is at the heart of the business, backed up by a spares inventory in excess of £4.5m. Networks First's customers include: Accenture, ADT Fire and Security Plc, Birmingham Heartlands Hospital, Lotus F1, Newham University Hospital NHS Trust and NFU Mutual. For more information, please visit www.networksfirst.com

For further information about the press release, please contact marketing@networksfirst.com or call 0845 850 5577

About James Hall & Co.

James Hall & Co. is a distribution business based in Preston, Lancashire. The company is the north of England distributor for the SPAR network of convenience stores, delivering a range of frozen, chilled and ambient goods to over 450 stores.



This press release was distributed by ResponseSource Press Release Wire on behalf of Networks First in the following categories: Consumer Technology, Business & Finance, Media & Marketing, Public Sector, Third Sector & Legal, Manufacturing, Engineering & Energy, Computing & Telecoms, Transport & Logistics, for more information visit https://pressreleasewire.responsesource.com/about.