Unique multi-life modelling/drawing event Spirited Bodies comes to Battersea Arts Centre on 11 February 2012 hosted by London Drawing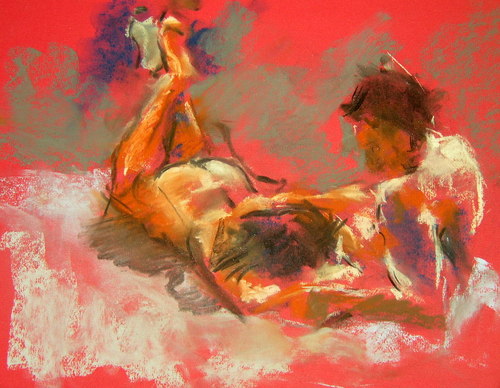 The experience represents for me a departure from past long held feelings of shame and guilt attached to my body and sexuality to a feeling of joy
Spirited Bodies comes to Battersea Arts Centre on 11 February 2012 – unique multi-life modelling/drawing event – hosted by London Drawing

2 February 2012

Spirited Bodies is a unique life art event where people model nude for artists in groups. The next Spirited Bodies takes place on Saturday 11th February 2012 at the Battersea Arts Centre, hosted by London Drawing. Artists will enjoy a day of intense creativity and a rare chance to work from multiple models at once. Many of the participating models have never modelled for artists before – and may never do so again. Their motives include doing something daring to prove that they can, challenging their own body confidence issues, contributing to the artistic process, or charging at the social invisibility conferred by increasing age.

Models attending previous Spirited Bodies events say:

'Getting naked is something I have wanted to do for some time. The experience represents for me a departure from past long held feelings of shame and guilt attached to my body and sexuality to a feeling of joy, freedom, creativity and expression.'

'Being in a group of women felt very safe and it was very beautiful to see everyone transforming from nervous and shy to empowered.'

Artists attending previous Spirited Bodies events say:

'It ups my concentration and makes me draw more adventurously"

'Groups force new requirements – depth – separating – relationships of shapes'

Spirited Bodies will be part of London Drawing's Drawing Theatre series for 2012, where artists explore their capabilities in a challenging context of performance based modelling, bringing different artistic disciplines together to enrich life art. Spirited Bodies' models are guided and supported by professional artists' models led by Esther Bunting, director, Spirited Bodies.

"Modelling for the first time by yourself for a group of artists can be difficult – getting naked in public is still taboo," says Esther. "It may be much easier to be nude alongside others doing the same. We all have body issues, however young, thin, fit, old, fat we are – life modelling can enable people to re-engage with their physical selves in a positive way, changing how you feel about yourself. We set up Spirited Bodies to give people that opportunity."

London Drawing developed the Drawing Theatre to play with the barriers between artists and models in life drawing. After six years developing creative life drawing programmes for Tate Modern, London Drawing launched the Drawing Theatre sessions in the Battersea Arts Centre, an exciting building which lends itself to creative pursuits.

"The Drawing Theatre is a spectacular fusion of theatre and drawing. It takes the passivity out of life drawing, creating a vibrant connection between performers and artists, to the benefit of both. It reminds artists that they are drawing people, not statues, and dynamic poses infused with emotion challenge artists to be their best, which is why artists who come to Drawing Theatre get so much out of it" Says Anne Noble Partridge, founder, London Drawing.

Poses will range from 1 – 2 minutes to 30 minutes, with different levels of interaction between the models. The action will take place in several rooms at the Battersea Arts Centre.

Previous Spirited Bodies have ranged from 18 – 67 in age, come from over 10 countries, in all sorts of body shapes and sizes.

For more information, see Esther's blog Spirited Bodies and Spirited Bodies page on Facebook and London Drawing's website

Please get in touch if you would like to model now or at future events.

For artists to book: please call the BAC box office: 020 7223 2223

Or book online at BAC's website.

Tickets cost GBP 45 for the day, drawing materials provided.

- ENDS –

For further information, including more images of art work created at previous Spirited Bodies events, please contact:

Spirited Bodies
Lucy Saunders
0777 55 66 074
Lucy_saunders@hotmail.com

London Drawing
Anne Noble-Partridge
info@londondrawing.com
http://www.londondrawing.com/drawingtheatre

London Drawing is a collaboration between professional artists, tutors and performers, led by Anne Noble-Partridge and David Price. Founded in 19xx, London Drawing uses lighting, props, sound, materials, elements of performance and site specific architecture to create a visual experience for artists. London Drawing runs experimental life drawing workshops at Tate Modern and Battersea Arts Centre, as well as creative sessions at Heatherleys School of Art. London Drawing also provide sessions in painting and digital art, bespoke art classes and corporate workshops on creativity and problem solving. London Drawing reinvents life drawing and drawing to encourage confidence and inspire all levels of ability and experience, from beginner to professional artist.


This press release was distributed by ResponseSource Press Release Wire on behalf of Spirited Bodies in the following categories: Men's Interest, Entertainment & Arts, Health, Leisure & Hobbies, Home & Garden, Women's Interest & Beauty, Retail & Fashion, for more information visit https://pressreleasewire.responsesource.com/about.