Parents never ending spending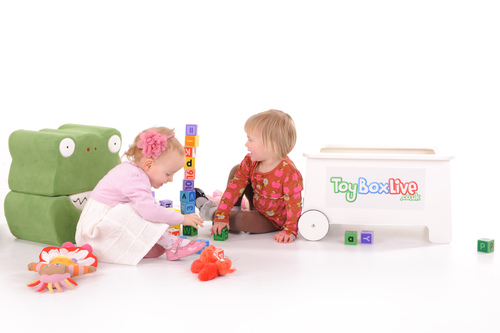 With over two thirds of the parents surveyed admitting to the feeling of financial pressure after the birth, ToyBoxLive.co.uk needs shouting about
Parents never ending spending

There is an alternative to never ending spending on children's toys - Toy Rental

A New TV Series "How to ... Prepare for your baby's arrival" has revealed that first time parents admit to overspending, with one in four admitting to having financial worries after the birth. The recent study surveyed over 2,000 parents an it will be a relief to both new and old parents alike that financial freedom can be achieved in the form of toy renting.

With over two thirds of the parents surveyed admitting to the feeling of financial pressure after the birth, ToyBoxLive.co.uk needs shouting about, to show parents there is an alternative to unnecessary spending.

ToyBoxLive.co.uk is the leading toy rental service in the UK which allows parents to choose toys from a huge selection via their website for a low monthly fee of £24.99 per month.

Renting isn't a new concept in fact it's been around for many hundreds of years. Whilst people are used to the idea of renting houses, hire purchase on cars and even hire purchase of goods via catalogues the whole notion of renting toys is alien - well in the UK that is.

Across the Atlantic toy rental has become a part of everyday life, where parents and carers have seen the waste that a child can create and opted for a clean, safe and economical way to indulge and have all the necessities without breaking the bank.

After a child is born you will need a moses basket which lasts about 6 weeks, the play mat, might be used from three months to six months but then you want to keep your child stimulated and you see another that might just do that, so now you don't just have one play mat you have two and each one will have cost you in excess of fifty pounds. Then you decide you need to get rid of it - How are you going to do that? You might try what eBay but you will be lucky to get 1/5 of the original retail price.

Then there are the mobiles and cot toys, which may last you slightly longer, and that all important pram suddenly won't fit in your boot with all the shopping because you just had to buy more toys (You'll think about how to pay for them later). All the soft toys that you needed for the first three months now seem pretty boring and it's not just your little one that is fed up with seeing the same toys - you are too.

A few months later and your little one is crawling around and you have to find out what toys are part of their next stage of development and yet again more expense and even more room to find in your house. No longer do you live in a contemporary palace of elegance you were once proud to call a 'show home', you are now wading between unused toys just to reach the kitchen, and the money, well you might as well have thrown it down the drain, that's assuming you had it in the first place. It's a sad story but one I'm sure many a mum will identify with.

Renting toys is pain free, you simply choose the toys you want online and they are delivered direct to your door, when you have had enough of them you simply send them back and new ones are sent straight back out to you. All toys are steam cleaned, then cleaned with an organic antibacterial toy cleaner before being wrapped and sent out. For less than 85p per day what have you got to lose.

-ENDS-

Notes to editors

For further information on ToyBoxLive visit www.ToyBoxLive.co.uk, call 0844 854 2823 or contact alison@toyboxlive.co.uk. Additional images and cut outs are also available upon request

About ToyBoxLive.co.uk

ToyBoxLive Ltd was setup in June 2011 by then 27 year old Alison Chesworth ToyBoxLive.co.uk has grown to become the UK's largest online toy rental service currently providing toys suitable for pre-schoolers from 0-4 years. ToyBoxLive.co.uk gives you access to thousands of toys for just £24.99 per month. No hassle, no fuss just maximum play!
This press release was distributed by ResponseSource Press Release Wire on behalf of ToyBoxLive Ltd in the following categories: Children & Teenagers, Women's Interest & Beauty, Personal Finance, Business & Finance, for more information visit https://pressreleasewire.responsesource.com/about.