Colombian flowers make love go round the world 8 times!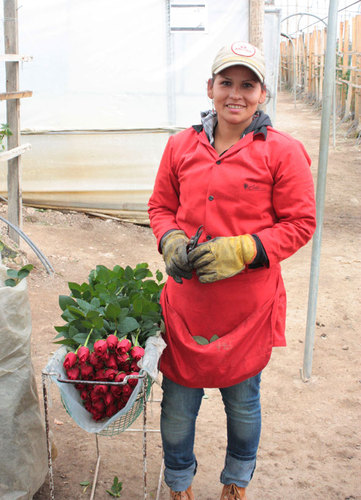 the money spent on flowers throughout the world is directly fed back to the people who grow and look after them
Bogotá, Thursday, February 9th, 2012. If love makes the world go round then Colombian flowers are on track to make it spin this Valentine's Day!

More than 500,000,000 Colombian flowers are being shipped to countries around the world to meet the February 14th deadline including over 5 million roses into the UK. That's enough flowers to go round the world at least 8 times*!!

And not only will Colombian flowers be saying 'I love you' in a truly international language but helping provide safe and financially rewarding work for more than 200,000 workers in Colombia who work directly or indirectly for the country's second biggest export business.

Speaking today in Bogotá, capital of Colombia, Augusto Solano, President of Asocolflores, the Association of Colombian Flower Exporters, said: "We are on the threshold of the most important season for our industry. Colombian growers are renowned for their quality roses which are sold in high end stores like Marks & Spencer, Waitrose and quality independent florists. With larger heads and strong stems they have become the rose of choice for customers wanting something extra special to express their love and friendship."

Due to the near perfect growing conditions in the Sabana de Bogotá, just outside the capital city, Colombia produces amazing flowers with larger heads, stronger stems and more vibrant colours.

More importantly the country is acknowledged as one of the leaders in terms of social and environmental achievements with an independently audited certification programme, Florverde, which has Global Gap approval and is respected by some of the most demanding flower buyers in the UK.

Solano continued: "In 2011 over USD 5 million was spent by the Colombian flower industry on local social programmes that directly benefitted more than 90,000 workers and their families. Be it low-cost housing, schools, university programmes or medical services, the money spent on flowers throughout the world is directly fed back to the people who grow and look after them."

Editors Notes:

• Mad maths statistic explained. Based on an average stem length of 70cm and a world circumference of 40,075 kms (40,075,000 metres/4,007,500,000 cms) you'd need 57,250,000 stems of Roses to go round the world end to end!
• Colombia is the world's 2nd largest exporter of flowers, and the main flower provider of the U.S. market.
• The first flowers to be sent from Colombia to the UK were Carnations more than 30 years ago.
• These days Colombia still produces more carnations than any other country but also supplies roses, calla, hydrangea, agapanthus and alstroemeria in large quantities. Tropicals from the coffee belt region are increasingly popular while Chrysanthemums from the Medellin region are regularly bought by UK supermarkets.
• For more information visit www.colombianflowers.co.uk
• For pictures or interviews please call Chrissie Bestley at the Colombian Flower Council UK on 020 8939 6475 or email info@colombianflowers.co.uk
This press release was distributed by ResponseSource Press Release Wire on behalf of The Flowers & Plants Association in the following categories: Children & Teenagers, Men's Interest, Entertainment & Arts, Health, Leisure & Hobbies, Home & Garden, Women's Interest & Beauty, Environment & Nature, Sport, Consumer Technology, Motoring, Food & Drink, Personal Finance, Business & Finance, Travel, Education & Human Resources, Medical & Pharmaceutical, Media & Marketing, Farming & Animals, Retail & Fashion, Public Sector, Third Sector & Legal, Manufacturing, Engineering & Energy, Computing & Telecoms, Transport & Logistics, Construction & Property, for more information visit https://pressreleasewire.responsesource.com/about.