New survey reveals women put pet before partner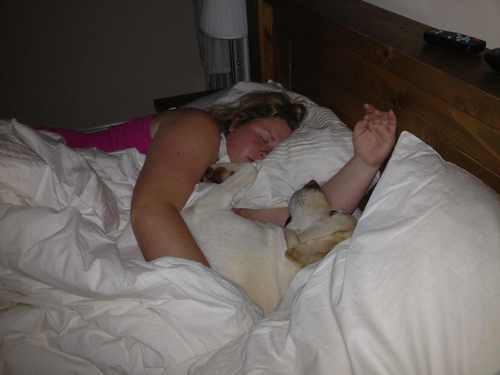 These findings highlight the important role dogs play in women's lives. Dogs offer women unconditional love that is less complicated than their other personal relationships
Think women talk mostly about their love lives or children over the water-cooler at work? Think again – even in the run up to Valentine's Day - a survey by new website petnet360.co.uk reveals female pet owners talk more about their dogs than their partner or children! When asked who they speak mostly about with friends or colleagues, nearly 60% confirmed they talk mostly about their dog .

Indeed 70% of female (compared to 51% male) owners regard their pet as one of the family. Furthermore, more than half (52%) of female owners feel at their most confident meeting people when out with their dog. Only 23% feel at their most confident meeting people when with friends.

Psychologist Dr Ceri Parsons adds: "These findings highlight the important role dogs play in women's lives. Dogs offer women unconditional love that is less complicated than their other personal relationships. They have the ability to make individuals feel loved on a 'no strings attached' basis and they reward us with behavior, such as greeting us at the door after a long day at work, that we experience as unquestioning love and loyalty. Sharing stories about our pets allows us to validate our experiences of unqualified love and ensures the dog remains (wo)man's best friend."

Reflecting the desire to talk about pets and socialise, the survey confirmed a growing trend for 'petnetting'. Nearly half (47%) of female respondents have their own online profile and 20% would be interested in speaking to other pet owners online. 13% already have pet profiles. 36% look online for pet health advice although 23% agree there is currently no one place for them to go. 33% would like a one stop shop online for all their pet owning queries.

Petnet360 director, Steve Soden, explains: " petnet360.co.uk is based on the successful formula of our two Facebook pages called Park Bench and Scratching post - which were rated the 'most engaged' and 'most active' pages for pet owners in the UK, and gained over 50,000 fans within a few months of launch last year. With an already established fan base for the new website, we are filling a gap in the market and pet owners will no longer have to search endless sites for good information."

In the same way that parents turn to Mumsnet for advice on all things child-related, the community focuses on sharing the highs and lows of pet ownership – with experienced vets and behaviour experts on hand to answer queries. And it's not just owners seeking online support, thousands of pets write (in the first person!) about a range of topics from their struggle to cope with the arrival of a new puppy to their dilemma as 'mummy' washes them with ketchup to get rid of the reek of fox poo! And just like proud parents – owners are keen to share all their 'firsts' too –with photos of a puppy's first bath, walk, friend, item of clothing. So, if pet owners are looking for a new way to social network, here is your answer.

With common goals of promoting preventative healthcare and responsible pet ownership, Petnet360 is working with the British Veterinary Association (BVA), Association of Pet Behaviour Counsellors (APBC), Pet Food Manufacturers' Association (PFMA), National Office of Animal Health (NOAH), Pet Care Trade Association (PCTA), Society of Companion Animal Studies (SCAS) and the Kennel Club to provide the best possible advice.

ENDS

For more media information or more case studies or photography contact: Fritha Flint on 07776 184083 or fritha@petnet360.co.uk or Julie Gray on 0845 371 0360 or Julie@petnet360.co.uk.


Notes to editors

Survey conducted by Opinion Matters on behalf of petnet360.co.uk among 1424 UK adults in December 2011

Case Studies available include:

Julie and Golden Labrador Ben: Julie readily admits that Ben is just like her baby. Julie's devotion to Ben is so extreme that boyfriend David is not allowed to go to Tenerife with Julie this half term. Instead he is staying at home to dog-sit and Julie is happy knowing Ben will be well looked after.

58% of female dog owners talk mostly about pet, 42% about their partner, 35% about their children and 22% about work. 46% of female cat owners talk mostly about their pet, 39% about their children, 24% about their partner and 30% about work.

Dr. Ceri Parsons is a chartered psychologist of the British Psychological Society. She obtained a PhD in 2002 and has published her research nationally and internationally. She has recently begun to retrain to become a veterinary physiotherapist in order to focus further on animal welfare, expanding on her existing academic interest in the human-companion animal relationship. Ceri has appeared on television and in radio commenting as an expert psychologist whilst also providing quotes in print press for a range of national newspapers and women's magazines. She is the chair of the British Psychological Society Press and Media Committee. Ceri also has 4 cats who allow her and her partner to live with them in their home!

This press release was distributed by ResponseSource Press Release Wire on behalf of Fritha Flint in the following categories: Women's Interest & Beauty, for more information visit https://pressreleasewire.responsesource.com/about.