Transact Network Limited Named Winner in Inaugural Paybefore Awards Europe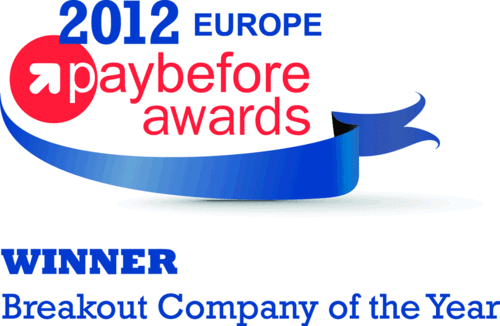 Paybefore has chosen Transact Network Limited as a 2012 Paybefore Awards Europe winner in the Breakout Prepaid Company of the Year category
Gibraltar, 9th March. 2012 – Paybefore has chosen Transact Network Limited as a 2012 Paybefore Awards Europe winner in the Breakout Prepaid Company of the Year category. Following in the tradition of Paybefore Awards, which is in its sixth year, Paybefore Awards Europe was created to honour excellence and innovation in the prepaid and stored value card industry in the U.K. and Europe. The awards are presented by Paybefore, whose publications are the leading source of industry information for the global prepaid community.

Kriya Patel, Sales Director, said: "It is a great honour to be recognised for any award, but in this category it is phenomenal, we are delighted to have won an award that recognises our innovative approach to prepaid cards. With over 100 live card schemes, we are more than equipped to deal with this expanding and increasingly popular area, and our experience in this sector is second to none. It hopefully also paves the way for a great year in 2012 as we have a number of new developments and announcements planned."

Transact Network Limited was selected by a panel of four industry experts who served as judges for this year's competition.

"Paybefore Awards Europe is about showcasing the companies that are keeping prepaid on the cutting edge of payments," said Loraine DeBonis, Paybefore editor-in-chief and chair of the judging panel.

"Our industry continues to break new ground and expand the reach of electronic payments because of businesses like Transact Network Limited who make innovation and execution a priority," she continued. "We are proud to recognize its contributions to advancing the prepaid industry in the U.K. and Europe."

"Prepaid is the fastest-growing area of payments because it addresses unmet payment needs of consumers, businesses and governments," added Marilyn Bochicchio, Paybefore's CEO. "Paybefore Awards Europe recognizes the creativity of prepaid practitioners in developing programs that address these needs more effectively than cash, checks or even other types of payment cards."

In a growing European prepaid market Transact Network Limited has gained the early mover advantage with a market leading position, actively issuing cards in 16 countries with over 100 live programs and issuing over 500,000 cards. With established distribution channels, both online and retail, a proven technology platform geared for Europe and an experienced European prepaid management team Transact Network is perfectly positioned to support the requirements of the European prepaid sector.

Transact Network Limited now will vie for best-in-category distinction, which will be announced during the Paybefore Awards Europe ceremony on 20 March at the Gift Card, Gift Voucher & Reloadable Card Summit in London.

About Transact Network Limited: Transact Network is a MasterCard and Visa Europe Principal Member providing European BIN sponsorship and modular prepaid services. Transact Network's electronic money and payment service permissions have been successfully passported to every EU and EEA member state enabling the issuance of prepaid card programs across Europe. The Company's proprietary modular prepaid card service platform enables bespoke, scalable solutions, rapid implementation, low entry costs, reliable ongoing management and proven risk reduction. The Company can implement a prepaid program from concept to launch in approximately 90 days. Transact Network is a licensed and authorized e-money institution by the Gibraltar Financial Services Commission and has fully owned subsidiaries and offices in England, India and Bulgaria, as well as affiliate sales offices in France and Germany.

For more information about the types of products and services Transact Network provides please visit: http://www.transactnetwork.com .

Press Contacts:

LeAnna Sidhu – Marketing Director
Email: LeAnna@transactnetwork.com
Tel: 00350 2000 3829

About Paybefore: Paybefore is the leading information provider to prepaid and stored value industry professionals, offering the latest news, commentary and analysis. Paybefore's family of industry publications include: Paybefore.com™, a searchable online news and information portal; Paybefore News™, daily news briefs delivered electronically; Paybefore News International™, a weekly compilation of prepaid news and events from outside the United States; Paybefore Mobile™, a compilation of the hottest mobile payments news; Paybefore Update™, an e-newsletter delivered 20 times a year; Paybefore Legal™, a downloadable e-newsletter covering the legislative, regulatory and judicial developments in prepaid, as well as feature articles by leading attorneys in the field; Paybefore Magazine™, a biannual print publication featuring in-depth articles on the opportunities, challenges and trends in the global prepaid and stored value industry; and the only industry directory, Paybefore Buyer's Guide™, available online and in print. Visit us at www.paybefore.com.


This press release was distributed by ResponseSource Press Release Wire on behalf of Transact Network Limited in the following categories: Consumer Technology, Personal Finance, Business & Finance, for more information visit https://pressreleasewire.responsesource.com/about.