ekmPowershop.com swallows a Tiger!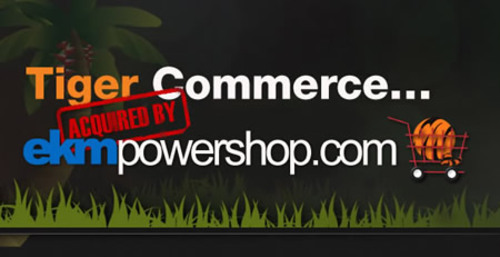 There's been a rumble in the ecommerce jungle this week, as industry leaders ekmPowershop.com acquired one of the fiercest competitors in the UK market, Tiger Commerce.

Tiger Commerce customers were officially notified of the acquisition on March 12th 2012, resulting in a pain free upgrade to ekmPowershop.com's market leading platform for thousands of online businesses.

Over the past decade ekmPowershop.com have carved out a dominant market share in the ecommerce software industry, having helped over 30,000 businesses create their own easy to use online shop. They now power a staggering 1 in every 5 online shops, and operate in several countries worldwide.

The previous owners of Tiger Commerce, GForces are widely recognised as the UK's leading internet services provider to the Automotive Industry. The acquisition allows GForces to concentrate on their core business, whilst enabling ekmPowershop.com to bolster its UK customer base by several thousands of customers.

ekmPowershop.com's owner and founder, Antony Chesworth commented: "In the past ten years we have seen our company grow and grow to become a market leader and we are showing no signs of slowing down. This acquisition boosts our customer base and ultimately enables us to help thousands of new customers in the exciting world of
ecommerce. In the future the aim is to upgrade Tiger Commerce users onto the ekmPowershop.com platform, allowing them to benefit from our world class, award winning ecommerce solution."

Graham Shaw, Customer Services Manager at ekmPowershop.com added: "Our first priority is to ensure there is no disruption to Tiger Commerce users, as we take over the support, administration and billing of all customers on the platform. We've set up a dedicated task team of migration experts, who are working with all Tiger Commerce customers. Each customer will receive a one to one call with a member of the team, who will help them get the most from their online shop, and to ultimately help them increase the success of their shop long term."

­­It's been an exciting 12 months for ekmPowershop.com, which has seen them successfully launch into foreign markets, as well as reaching record levels of new customers at home and abroad. Now the acquisition of a major player in the UK ecommerce market confirms ekmPowershop.com really do have the eye of the Tiger!

==ENDS==

For more information please contact Steven Hickey at Ekm Systems Ltd on 0844 858 858 0 or stevenhickey@ekmsystems.co.uk.

==About Ekm Systems Ltd==

Founded in 2002 by then 22 year old Antony Chesworth, the main products ekmPowershop.com and ekmResponse.com have grown to become the UK's largest ecommerce and email marketing platforms, powering 1 in every 5 online shops in the UK.*

Clients include Lotus Cars, O2, Michelin Tyres, Future Publishing, Madame Tussauds, The NHS, ITV, The BBC and thousands of SMEs.

ekmPowershop.com and ekmResponse.com have become the dominant forces in 'off the shelf' ecommerce and email marketing throughout the UK and beyond, helping over 17,000 businesses sell their products over the internet since its inception.

Other Ekm Systems products and services include website CMS (ekmSiteBuilder.com), Web Design (ekmWebDesign.com), web hosting (ekmHosting.com), Geo IP Redirection (ekmCompass.com), Web Statistics (ekmPinpoint.com), Postcode Lookup (Postcodeferret.com) and digital delivery (ekmDigitalVault.com).

*According to stats from IMRG and Hitwise there are around 20,000 - 30,000 'transactional' websites in the UK.




This press release was distributed by ResponseSource Press Release Wire on behalf of ekmPowershop.com in the following categories: Consumer Technology, Business & Finance, Media & Marketing, Computing & Telecoms, for more information visit https://pressreleasewire.responsesource.com/about.