ekmPowershop.com team up with KashFlow to offer easy ecommerce and accounts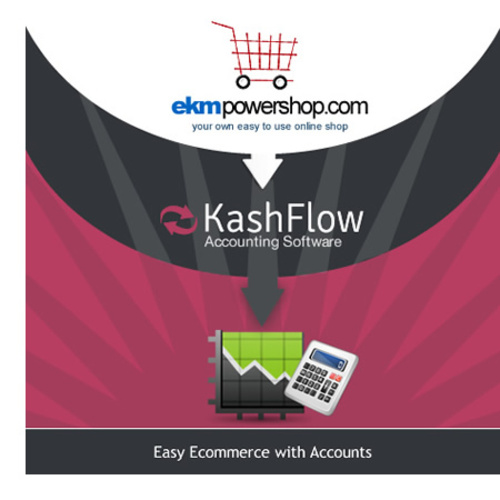 Managing accounts just got easier for tens of thousands of online shop owners today, as ekmPowershop.com and KashFlow announce an official integration between their market leading platforms.

Any ecommerce website built on ekmPowershop.com, which powers 1 in every 4 online shops in the UK after its recent acquisition of Tiger Commerce, now has the ability to have order data published straight into KashFlow, with no manual work required.

KashFlow is an easy to use, hassle free accounts package that's focused on allowing business owners to spend more time doing business, and less time shackled to their accounts, traditionally done through spreadsheets and other laborious methods.

With links into platforms such as PayPal and Dropbox, ekmPowershop.com is the latest heavy hitter with a plug-in on KashFlow's award winning accountancy solution.

Nick Stansfield, Head of Research and Development at ekmPowershop.com comments: "KashFlow's philosophy in how they deliver software is close to ours - it's about offering an easy solution anyone can use. We're focused on providing tools for businesses without the need for technical expertise, special qualifications or a degree in web design, accountancy, programming etc. You shouldn't need any of these things to run an online business, or to keep your accounts up to date. The integration was a no brainer as both respective platforms are built around these values at a low price point, delivered through the cloud. It's clear both companies work hard at staying true to that".

KashFlow is the latest in a growing list of ekmPowershop.com 'Connected Partners', a new initiative introduced by the ecommerce giant. 'Connected Partners' allows 3rd party providers to easily integrate their software or applications into ekmPowershop.com's market leading ecommerce solution, through a special partner API (Automated Programming Interface).

This latest partnership means ekmPowershop.com has integrations in multi channel (eBay/Amazon/Ecommerce inventory management), fulfilment (physical stock holding and despatch) and now accounts. Each platform has their own respective costs, but ekmPowershop.com makes no extra charges for shop owners wanting to take advantage of using both systems in unison, something which can cost hundreds or even thousands of pounds through ecommerce agencies up and down the country.

Nick added: "We're dedicated to offering an easy to use online shop, with continually evolving functionality for a single fee of £19.99 per month. Our recent acquisition suggests our aggressive pricing coupled with advanced features are the best on the market, and we're seeing record numbers of new users, month on month as a result. 'Connected Partners' allows us to keep pushing the appeal of ekmPowershop.com as there's a good selection of back office integrations now."

ekmPowershop.com's best in class ecommerce software, which is now available in 6 countries worldwide, is fully integrated into KashFlow's control panel and ready to use today. Click here to start your no obligation free trial.

==ENDS==

For more information please contact Steven Hickey at Ekm Systems Ltd on 0844 858 858 0 or stevenhickey@ekmsystems.co.uk.

About Ekm Systems Ltd

Founded in 2002 by then 22 year old Antony Chesworth, the main products ekmPowershop.com and ekmResponse.com have grown to become the UK's largest ecommerce and email marketing platforms, powering 1 in every 4 online shops in the UK.*

Clients include Lotus Cars, O2, Michelin Tyres, Future Publishing, Madame Tussauds, The NHS, ITV, The BBC and thousands of SMEs.

ekmPowershop.com and ekmResponse.com have become the dominant forces in 'off the shelf' ecommerce and email marketing throughout the UK and beyond, helping over 30,000 businesses sell their products over the internet since its inception.

Other Ekm Systems products and services include website CMS (ekmSiteBuilder.com), Web Design (ekmWebDesign.com), web hosting (ekmHosting.com), Geo IP Redirection (ekmCompass.com), Web Statistics (ekmPinpoint.com), Postcode Lookup (Postcodeferret.com) and digital delivery (ekmDigitalVault.com).

*According to stats from IMRG and Hitwise there are around 30,000 - 40,000 'transactional' websites in the UK.

About KashFlow

Over the past few years KashFlow have grown quickly, and are now the market leaders for web-based accounting software in the UK.

Chaired by Lord Young (former Cable & Wireless chairman), KashFlow were the first ever accounting software providers to be certified by PayPal. They have also been chosen by two of the biggest franchises of Accountants, Tax Assist and Abacus to provide their software.
This press release was distributed by ResponseSource Press Release Wire on behalf of ekmPowershop.com in the following categories: Consumer Technology, Personal Finance, Business & Finance, Computing & Telecoms, for more information visit https://pressreleasewire.responsesource.com/about.