Kim Kardashian launches QuickTrim in the UK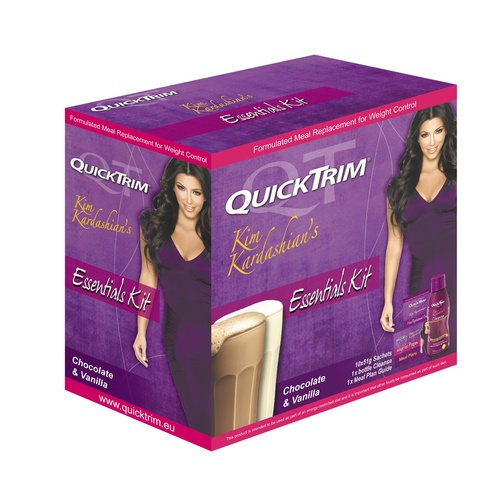 KIM KARDASHIAN LAUNCHES QUICKTRIM IN THE UK

Kim Kardashian has launched a new weight management product in the UK and will be visiting the UK to celebrate the launch in May 2012. Customers who buy any of Kim's QuickTrim product in the UK will be in with a chance of meeting Kim at a VIP event in London in May.*

Kim Kardashian's QuickTrim Essentials Kit is a seven-day programme that starts with a two-day cleanse followed by five days of meal replacement shakes to aid weight loss.

QuickTrim was first launched in America in September 2009 and is the leading weight loss brand in the US currently sold through 60,000 outlets. QuickTrim was released in Australia during 2011 and is now available in the UK exclusively through Rowlands Pharmacy and at www.quicktrim.eu.

Customers worldwide have reported success and product satisfaction after introducing one or more of QuickTrim's weight loss and cleansing products. Despite recent claims in the US, the products are in compliance with all FDA rules and regulations.

Kim says: "I like to stay in shape but like most women I don't find it easy. Rather than completely deny myself the things I like, I practice moderation, eating a well balanced diet and exercising regularly."

"I've put my name on the QuickTrim product range as it's a range that my sisters and I use when we need a bit of help getting in shape from time to time."

When Kim Kardashian's Essentials Kit product is used in conjunction with the recommended diet plan it gives the body a chance to eliminate waste products from the colon and decrease the amount of strain put upon the body's organs due to reduced sugar, salt, fat, protein, alcohol and caffeine intake.

Reducing waste from the body is likely to remove any feeling of bloatedness which often accompanies accumulation of waste material and gas in the colon, leaving the body feeling lighter and promoting healthier digestion.

The cleansing stage also means that the body is more prepared for the weight loss phase.

Once the initial two days have been completed, the body is in a better position to continue on a weight loss program. As the normal diet has already been restricted, side effects due to dietary changes will have begun to subside. The customer will have a more positive outlook due to feeling lighter from the initial cleanse. This sets the scene for moving onto the weight loss phase with heightened motivation to succeed.

*Kim will be in London in May hosting a VIP event at the St Pancras Renaissance Hotel. All customers who buy a QuickTrim product from Rowlands Pharmacy or www.quicktrim.eu will be offered the chance to enter a competition to be at the event and bring a friend.

Rowlands Pharmacy has over 500 branches throughout the UK and specialises in weight management. For details of your nearest Rowlands branch, or to find out more about the services Rowlands offers, visit: www.rowlandspharmacy.co.uk.

ENDS

For more information, samples or images, contact:
Madeleine Griffith on 0191 261 9799 or Madeleine@guerilla.co.uk

Notes to editors:

About Rowlands Pharmacy

• Rowlands Pharmacy is a growing chain of over 500 pharmacies, offering NHS and Private Prescriptions, OTC medication, health care products and an online service to clients across England, Scotland and Wales.
• The Rowlands head office is based in Runcorn, Cheshire.
• Rowlands operates an online pharmacy at www.rowlandspharmacy.co.uk


About Kim Kardashian's QuickTrim Essentials Kit

• The meal replacements work best in conjunction with a healthy, balanced diet and exercise. To help facilitate the cleansing process, the diet should be very simple consisting of lots of fruits, vegetables, chicken or fish and brown rice. Drink plenty of water and herbal teas. Avoid processed foods, sugary foods, deep fried and fatty foods, fast foods, red meats, white bread and pasta, tea, coffee and alcohol.

• After the cleansing period of two days you will be using the meal replacement shakes but will still need one balanced meal a day as well as snacks and it is best to stick to the same rules during this phase.

• Meal plans for each day of the cleanse are provided in the box to guide the customer through the seven days.

• The shakes are considered a well-balanced meal as they contain protein, carbohydrate and fat (we need a certain amount of fat in our diets). They also contain a blend of 25 different vitamins and minerals but only 201 calories.

• The shakes do not contain any fibre, so it is recommended to eat plenty of fruit and vegetables within the third meal and snacks and take a fibre supplement if necessary.

• The shakes contain all natural colours & flavours.

• Calorie intake is restricted, but by restricting calorie intake and not specific food groups it is more flexible and easy to stick to.

• Calorie intake depends on your gender and weight. For example a woman under 100kgs should limit calorie intake to 1200 calories, whereas men using the programme who are over 150 kgs can have up to 2000 calories.

• Adults with a BMI above 25 who wants to lose weight can start straight away. Those with type 2 diabetes, hypertension and high cholesterol are well suited to the program, because losing weight often improves their condition. They don't need permission from their GP to start, but they should see their GP as weight is lost, so that any adjustments to their medication dosage can be made.

• Kim Kardashian's Quick Trim Essentials Kit is not suitable for pregnant or breastfeeding women. Under 18s should use this product ONLY under the strict supervision of a healthcare professional.



This press release was distributed by ResponseSource Press Release Wire on behalf of Guerilla Communications in the following categories: Women's Interest & Beauty, for more information visit https://pressreleasewire.responsesource.com/about.