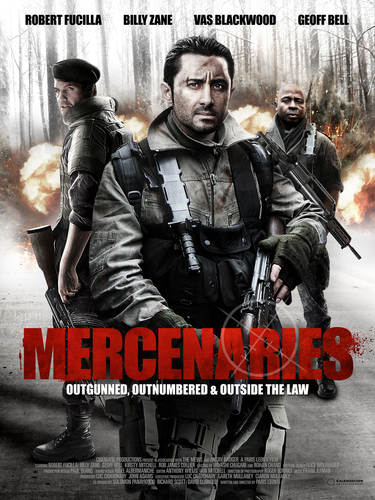 Andy Marlow is an ex-British S.A.S serviceman turned mercenary who is working covertly at an observation post in the Balkans after a military coup has resulted in the assassination of the Serbian Prime Minister and his family.

The coup has been instigated by Olodan Cracovic, the ex-commander of the Croat army, who went into hiding after the Balkan War ended. For some years he has been on the wanted list for crimes against humanity and has now come out of hiding to pick up where he left off. During the unrest, Olodan's army raided the U.S. Embassy and have taken the U.S Ambassador and his aide captives.

As Olodan's army have already secured positions around Srebrenica and the surrounding towns, no foreign troops are able to enter the region. The reaction of the U.S. President is to send a team to rescue the captives and in turn take Olodan Cracovic prisoner. Due to the political implications of US Troops being deployed on the European Continent, the decision is taken to send Mercenaries to carry out the Top Secret rescue and capture mission. Andy Marlow, along with two other mercenaries are called back from observations and sent into Srebrenica under the cover of darkness. US Military personnel posing as United Nations peacekeepers are playing a support role to the mercenaries, but cannot be seen in active operations. Covertly, Andy and his team infiltrate Olodan's headquarters, taking him captive and releasing the Ambassador and his aide. However this journey is far from over.

Now they are faced with the task of transporting them back to a safe area twenty five miles south of Srebrenica, where US troops are waiting. With Radovic (Olodan's right hand man) in pursuit, their mission takes an unexpected turn. They find themselves outnumbered, and fighting what could easily be a losing battle.

CINEMATIC PRODUCTIONS present in association with The Mews and Angry Badger a PARIS LEONTI Film
Starring ROBERT FUCILLA, BILLY ZANE, GEOFF BELL, KIRSTY MITCHELL, ROB JAMES COLLIER

MERCENARIES

casting by Urvashi Chugani and Rohan Chand costume design Alice Wolfbauer production design Paul Burns sound design Nigel Albermaniche editor Anthony Willis, Iain Mitchell, director of photography Roger Bonnici music Frank Ilfman producers luc chaudhary, john adams, executive producers luc chaudhary, Gareth Mullaney, Ciaron Mullaney co producer Solomon panayiotou, Richard scott, David Connolly, written and directed by paris leonti.

© 2011 CINEMATIC PRODUCTIONS FILM
This press release was distributed by ResponseSource Press Release Wire on behalf of Cinematic Productions in the following categories: Entertainment & Arts, for more information visit https://pressreleasewire.responsesource.com/about.