Retail EPOS Leader, TRC, Announces Availability of 7 Essential Steps to Buying an EPOS System Guide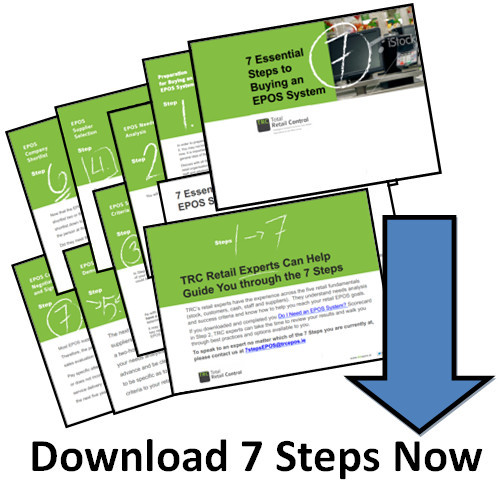 Free Step-by-Step Guide Helps Retailers Choose the Best Point of Sale System

Total Retail Control (TRC), an innovative retail EPOS leader in the Ireland and UK retail markets, is excited to announce the availability of the 7 Essential Steps to Buying an EPOS System Guide. The free step-by-step guide will walk retailers through the process of evaluating and purchasing an EPOS system for their retail business.

"At TRC, we want to provide retailers with the tools they need to grow their retail business. The 7 Essential Steps to Buying an EPOS System Guide is a critical tool to help retailers when they are making decisions about investing in a point of sale system," says Gavin Peacock, CEO, TRC. "It is a simple to use guide that will show retailers what they need to do and what questions they need to ask to ensure that their EPOS system investment drives revenue to their business."

The 7 Essentials Steps to Buying an EPOS System Guide addresses some of the most common questions retailers may have while considering purchasing a new EPOS system or replacing an existing EPOS system:

• What should I expect during the EPOS purchase process?
• What steps do I need to take to evaluate and purchase an EPOS system?
• What questions should I ask when considering an EPOS system?
• Who should I consult with on an EPOS system purchase?
• How do I determine which EPOS system is right for my retail business?

Retail businesses considering the purchase of an EPOS system can download this free, practical guide by visiting TRC's 7 Essential Steps to Buying an EPOS System Guide download page. You can also contact a TRC retail EPOS expert to help you with your 7 steps by email at 7stepsEPOS@trcepos.ie.

About Total Retail Control (TRC)

Retail solutions empowered by TRC deliver the best retail intelligence to grow your retail operation. TRC retail insights help managing retail staff, managing retail suppliers, controlling retail cash, managing retail customers and controlling your retail stock to boost your bottom line.

Total Retail Control (TRC) was launched in 1991 and over the past 21 years, the company has established a reputation for providing excellence in retail and hospitality solutions to a wide variety of clients across Ireland and the UK.

For more information about Total Retail Control, please visit: www.trcepos.ie or email sales@trcepos.ie.
This press release was distributed by ResponseSource Press Release Wire on behalf of Marketing CoPilot in the following categories: Business & Finance, Retail & Fashion, Computing & Telecoms, for more information visit https://pressreleasewire.responsesource.com/about.