TESCO HOSTS NEW INTELLICIG PROMOTION IN HUNGARY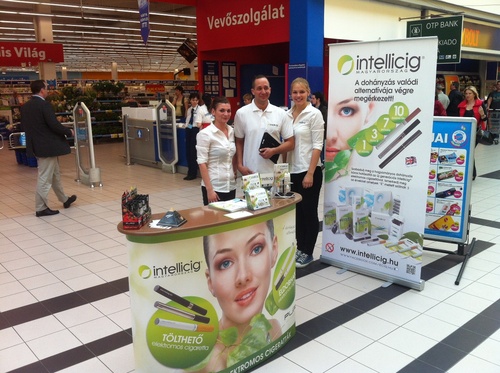 Intellicig – the leading UK producer and supplier of high quality electronic cigarettes and nicotine preparations –has announced that Tesco is hosting initial promotions for its e-cigarette range at three flagship locations in Hungary. This is an important step in Intellicig's European Distribution roll out strategy.

The promotion began last weekend, after Intellicig Distributor Zsolt Poprocsi had got agreement from Tesco Hungary to set up stands between the tobacco counters and the main entrances in key stores - thereby maximising attention and enabling customers to learn more about the innovative e-cigarette.

Up to now, Tesco have not been stocking any electronic cigarettes at its stores in Hungary.

Zsolt Poprocsi said:

"The promotion was very successful and we will be carrying on with the strategy over the coming weeks. In fact, we did more than simply promote Intellicig. The stands functioned perfectly as mini shops and Tesco customers were able to buy as well. Sales were brisk!"

Hungary was Tesco's first international business and it is currently the market leader operating 166 stores around the country. Tesco employs over 21,000 people and is the 4th largest employer in Hungary (after the Hungarian Post Office, OTP Bank, and the Hungarian State Railways).

Hungary is known as one of Tesco's most innovative retail marketing environments. Tesco's Dunakeysi environmental store is Hungary's greenest supermarket using 50% less energy and carbon. Interestingly, Tesco's new UK marketing boss David Wood was previously Commercial Director in Hungary.

Intellicig and ECOpure, the company's proprietary e-liquid, enables the company to maintain the highest standards of quality control over its specialised device. Intellicig's in-house developed nicotine preparations are manufactured within the company's own ISO approved laboratory at the world-leading UMIC Bioscience facility.

The recent cGMP award by the UK Medicine and Healthcare products Regulatory Agency (MHRA) is the latest formal recognition that Intellicig has a Quality Management System conforming fully to objectives and principles of EU Good Manufacturing Practice.

Zsolt Poprocsi concluded

"We approached Tesco because - since Intellicig is an English manufactured product conforming fully to EU standards – we felt the company would be reassured by the quality on offer. Tesco has already shown a stronger willingness to work with us than with any other international brands."

-ENDS –

For further press information please contact PR Manager Mark Mason
E-mail:mark.mason@quitdirect.co.uk or tel: 020 8567 3106 mobile: 07932 792 723
Caption: Intellicig staff pictured during the promotion at Tesco stores in Hungary

Notes to Editors:

1. Intellicig is a division within CN Creative Ltd with its Head Office at ELAP House, Fort Street, Accrington, Lancs BB5 1QG. Intellicig Research & Development is based at The Incubator Building, 48 Grafton Street, Manchester M13 9XX

2. Headquartered in the Bioscience Incubator at Manchester University in the UK, CN Creative provides innovative and sustainable solutions to global problems arising from smoking and smoking-related illnesses. It has developed a distinctive portfolio of products and services focused on smoking cessation and harm reduction, including user-friendly nicotine delivery systems and patient-focused smoking cessation and support services.

3. CNC's diverse products include the Intellicig® electronic cigarette, ECOpure proprietary high purity nicotine preparations and NRT Direct, which provides traditional nicotine replacement therapy products for publicly and privately sponsored smoking cessation programmes. CNC's Nicadex(TM) electronic inhaler nicotine replacement therapy product is in clinical development for use as part of medically supervised smoking cessation programmes.

4. Tesco entered the Hungarian market in 1995 through the acquisition of existing retailer S-Market's 26 stores in the North-West of Hungary.

5. Hungary is world-leading in its use of geo-thermal and solar and Tesco are working with the Hungarian government by creating a Green "Cluster" in Budapest.

This press release was distributed by ResponseSource Press Release Wire on behalf of CN Creative in the following categories: Health, Business & Finance, Medical & Pharmaceutical, for more information visit https://pressreleasewire.responsesource.com/about.