OVER HALF OF NEW PARENTS MORE CONFIDENT CHANGING A LIGHT BULB THAN THEIR FIRST NAPPY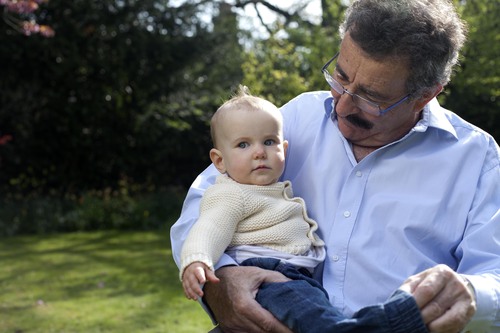 Qu. HOW MANY PARENTS DOES IT TAKE TO CHANGE A NAPPY?
An. FEWER THAN IT TAKES TO CHANGE A LIGHTBULB

• OVER HALF OF NEW PARENTS MORE CONFIDENT CHANGING A LIGHT BULB THAN THEIR FIRST NAPPY

• 1 IN 3 NEW PARENTS UNABLE TO READ SIGNS OF CRITICAL ILL HEALTH IN THEIR BABY

• 1 IN 3 HAVE NEVER SEEN A FAMILY MEMBER OR CLOSE FRIEND BREAST FEEDING BEFORE

• 1 IN 5 NEW PARENTS LIVE OVER 50 MILES AWAY FROM FAMILY

NEW DVD RESOURCE LAUNCHED TO HELP A GENERATION OF NERVOUS, STRESSED, AND LONELY PARENTS

[London, May 4th 2012] New research from The Essential Parent Company highlights the lack of support, low confidence and anxiety experienced by new parents. A staggering 8 out of 10 new parents surveyed felt they didn't have the practical skills to care for their newborn.

"So focused are expectant parents on the birth event, the practical abilities and responsibility of looking after a baby can come as a huge shock," says Dr Rebecca Chicot, Child Development and Parenting PhD from Cambridge University and founder of The Essential Parent Company. "It is impossible to describe how becoming a parent changes your life."

The new research coincides with the launch of The Essential Baby Care Guide, a resource of 4 DVDs featuring 8 hours of film content that deal with the big issues faced by parents in raising a new child – sleep, feeding, care and development and first aid.

Developed with 'Child of Our Time' creator Professor Lord Robert Winston and a host of leading childcare experts including The Royal College of Paediatrics and Child Health and UNICEF's Baby Friendly Initiative, the new Guide is intended to ease the stress and anxiety of new parents through the first 12 months.

"As society has evolved, we have lost some of our instinctive ability to be parents," said Professor Lord Winston. "Only a generation ago, new parents would have gained experience through contact and support from their family. Now we live further from our families, working women have less contact and experience with new born children within their own families and peer networks."

The Essential Parent Company research found 1 in 5 parents reported feeding as an area of anxiety and problems.

The National Office of Statistics recent infant feeding survey reported that four-fifths of new mothers plan to breastfeed, yet every year more than 200,000 mothers stop breastfeeding in the first few days and weeks – 90% of whom would have liked to have continued.

"New mums are just not getting the help, advice and support they once got," says Dr. Rebecca Chicot. "The intention is there, but the practical aspects of feeding such as 'latching-on' need to be demonstrated – which is where The Essential Baby Care Guide can help."

The top 4 areas new parents felt least prepared ranked as follows:
• Dealing with sleep issues
• Managing a crying baby
• First aid and emergency intervention
• Feeding

The Essential Baby Care Guide deals comprehensively with each of these issues. The Guide is the brainchild of two mothers, Dr Rebecca Chicot and documentary maker Diana Hill. Together with Lord Robert Winston they have created the most comprehensive 'visual encyclopaedia' for new parents.
The Essential Baby Care Guide is available from John Lewis stores nationwide and online from www.essentialparent.com and Amazon priced £35 for the full Guide of 4 x DVDs or £10 each when sold separately.

-ENDS-

EDITORS' NOTES:

To view clips from the Guide, please visit www.essentialparent.com

THE RESEARCH

Further statistics from the research demonstrating parental anxiety is available from the press office. The research was carried out with 500 parents whose first child was aged under 18 months. It was conducted in February 2012 by Opinion Matters, which complies with the Market Research Society (MRS) Code of Conduct in the UK and the ICC/ESOMAR Code and ESOMAR World Research Guidelines.

MEDIA ENQUIRIES

For all media enquiries, including interview requests with Professor Robert Winston, Diana Hall and Dr. Rebecca Chicot, please contact Heather Mullins at ROAD Communications on +44 (0)20 8995 5832 or heather@roadcommunications.co.uk

For all out of office media enquiries, please call Heather Mullins on 07545 536147.


This press release was distributed by ResponseSource Press Release Wire on behalf of Road Communications in the following categories: Children & Teenagers, Health, Women's Interest & Beauty, for more information visit https://pressreleasewire.responsesource.com/about.