7.5 Ways to Make Your Communications More Memorable - Tony Buzan, Creator of Mind Maps, Reveals Memory Secrets for Successful Presentations, PR and Customer Service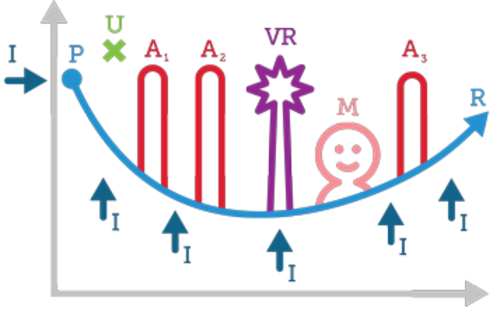 many people communicate in a way that's superbly tailored to help their audience forget what they say!
Years of research has shown that people forget more than 50% of the information they receive during a seminar or presentation after just one day, 70% after one week and more than 90% after one month!

So how can you make your communications more memorable?

It's a lot easier than most people think says multi-million copy bestselling author, memory expert and inventor of Mind Maps - Tony Buzan.

"Whether they're teaching students or delivering a workshop, many people communicate in a way that's superbly tailored to help their audience forget what they say!" comments Tony. "The good news is that even a very basic understanding of memory and its patterns can help you make your communications clear, effective, outstanding and, most importantly, unforgettable."

In his new book, 'The Most Important Graph in the World' (co-written with Jennifer Goddard and Jorge Castaneda), Tony reveals the little-known secrets of how the memory works and explains how readers can use this powerful knowledge to their advantage. His 'Most Important Graph' shines a spotlight on the 7.5 key principles of human memory and provides the full formula for any successful communication including presentations, speeches, negotiation, training, customer service, coaching, sales and teaching.

Drawing from this graph, Tony Buzan offers the following 7.5 tips to help you make the jump from mundane to memorable in no time:

1) FIRST IMPRESSIONS COUNT

The Primacy effect states that we tend to remember the information at the beginning of a learning experience. If you're giving a presentation or speech, you've got just 30 to 60 seconds to make your audience sit up and take notice otherwise you could well lose them for the duration. Think about how you can make a sparkling first impression. Don't start with the usual introduction and platitudes: "Hello, I'm ……. It's great to be here. Today I'm going to be talking to you about…."

How dull and predictable.

Instead, start with a bang by making a shocking claim or statement, presenting a striking statistic, asking a provocative question, or cracking a (tasteful) joke. Or tease your audience and pull them in deeper by inviting them to 'imagine' something, by telling a humorous or emotional story, or by introducing a metaphor or analogy. Do this well and you can be sure that your audience will be fully tuned in to what you have to say as you deliver your key message.

2) END ON A HIGH

The Recency effect is the twin of Primacy, demonstrating that we also usually remember the information at the end of a learning experience. In the same way that you need to establish a positive, information-packed and engaging Primacy, you need to summarise and finish off in exactly the same way. Always end your communication with some form of Call to Action. For instance, when planning a presentation or seminar you should have in mind: "What do I want the audience to Look, Feel, Say or Do at the end of my presentation?" Prepare a 'key' sentence that will create the response you want in those precious final moments.

In customer service or sales encounters, consider the 'lasting impression' that you'd like to leave the customer with. Make sure its meaningful and uplifting by taking the time to make people feel valued and cared for at the very end of the communication.

3) THE 'WOW' FACTOR (worth an extra 0.5!)

The Von Restorff/Imagination effect (worth an extra 0.5) shows that we remember anything that is exceptional, different or unique – anything that stands out from the crowd. No matter how brilliant a communicator you are, there will automatically be a sag or drop in the audience's attention and recall in the middle of your presentation, lecture or speech.

There are many simple things you can do to overcome this sag and add some entertainment and excitement to the audience's experience. Try developing a signature story that tells an interesting tale while delivering your message at the same time. Stories are how we learn from other people's experience and a big part of how we naturally communicate, making them a powerful memory tool. What's more, stories have an even bigger impact when combined with other things like vivid and unique props, musical instruments, humour, mind maps, colours, images, activities, sound and videos. One speaker developed his Von Restorff and learnt to throw a boomerang around the auditorium just over the heads of the audience. Another famous brain scientist would use a real brain (with a spinal cord still attached) as a prop in her talk – always guaranteed a reaction from the audience!

4) MAKE CONNECTIONS

The principle of Association states that we remember what is linked or connected, especially to ourselves and our own worlds. Using association in your communication will lift any slumps in the audience's attention and raise the overall level of recall by helping you access the audiences existing memory 'files'. Think of your audience first and how your topic and its association can connect to them. Can it satisfy their goals? Can it answer the question 'what's in it for me?'

Use various techniques to bring out the associations both within the material, and between the material and your audience. Analogies and metaphors are useful here. They make it easy to remember complex ideas by creating a strong connection between two otherwise dissimilar concepts. Group exercises are also a great function of association, helping the audience link the ideas you are presenting with their own lives, applications and practices. Yet another tool is the 'Rule of Three'. To make your message more memorable focus on three core ideas or associations. Steve Jobs, former CEO of Apple, was famous for this in his annual product launches. Rather than list all the different features he would always focus on three core and noteworthy elements.

5) DO THEY UNDERSTAND?

The principle of Understanding and Misunderstanding demonstrates that it's possible to remember something 'accurately' that never actually happened. This relates to the brain's phenomenal ability to imagine, daydream, create and associate. During your communications, remember that the brain is not simply a passive receiver – it's a highly active and creative participant. Your audience will be manufacturing their own personal images and associations in the context of what you are saying.

You can prepare for this beforehand by asking yourself these questions: Where is there a potential for misunderstanding and how can my understanding of this avoid it? What are the real facts? What are the perceptions? How can I improve clarity? How can I guarantee the associations and images I use increase the probability of proper understanding? To communicate successfully, you must focus more on what your audience will actually understand and absorb, rather than simply what you want to tell them.

6) WAKE UP THEIR INTEREST

Interest is like a sleeping giant. When it's awakened, it's as if a massive turbine has been switched on in the brain and memory improves in one immediate, giant leap. Unlike children who are open to anything, the average adult is not interested in many things. This is the real challenge for communication. Your goal is for people to remember, understand and enjoy the presentation/speech/workshop/lecture; to ensure that it captivates, maintains their interest and gives them something valuable to apply to their lives once it has finished.

A great way to engage and sustain interest is to work with the following rule: First tell them what you are going to tell them - in other words start with a strong Primacy effect. Second, tell them - creating association and Von Restorff through the middle. Finally, conclude with an impactful Recency by telling them what you told them. To keep interest high, make the key message clear and sharp. And keep it simple – don't go too deep into the subject as you risk losing your audience.

7) WHAT'S THE MEANING OF IT ALL?

The final memory principle is Meaning. Through meaning, people take in bits of information and piece them together to create the whole picture. The result is the 'aha' moment when it all makes sense. Think about how you can build meaning into your entire communication - What is the big picture? What will it mean to your audience?

Your job is to provide bits of information that help your audience make new and significant connections between the gaps in their own knowledge or experience. This is easier to do if you group information into small meaningful chunks or categories. Like a jigsaw, keep offering them missing pieces until they solve the puzzle. At the end, you will have built a complete network of integrated images and associations around a concept.

ABOUT TONY BUZAN

In his long and prolific career as a speaker, consultant and author of over 100 books, Tony Buzan has helped countless people around the globe to unlock their creativity, improve their memory and boost their thinking skills. Known to millions as the inventor of Mind Mapping, he has been the instrumental driving force behind global mental literacy. Tony has worked with some of the world's most high profile organisations, governments, universities, leaders, athletes, performers and academics, as well as children of all ages.

In his new book, 'The Most Important Graph in the World', he reveals how a simple understanding of memory and its improvement can instantly and dramatically change our lives and the lives of those around us. Launching on 2nd June 2012 in honour of Tony's 70th birthday, this book is a true culmination and celebration of his life's work.

'The Most Important Graph in the World', published by Proactive Press (£14.99, 210 pages, paperback, ISBN: 978-1-908934-01-7), is available via Amazon.co.uk.

For more information on the book and the author (including a pdf extract and full press-kit), please visit www.MostImportantGraph.com

###

INTERVIEWS WITH TONY BUZAN AND REVIEW COPIES ARE AVAILABLE ON REQUEST


Please Contact:

Owen Hardy (ThinkBuzan Ltd)
Email: proactivepress@thinkbuzan.com
Tel: +44 (0) 20 7117 7173
This press release was distributed by ResponseSource Press Release Wire on behalf of ThinkBuzan in the following categories: Women's Interest & Beauty, Business & Finance, Media & Marketing, for more information visit https://pressreleasewire.responsesource.com/about.