Olympic hopeful kick-starts Opus Energy's employee wellbeing initiative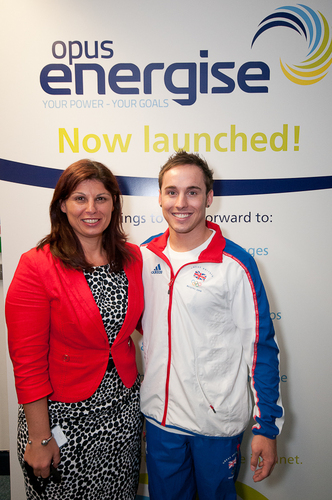 Olympics hopeful Daniel Keatings launched business energy supplier Opus Energy's new workplace wellbeing campaign 'Opus Energise' this week
Olympics hopeful Daniel Keatings launched business energy supplier Opus Energy's new workplace wellbeing campaign 'Opus Energise' this week, with an inspiring and motivational talk to employees.

Having secured a 'First class' rating under the Best Companies accreditation scheme, Opus Energy has launched the Opus Energise employee scheme as a thank you for ongoing support. The scheme seeks to increase the overall mental and physical wellbeing of the company's workforce, which has grown by more than 70 employees since last autumn.

Employees will benefit from various Opus Energise scheme initiatives, including:
• an online health and wellbeing information portal;
• quarterly health challenges, starting with a pedometer team competition;
• health checks and advice;
• free access to occupational health;
• cycle to work initiatives;
• volunteering days; and
• discounted gym membership.

Valuable feedback from an initial survey helped to shape and drive the Opus Energise scheme, which aims to create a healthy and motivating work environment.

Speaking at the launch, Daniel Keatings - a pommel horse gymnast, sponsored by Opus Energy - commented: "It's great to work with a company that realises the value of getting its staff involved in sports and thinking about being healthy. I know it's not an easy thing to do, particularly when you work all day, so I hope that my talk inspired Opus Energy's employees to stay fit and healthy and get the most out of the new Opus Energise scheme."

Charlie Crossley Cooke, Managing Director of Opus Energy, said: "Opus Energy has experienced phenomenal growth of late; we now employ over 400 people across both our Northampton and Oxford sites. Opus Energise is another way for us to show our commitment to our employees and thank them for all their hard work."

Annamarie Petsis Jones, Head of HR, Learning and Development, continued: "Seeing Daniel Keatings talk to our staff to kick-start the Opus Energise launch is one of the highlights of this campaign. I'm thrilled to be part of such a strong and growing company that is willing to provide the financial backing to support initiatives that benefit its employees."

Ends

Notes to editors

Attached photograph shows Annamarie Petsis Jones, (Head of HR, Learning and Development, Opus Energy) and Daniel Keatings (gymnast).

Further photos are available upon request.

For press enquiries, please contact

Alexandra Dann
Marketing Executive, Opus Energy
T. 0845 218 2160
E. alexandra.dann@opusenergy.com

About Opus Energy
Opus Energy is the UK's leading business energy supplier. With offices in Northampton and Oxford, Opus Energy employs 410 people.

Opus Energy supplies over 130,000 UK business sites across all sectors. Corporate customers include: CfBT Education Trust, Stagecoach and Virgin Media.

Opus Energy's management team has a 50 per cent stake in the business, while International Power Plc (LSE:IPR.L) holds 30 per cent and Telecom Plus Plc (LSE: TEP.L ) has 20 per cent.

For further information about Opus Energy, please see www.opusenergy.com.

This press release was distributed by ResponseSource Press Release Wire on behalf of Opus Energy in the following categories: Health, Sport, Business & Finance, for more information visit https://pressreleasewire.responsesource.com/about.