London cellulite clinic releases 45 "innocent" before-and-after photos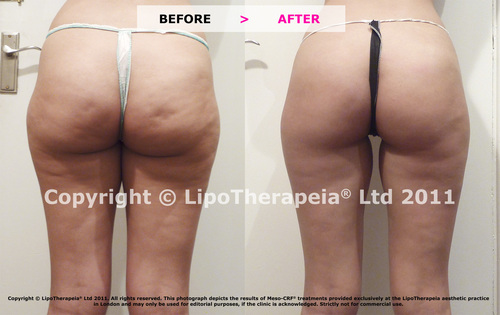 cellulite removal, skin toning and localised slimming are possible with the right treatment, especially if accompanied by a healthy lifestyle
Knightsbridge-based cellulite clinic LipoΤherapeia has now released 45 unretouched "before and after photos" which document the effectiveness of it's exclusive Meso-CRF cellulite treatment. Meso-CRF® Body is the combination of high power monopolar radiofrequency, high power ultrasound cavitation and 15-ingredient electro-mesotherapy.

Contrary to the typical "before and after" photos which are retouched or feature harsh lighting for the "before" pictures and flattering lighting for the "after" pictures, LipoTherapeia's pictures are unretouched and have been taken with identical lighting before and after - hence the "innocent" designation.

Given that cellulite is notoriously difficult to treat (most cellulite treatments are simply ineffective) and that results are difficult to show on "before and after" photos, many resort to retouching such photos or to using different light for the before and after pictures. Such practices mislead women - quite often leading them to believe that miracles are possible with a specific technique - but they eventually lead to resentment, mistrust or skepticism about cellulite treatments in general.

"We, at LipoTherapeia, never make exaggerated promises, neither we follow such practices, making sure that all our before-and-after photographs are "honest" and truly depict the effects of the treatment on each of those clients", explains cellulite expert Georgios Tzenichristos from LipoTherapeia.

All 45 before and after cellulite photos show an improvement on cellulite, skin tightening/lifting and spot fat reduction, with some clearly describing the cellulite reduction possible with the treatment, others clearly depicting the localised fat reduction potential of the treatment, and others clearly showing the skin tightening/lifting effects.

Most clients in the pictures are aged 23-55 and are of normal weight or slightly overweight, with some being clearly overweight and a very few being slim. Although the treatment is equally effective on slim or overweight clients, the results on slim people are not easy to depict on "honest" photos, thereby the sample of thin clients in this photo library is small.

On all photos, relatively harsh lighting has been used (identical "before" and "after") in order to clearly show the differences (soft lighting makes it impossible to show the differences on photos). Therefore, the actual appearance of cellulite is much better in real life than on the pictures.

"It took us a year of hard work to create this "before and after" picture library but we are proud of our achievement", says Georgios. "Now we can showcase to the world that cellulite removal, skin toning and localised slimming are possible with the right treatment, especially if accompanied by a healthy lifestyle. By all means, Meso-CRF Body is not a miracle and is not equally effective on 100% of clients - as any medical or aesthetic treatment - but these are the maximum results that can be produced in 10-12 sessions with probably the best technology available today. I constantly research the different anti-cellulite technologies and to the best of my knowledge there is nothing stronger or more effective today", passionately adds Georgios.

At LipoTherapeia they are now focusing on the creation of a similar database for their Meso-CRF Face treatment, offering a strong financial incentive to clients who complete a course of 12 sessions and are happy for their "before and after" photos to appear on the LipoTherapeia website and promotional material. Clients can participate in the "before and after" discounts by visiting lipotherapeia.com/500 or on 020 7047 1982. Introductory treatments at 45% discount are currently available at lipotherapeia.com/book or on 020 7047 1982.

[Offers may be withdrawn at any time without prior notice. Terms and conditions and eligibility requirements apply.]

----------------------------

About LipoTherapeia
Meso-CRF is exclusively available at LipoTherapeia, 202 Walton Street, Knightsbridge/South Kensington, London SW3 2JL. Tel: 020 7047 1982. To email LipoTherapeia please fill the form at www.lipotherapeia.com/contact. Journalists may request watermark-free photos for publication.

Meso-CRF can be used on the whole body for skin firming, cellulite removal and localised fat reduction: calves, knees, inner thighs, outer thighs, buttocks, waist, stomach, upper arms, décolleté, neck, under chin, jowl, cheeks, under eye bags, crow's feet, forehead.

Most women experience the first long-term results with Meso-CRF in 3-4 sessions, with the best results typically achieved in 6-12 sessions, according to each individual's needs.

----------------------------

Disclaimer
Meso-CRF offers impressive* results in comparison to the majority of radiofrequency, cavitation and needle-free mesotherapy treatments, because it simultaneously combines these three techniques, also saving clients time and money (a course of 6x Meso-CRF sessions is equivalent to 18x stand-alone RF, cavitation and mesotherapy treatments). These results occur when the treatment is combined with diet, exercise and smoking/alcohol avoidance.

However, nothing biological can be guaranteed by any treatment or any technology, surgical or non-surgical, including Meso-CRF. For this reason LipoTherapeia cannot make specific guarantees about specific results after a specific number of sessions, as those not only depend on the effectiveness of the technology used but also on factors over which we have no control, such as the client's diet, exercise and drinking habits; her genetics; her overall health; the severity of her cellulite/skin looseness/fat accumulation; and her goals/expectations.
This press release was distributed by ResponseSource Press Release Wire on behalf of LipoTherapeia - Beauty in the following categories: Women's Interest & Beauty, for more information visit https://pressreleasewire.responsesource.com/about.