Pet Owners Urged to Update Contact Details Before the Summer Getaway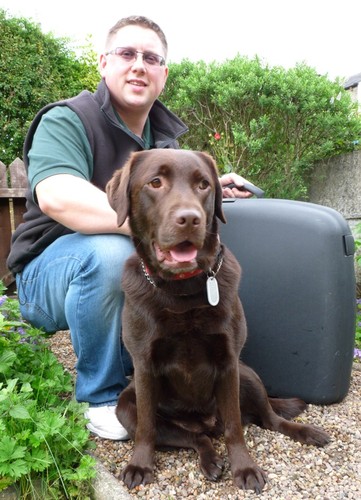 Many lost pets, although micro-chipped, still struggle to find their way home at holiday times because there is no one at home to be contacted.
With the summer holiday season almost upon us, and millions of families set to depart on their annual getaway, pet owners are being urged to ensure that their dogs and cats have up-to-date information that will ensure that they can be reunited with their owner or guardian if they are lost.

Each year more than 125,000 pets go missing. The reunion of lost pets with their owners is made harder and often impossible when pets are away from their usual home and the contact details which they are carrying are not current.

There are so many scenarios that can make the reunion of lost pets a difficult task during holiday times. The owners usual contact information may not be of use while they are away from home, the pet may be staying with a family friend, in kennels or may even have been taken on holiday with the family. Whatever the scenario you need to ensure that your pet is carrying information that will enable them to be returned to you or someone caring for them, wherever or whoever that may be while you are away from home.

One UK company is attempting to make the process a whole lot simpler this year with their QR code pet tags. Peter Winkler, Founder of Homeward Bound ID Tags said: "Many lost pets, although micro-chipped, still struggle to find their way home at holiday times because there is no one at home to be contacted. We had the misfortune of losing our pet on a family holiday, and the horrible realisation that all her contact information was for an empty house hundreds of miles away from where we were staying. Fortunately our story had a happy ending, but it could have been very different."

Homeward Bound pet identification tags eliminate the problem of outdated information by enabling pet owners to always keep their contact information current, with instant, free online updates. This is a feature that can be useful at any time, but especially so at this time of year when owners can simply change their usual home address to a holiday home, kennels or friends address; wherever their pet is staying.

The tags also feature another significant benefit which helps to make the reunion of a lost pet a faster, less stressful experience, Peter explains: "The second great advantage to our tags is that the use of a QR code means they can be read by anyone with a smart-phone or PC, so there is no need for a vet or dog warden with specialist chip reading equipment. This makes it significantly easier and faster to get a lost pet back to its family, which is better for everyone involved."

Homewards Bound tags can be engraved on their back to make them fully compliant with current UK legislation and ensures that they can still be used without any technology.

Homeward Bound QR code pet identification tags cost just £9.99 and are available from the Homeward Bound website at www.qrpettag.co.uk or good pet stores.

Order your tag before 31st August 2012 from the Homeward bound website www.qrpettag.co.uk and save £1 when you use promotion code 'SUMMER1'.

For more information about Homeward Bound ID Tags visit www.qrpettag.co.uk, call 08450 942 190 or email enquiries@homewardboundidtags.co.uk. For trade enquiries please contact trade@homewardboundidtags.co.uk.

# # #
This press release was distributed by ResponseSource Press Release Wire on behalf of Homeward Bound ID Tags Ltd in the following categories: Leisure & Hobbies, Consumer Technology, Travel, for more information visit https://pressreleasewire.responsesource.com/about.