Uniblue Powersuite 2013 is Unleashed: Uniblue's Complete Performance Solution now has more Customer-Centric Benefits for a Fully Optimized Computer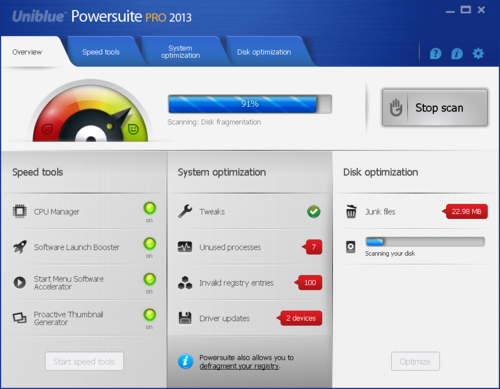 We believe that Powersuite 2013 is a significant step-up from previous versions of the software setting a new benchmark for our customers to enjoy.
With over 6 million PCs already optimized by their top-selling software, Uniblue has put more than 10 years of product innovation and customer feedback into Powersuite 2013; the newest version of the popular PC optimization software that brings all the award-winning features of Uniblue's products into a complete performance solution.

The new intuitive interface presents users with simplified software management, resulting in Uniblue Powersuite 2013 being a PC performance solution for all levels of users, ranging from novices to experts. Users can tailor the software to suit their needs, from choosing from one of the 13 available languages to resizing the app on the desktop for better readability. The new release reflects Uniblue's commitment to customer experience, offering users help and support from within the product interface itself; free 5-star* support is available in several languages via web-based chat and email.

With a fresh design for increased usability, Uniblue Powersuite 2013 is an easy-to-use product with tangible customer benefits, such as three types of system scans and an upgraded and improved system health indicator. New categories within the software deal with specific areas of the PC to offer unparalleled performance; these are Speed Tools, System Optimization and Disk Optimization.

Speed Tools

• CPU Manager. Uniblue Powersuite 2013 ensures background processes do not slow down the task at hand;
• Proactive Thumbnail Generator. Enables quicker navigation through image folders;
• Start Menu Software Accelerator. This tool speeds up the opening of software from within the Windows Start menu;
• Software Launch Booster. Speeds up launch time of programs by boosting CPU resources.

System Optimization

• Tweaks. Three types of smart tweaks including System Resource Management, Startup and Shutdown and Windows User Interface tweaks. Maximize PC settings and fine-tune the PC's processor and memory files;
• Unused Processes. The software deactivates three types of processes that slowdown a PC, maximizing valuable disk space;
• Driver Updates. Update drivers to improve hardware performance. The software scans the PC to identify devices with outdated drivers and effortlessly downloads multiple new drivers in one click;
• Invalid Registry Entries. Removing them helps to increase PC speed and stability;
• Registry Defragmentation. Defragmenting the registry data optimizes performance.

Disk Optimization

• Junk Files. The software will delete 3 types of unnecessary files from the Recycle bin, Windows temporary files and Internet temporary files. Quickly remove unwanted files to free up hard disk space;
• Disk Defragmentation. Hard disk assessment is split into four categories ; defragment hard disk data to improve the disk's performance;
• Removal of old backups. Two types of unnecessary Windows backups are deleted;
• File Compression. This function creates valuable storage space by compressing the largest 100 files.

David Walsh, Uniblue's Chief Marketing Officer says 'Having been recognized as one of the leading experts in the PC software utility market, we have taken feedback from our millions of customers and combined this with our in-house product engineering and quality assurance expertise. We believe that Powersuite 2013 is a significant step-up from previous versions of the software setting a new benchmark for our customers to enjoy. We have no doubt that the new advanced features shall further optimize our users' computing experience by making their PCs run with faster and more stable results.'

For more information about the Uniblue Powersuite 2013 go to: http://www.uniblue.com/software/powersuite/

About Uniblue

Uniblue Systems Ltd is creator and provider of award-winning software products designed to deliver superior performance and stability to PCs everywhere. Uniblue has risen to be known as the thought leader in the utility software market. The company's products, services, free resources and help guides such as Processlibrary.com are recommended by IT experts as definitive reference points for ensuring consistent computer functionality. Uniblue is a customer-oriented company and provides support in several languages. Uniblue software benefits don't end at great software; customer satisfaction is a priority which Uniblue takes pride in.
Uniblue offers a 60 day money back satisfaction guarantee.
Uniblue is a Microsoft Partner Independent Software Vendor with a Gold competency.

Microsoft is a trademark of the Microsoft group of companies. All other trademarks are the property of their respective owners.
For more information, please contact the press team at Uniblue: press@uniblue.com

Web: http://www.uniblue.com/
*5-star support as rated by LivePerson in June 2012.

This press release was distributed by ResponseSource Press Release Wire on behalf of Uniblue Systems in the following categories: Consumer Technology, Computing & Telecoms, for more information visit https://pressreleasewire.responsesource.com/about.