UK's Love of Reading Sparks the Great Book Migration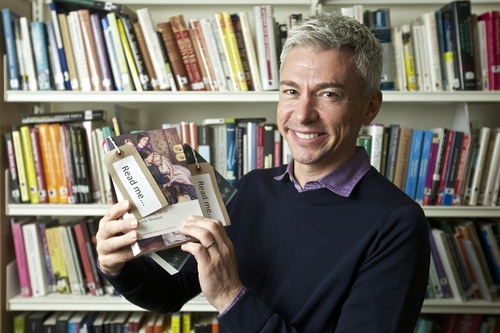 UK's Love of Reading Sparks the Great Book Migration
 Jonathan Edwards jumps on board to launch national reading campaign
 The UK is a nation of Bonds, Bennetts and bookworms
 Hermione beats Harry in the top fictional character polls

A list of the UK's favourite fictional folk has been revealed, placing James Bond and Elizabeth Bennett as the characters we'd would most like to be.

According to the poll of over 2,000* people, the average UK resident spends 7 hours and 54 minutes immersed in a good book each week. Over half of the nation (53%) will read on a daily basis for at least an hour and seven out of ten people still prefer the feeling of a real book over an e-reader.

The findings, conducted by vision correction specialist Ultralase, also revealed that the average UK bookworm will get through two and three quarter books each month. The most popular reasons for reading are escaping everyday stresses and broadening knowledge. However, for some people, books provide the perfect retreat for a different reason! Over a third of people have hidden behind a book to check on someone they admire, avoid a conversation or simply sit back and indulge in a spot of people watching.

This national joy of reading has prompted Ultralase to launch The Great Book Migration with the support of former Olympic athlete, and patient, Jonathan Edwards. The campaign will track 100 books, and their travels, across the UK. Varying from classic horrors such as Dracula to modern romances such as One Day, the titles will be found in a range of public places with 'Read Me' labels attached to their covers.

Those who find one of the marked books will then be invited to join the migration and log where they found it using QR codes, twitter handles, Facebook or email. Readers wanting to find out more about The Great Book Migration should visit http://on.fb.me/JX5CR4 for more details.

Tony Veverka, Chief Executive at Ultralase, said:
"We're incredibly excited to be launching our book migration and we can't wait to see how far and wide the titles travel. As we can see from the research, reading may be one of our oldest past times but it's certainly still a favourite - with so many people devoting their spare time to this hobby.

"It was, however, disturbing to see that so many people still let their sight compromise their joy of reading. In fact, 15% of people in the UK struggle with their sight whilst reading and one in ten (12%) also said they've felt intimidated or embarrassed by not being able to see when they're reading in front of others.

"One of the most common causes of poor vision when reading is Presbyopia. It will affect everyone one of us as some stage in our life and can set in as early as 40-50 years old in some cases. Unfortunately, it's not something you can avoid but there are treatments available, such as Supracor to combat the condition and we urge people to explore those options before sacrificing the enjoyment they deserve when reading."

One in ten people feel that reading glasses are a symbol of getting old and a further 10% would rather opt for treatments such as laser eye surgery than wear glasses.

The top 10 fictional characters include:
1. James Bond
2. Elizabeth Bennett (Pride & Prejudice)
3. Jane Eyre
4. Hermione Grainger (Harry Potter series)
5. Miss Marple (Agatha Christie)
6. Harry Potter
7. Gandalf
8. Bella (Twilight)
9. Poirot
10. Jack Ryan (Tom Clancy)

*Research conducted with YourSayPays with 2004 respondents
ENDS
For more information about Ultralase or to arrange an interview, please contact Lucre on 0113 243 1117 or email ultralase@lucre.co.uk

Notes to Editors:
Ultralase is the UK's first laser eye surgery specialist, celebrating 21 years of 20:20 vision. In the latest independently verified results, its highly qualified team of GB laser surgeons, all certified by the Royal College of Ophthalmologists, and state of the art technology, saw 99 per cent of patients achieve 20/20 vision and 100 per cent achieve driving standard vision*. Ultralase offers a genuine lifetime care guarantee across its entire treatment range.
* All Ultra Elite treatment results, (excluding mono vision and partial treatments) July 13th to November 3rd 2009, Binocular vision.

This press release was distributed by ResponseSource Press Release Wire on behalf of Lucre Marketing Ltd in the following categories: Entertainment & Arts, Health, Leisure & Hobbies, for more information visit https://pressreleasewire.responsesource.com/about.