The Horse Trust Remembers Hyde Park Horses Sefton and Echo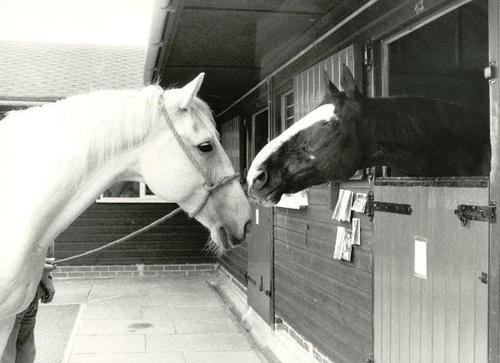 it was a joy to see such gentle animals enjoying the company of each other after such a horrific act of violence
This Friday 20th July 2012 The Horse Trust based in Speen, Buckinghamshire will be remembering the tragic victims of the Hyde Park bombing. It is 30 years since this horrific atrocity in Knightsbridge, a car bomb that killed four soldiers and seven horses from the Household Cavalry Mounted Regiment.

Cavalry horses Sefton and Yeti and Metropolitan police horse, Echo, were retired from their duties to The Horse Trust's Home of Rest for Horses to live out the remainder of their days in the peace and tranquillity of the Chiltern Hills.

Probably the most remembered of these horses was Sefton. Born in Ireland and purchased by the army in 1967 for the Household Cavalry, this 16hh black gelding with a white blaze and four white socks was known for his bold and wilful character. Quite head-strong at times, Sefton was at his happiest grazing in the fields amongst his horsey friends.

One of these friends was stunning 16.1 hh, grey gelding, Echo, the Metropolitan Police horse who carried the marks of the infamous attack with a piece of shrapnel embedded in his side. Echo had made a good recovery from his wounds but was unable to continue with his duties as the explosion had made him nervous of traffic and crowds and was retired to The Horse Trust in 1983. He was the most sweet natured and amiable of horses and contentedly lived at the sanctuary for 20 years until his death from recurring colic in December 2003 at the age of 33.

Sefton did not return to regimental duties for some time but was a horse very much in demand by the public. One of his first appearances was at the Horse of the Year Show in October 1982 where he was joined by Echo which immediately brought the audience to a standing and emotional ovation. Sefton's last ceremonial outing was at The Queen's Birthday Parade in June 1984 and he was then retired to The Horse Trust at the age of 21.

At the time of the bomb blast Sefton had suffered 38 penetrating wounds in his body and a piece of metal had severed a main artery in his neck. It was a miracle of expert and prompt veterinary attention which saved Sefton's life but he required further surgery and 3 weeks later was moved to the Veterinary Hospital of the Royal Army Veterinary Corps (RAVC) at the Defence Animal Centre (DAC) Melton Mowbray where more pieces of metal were removed.

After enjoying his retirement Sefton passed away in 1993 and it was only fitting that he should be buried at the DAC at Melton.

The last of the surviving horses at the charity was 16hh gelding Yeti and he was known as the little horse that everyone forgot. Yeti endeared himself to everyone and was the epitome of an old gentleman.

Shirley Abbott, Yard Manager at The Horse Trust recalls, "Yeti and Echo were inseparable and it was a joy to see such gentle animals enjoying the company of each other after such a horrific act of violence." She continued, "With the care and expertise of our staff they were able to grow old together and live a long and peaceful life."

Shirley added, "It was a privilege to be able to repay these horses, who had given a life of service, with the companionable peace of the Home of Rest for Horses."

Our thoughts and prayers are with the families of the soldiers that lost their lives and were injured and our special thoughts are with the horses that ended their days peacefully with us, on this 30th anniversary.

-ends-

Sefton & Echo photo can be downlaoded here:
http://tinyurl.com/the-horse-trust-sefton-echo

For more information and additional photographs, please contact:

Company Contact
Susan Lewis, The Horse Trust
Email: susan@horsetrust.org.uk
Tel: 01494 488464
or
PR Agency Contact
Mark Robson
Partner, Insight Group Marketing
Email: markr@insightgroup.co.uk
Tel: 07785 395 499

Notes for Editors:

1. Sefton commenced his regimental duties in September 1967 with the Royal Horse Guards, now known as the Blues and Royals, and after further training at Wellington Barracks, London and Combermere Barracks, Windsor he travelled in 1969 to Detmold BAOR Germany where he worked for 6 years returning to work at Hyde Park Barracks in 1975.

2. 1986, the charity's 100th year, saw the opening of the Sefton Equine Referral Hospital Surgery Wing and the Home of Rest for Horses Loose Boxes by HRH The Princes Royal at the Royal Veterinary College (RVC), London with the award of a welfare grant of just over £300,000.

3. A commemorative, life-size, bronze sculpture of Sefton by artist Camilla Le May is being cast and finished and it is planned to unveil this at the Royal Veterinary College (RVC) in Spring 2013. The Horse Trust assisted Miss Le May with images and information in her initial research for this project.

4. The Horse Trust, founded in 1886, is the oldest horse charity in the UK. Based at Speen, Buckinghamshire, it provides a place of retreat for working horses that have served their country or community and nurtures them throughout their final years. The charity also gives sanctuary to horses, ponies and donkeys that have suffered and need special treatment. The Horse Trust funds non-invasive research that advances knowledge of equine diseases, improving diagnosis and treatment and reducing suffering among equines worldwide. The charity also offers training for professionals and owners, with a focus on equine welfare and quality of life assessment.

5. The Horse Trust depends on the support of the public to look after retired working horses. It costs the charity an average of £12 per day to look after each horse at the sanctuary, which includes the costs of grooms, forage, farriery and veterinary care. To donate to The Horse Trust, please visit www.horsetrust.org.uk, or contact the charity on 01494 488 464 or info@horsetrust.org.uk

6. The charity is open to the public Thursday, Friday, Saturday, Sunday and Monday throughout the summer from 2 – 4pm. Entry is free but donations are welcomed in the donation boxes on the yard.
This press release was distributed by ResponseSource Press Release Wire on behalf of Insight Marketing Concepts in the following categories: Environment & Nature, Farming & Animals, Public Sector, Third Sector & Legal, for more information visit https://pressreleasewire.responsesource.com/about.