INTEREST IN MALTA PROPERTY SURGES - NEWS FROM WWW.MALTABUYPROPERTY.CO.UK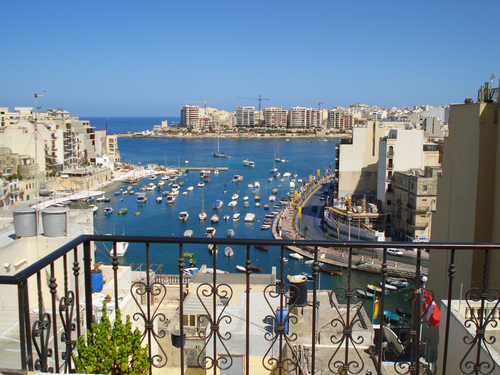 A UK based online agency specialising in property in Malta has reported a surge in enquiries. www.maltabuyproperty.co.uk has seen the number of clients enquiring about property in Malta increase by 12% in the year to-date compared with a year ago.

Earlier this year, Malta was chosen as one of the top ten destinations for UK and Irish property buyers looking to purchase abroad.
The list was drawn up by 'A Place In The Sun' Magazine' which is associated with the UK's well-known Channel 4 television programme of that name.

www.maltabuyproperty.co.uk will be present with their associates Frank Salt Real Estate of Malta at the UK and Ireland's longest established and largest property show – 'A Place In The Sun Live', at Birmingham's NEC from Friday 28th September to Sunday 30th September - and are anticipating a busy time with properties starting at around £80,000 and no council tax or equivalent!
They are also offering potential buyers a free checklist to compare Malta with other countries as they tour the show and also free information on setting up your own business in Malta.

Ray Woods of www.maltabuyproperty.co.uk said,
"It is no surprise to us that Malta was voted one of the top ten destinations for buyers of overseas property earlier this year.
This helped to fuel increased interest in both residential and commercial property purchases and rentals. This dramatic increase in the value of the £ against the Euro has also helped – leading to an effective reduction in prices for UK buyers of around 20% over the last year or so.

However, we have seen a continuing growth in interest in Malta not just from the UK, but from the rest of Europe, the US, Australia, Canada, Germany, Portugal , Scandinavia, Spain, South Africa, The Middle East and even Russia.
The relative buoyancy of the economy in Malta is one of the key factors in attracting clients both young and not so young. Malta is very business friendly and offers major tax advantages for entrepreneurs.

Clients say that they are tired of the doom and gloom in the UK and Ireland and many other parts of Europe. They want to relax and enjoy themselves whilst enjoying the fabulous weather and water sports such as diving and yachting.

Older clients are looking for retirement or a holiday home. The absence of Council Tax or any equivalent and savings on heating costs means that those living on a pension have more left over for themselves.

Younger couples are aiming to start a new life, often setting up their own businesses. This is an area in which we are giving greater focus and we will have free business information packs available at the show.

English is a joint first language in Malta and this has always been a big factor for many – particularly as English tends to be the international language of business. It helps buyers avoid the pitfalls of living in closed ex-pat communities - as well as making day to day business and domestic life so much easier.

Malta is also one of those rare places these days where the banks are still prepared to lend up to 75 or even 80% subject to income.
The low crime rate and high standards of healthcare and education also appeal to buyers of all ages.

This is not to forget the mild climate, warm seas and good travel access to a wide range of destinations.

It is politically stable and doesn't suffer from the extremes of weather and geophysical instability of many areas.

It is really simple and easy to buy property in Malta and the costs of doing so, tend to be amongst the lowest in Europe.
Those are some of the reasons that we expect to see many existing and new clients at Birmingham."

ENDS

Issued by: Ray Woods of www.maltabuyproperty.co.uk Mob: 0044 7967 686230
Hi res images are available on request.

Paid research visits are available for bona fide journalists with commissions to fulfil for major publications.
A Place In The Sun Live is open at Birmingham NEC from Friday 28th September to Sunday 30th September. Press packs will be available from www.maltabuyproperty.co.uk

www.maltabuyproperty.co.uk was started 8 years ago by husband and wife team, Ray and Elaine Woods and is based in Birmingham. They work exclusively with Frank Salt Real Estate of Malta, one of the island's largest agencies with offices in both Malta and Gozo. Together they offer residential and commercial property for sales and rent/lease.

This press release was distributed by ResponseSource Press Release Wire on behalf of Marathana Marketing and PR Ltd in the following categories: Men's Interest, Women's Interest & Beauty, Personal Finance, Business & Finance, Travel, Construction & Property, for more information visit https://pressreleasewire.responsesource.com/about.