NEW FREE APP PUTS MOTORISTS BACK IN THE DRIVING SEAT WHEN THEY EAT, DRINK AND RE-FUEL ON THE MOTORWAY.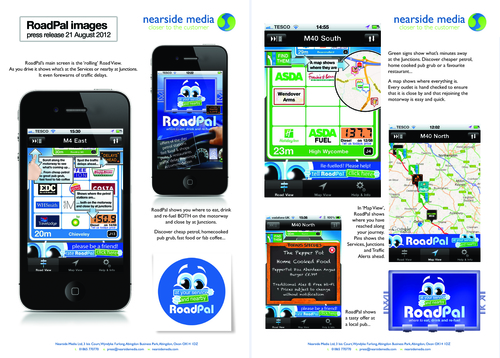 RoadPal app users could have saved £7.80 on diesel when they refilled a typical 60 litre petrol tank. Who says there is no such thing as a free lunch!
At last an app that helps users to choose where to buy petrol, food or drink at Motorway Services or local outlets just minutes away from Motorway Junctions. Each of the latter is handpicked to ensure that rejoining the motorway is simple and straightforward. From cheaper petrol or a pub 'Special of the Day', to finding a favourite fast food outlet, RoadPal helps you choose the best place to stop. It even warns of potential traffic delays ahead.

As you drive, the 'Road View' clearly shows what's on offer at the next Motorway Services or Junction.To see what outlets are further away and how far they are, simply swipe your finger down and the next Service or Junction will slide into view. Maps with pins guide you to local outlets – in addition to petrol stations you'll find pubs, supermarkets, restaurants and hotels. Offer alerts show promotions that will encourage motorists to stop and visit a particular outlet.

If you need to refuel there can be significant savings provided you know where to stop. On 13 August 2012 RoadPal discovered that visiting one local petrol station could give a 12p/litre saving on unleaded fuel and a 13p/litre saving on diesel when compared with another just a short distance away at a consecutive junction.* RoadPal app users could have saved £7.80 on diesel when they refilled a typical 60 litre petrol tank. Who says there is no such thing as a free lunch!.

As you drive, Traffic Alerts appear to warn you of potential delays ahead using real-time information from the Highways Authority. Clicking on an alert provides detailed information.

RoadPal is as easy as 'click and go'. It knows what Motorway you are on or near and the direction you are travelling. Switching from 'Road View' to 'Map View' will show where you have reached along your journey, with pins to identify the Services, Junctions and Traffic Alerts along your route. Use it to plan ahead, avoid traffic delay 'hot spots' and spot a good place for a break.

Key Features

* Helps you pick a better place to stop to eat, drink, sleep and refuel
* Rolling road view of what's at the next Motorway Services or Junction, and all the ones after with mileages
* Choose between outlets 'on' or just 'off' a Motorway to save money or find a favourite retailer
* Discover cheaper petrol stations, great pubs, restaurants, fast food outlets, hotels and supermarkets that are just minutes from the Motorway
* Each local outlet is hand checked to ensure it is easy to find and then re-join the motorway and includes a 'Find Them' map view with pins
* Spots potential traffic delays ahead of you, as you drive
* Relays offers to tempt you to stop - such as a pub 'Special of the Day'
* Includes a 'one click' map view to show where you've got to along your journey together with pins to show the Services, Junctions and Traffic Alerts ahead
* 'Click and Go' – RoadPal automatically knows where you are and what's coming up!
* RoadPal is intuitive, friendly and easy to use
* Available for the Apple iPhone, iPad and iPod and FREE to download!

Notes to editors

The RoadPal app has been created by Nearside Media Ltd., a software development company based in Abingdon in the UK. Nearside Media develop applications for iPhones, tablets and other digital media for business and consumers. Its mission statement is "to bring companies closer to customers and customers closer to a rewarding and enriched experience of their world."

Explaining the philosophy that drives Nearside Media and the RoadPal app, Technical Director and software development expert, Trevor Mayor, said:

"We create applications that are genuinely useful. Certainly they must have the 'wow' factor, but really it's all about being useful and that's what RoadPal is. Actually, another thing we are big on is making applications easy to use. Call it intuitive, call it simple – the bottom line is that we think hard about the way our applications work so our users do not have to."

Marketing and design is led by seasoned marketing practitioner and MBA booted business strategist Richard Wormell. Explaining his passion is to harness the power of the pixel to sell, Richard said:

"It's about cutting through the noise of competing advertising and an often bewildering and distracting choice of media. Great apps offer big opportunities for the companies that advertise on them. It's about delivering timely messages to customers who might otherwise pass your door and who will genuinely benefit from seeing what you have to offer. Roadpal does exactly that."

Further Notes

• The UK Motorway network in England, Scotland and Wales has an annual usage in excess of 61 billion miles (Department for Transport, 61.8 in 2009)
• There are 34 million vehicles in the UK (DfT, 2011)
• Therefore each vehicle travels approximately 1794 miles on the Motorway network annually
• These miles are driven in:90% England, 6.7% Scotland and 3.3% Wales (DfT, 2009)
• 75.5% Cars, 12.5% Light Goods Vehicles, 11% Heavy Goods Vehicles, 0.5% Coaches and 0.5% Motorcycles (DfT, 2009)
• Fuel prices can vary considerably between petrol stations at different parts of a motorway network, and between those 'on' a motorway and those just 'off' it

*On the M6, on 13 August 2012, RoadPal recorded prices varying between 143.9p and 131.9p per litre for unleaded fuel, and 149.9p and 136.9p for diesel. On this day RoadPal showed that visiting this local fuel station – featured on the app - could have provided a 12p a litre saving on unleaded petrol and a 13p saving on diesel when compared with another just a short distance away at a consecutive junction. That's a saving of £7.80 when you refill an average 60 litre tank with diesel.

RoadPal is designed to work when there is no internet connection, however certain features require a connection and for 'location services' to be enabled. For example, without location services enabled the mileage will be estimated from the junction you initially select.

RoadPal is FREE to download from the Apple's App Store on your iPhone. It is in the 'navigation' category.

# # #

For press enquiries, photography, or interviews please contact:

Richard Wormell on 01865 770770, m: 07523 868466,
e: rwormell@nearsidemedia.com
This press release was distributed by ResponseSource Press Release Wire on behalf of Nearside Media in the following categories: Men's Interest, Leisure & Hobbies, Consumer Technology, Motoring, Food & Drink, Personal Finance, Travel, Media & Marketing, Computing & Telecoms, Transport & Logistics, for more information visit https://pressreleasewire.responsesource.com/about.