Get ready for the autumn nights - great lighting feature - images available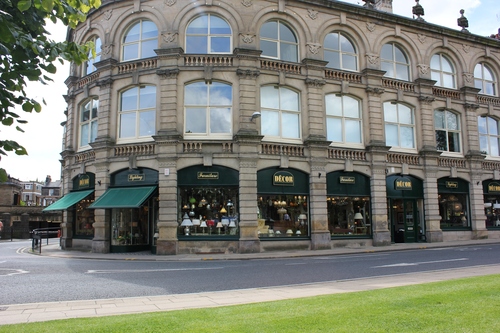 good lighting can bring something new to a room, just as bad lighting can make it feel unwelcoming or old fashioned, so it pays to get it right.
Décor is a lighting and traditional furniture store nestled in the heart of Harrogate.

For over 60 years, Décor has specialised in supplying customers with bespoke and quality lighting that has been designed to exude grandeur and opulence. Headed up by Nick Russell, Décor's magnificent products range from traditional and original antique pieces, to cutting edge contemporary designs. The Décor's products are available to buy online at www.decorharrogate.co.uk or from the Harrogate based store.

We thought you might be interested in this great lighting feature below for your publication - we also have a selection of images available that we can send you.

Shades of greatness

With darkness forced upon us earlier and earlier as winter draws in, the humble light bulb can utterly transform a home. Choose the right lighting and in one click you can immediately make your sitting room a cosy den against the cold, your kitchen a cooks' haven, or your home-office an energetic space to work.

But of course, it's the shading that really counts. While few of us (bar perhaps penniless students) are likely to opt for a single light bulb look – we often underrate what a good lampshade can bring to a room. Though subtle, light – and in turn shade – can have a massive impact on a space, and it remains one of the key 'secret' ingredients to good interior design.

For Nick Russell, lighting – and lampshades – has been a long-held passion. During his summers off school and college, he would help his father, a lighting importer, bead lampshades in his garden shed, and growing up with so much light in his life it was only natural he would one day own his own lighting shop.

In 2008, his family – already running a string of successful gift shops in the north – purchased Décor Lighting in Harrogate, one of the few remaining independent, traditional lighting shops in the UK, with a 65-year-old reputation for top-quality lights, lamps and shades – and bespoke, one-to-one service – that would have John Lewis weeping.

And, while the shop stocks lighting, mirrors, and even sofas too, it's the shades that keep customers coming back for more.
"We offer lampshades that you simply won't find anywhere else, ranging from £50 to up to £500," says Nick. "Plus, we're able to offer a bespoke service so customers can get them in pretty much any colour, shape and texture, with the beading and fringing they desire."
It's not surprising then that – as one of a dying breed of independent lighting shops – some of Décor's customers have been visiting them for more than 20 years.

Light source

Careful sourcing has been the key to quality, with Nick and his father continuing to visit trade shows in Milan and the UK to uncover the latest gems.

One of his Soho suppliers – a restorer of antique light fittings – has been running since 1776, working for the National Trust, 10 Downing Street and Clarence House, among others, as well as supplying the fittings used in the film Titanic. Another supplier, based in Wrexham, which specializes in the design and manufacture of soft shades has had its products used in TV shows Downton Abbey and Gosford Park.

"These companies have an amazing pedigree; but above all they're independent, family businesses like ours that really know their stuff," says Nick.

Service with a smile

"Really knowing their stuff" is certainly true of the Décor staff, who tot up more than 40 years' experience between them.
"There's not many traditional, independent shops left, let alone ones that sell lighting," says Nick. "Because we're 'boutique' we're able to offer a different level of service. Most of the staff have been here 10 years, some 20, and when someone comes in with a lamp stand needing a shade or a piece of wallpaper they want to match with a lampshade fabric, we can spend 40 minutes helping them do that," says Nick. "You just don't get that in bigger stores."

With a new website planned for Christmas, customers will now find it even easier to browse and buy Décor lighting, especially when they are contemplating decorating a new room. And, since the property bubble burst and fewer people are doing up entire houses, Nick finds that he's getting more customers in who just want to spruce up a room.

"Rather than spend a lot of money redecorating an entire house or a whole room, people tend to be looking to update more cheaply with some new lampshades or lighting," he says. "After all, good lighting can bring something new to a room, just as bad lighting can make it feel unwelcoming or old fashioned, so it pays to get it right."


BOX OUT/PANEL: Décor's Top Shade & Light Tips

1. Use downlights to create a glow in the evening – very useful in a dining room or hallway. Dimmer switches are also a great way to create ambience here.

2. Check what colour your shade will 'throw' around the room (a perfect colour 'off' might not be the perfect colour when it's switched on!) and make sure it ties in with your theme. The darker the shade the less light will emanate around the room, and it will act more like a spotlight.

3. Spotlights are a great way to pick out key features in a room such as prized objects and architectural detail, or for centering over a dining table and brightening a dark corner.

4. The height of a shade should be about ¾ of the height of the base and should be wider than the widest part of the base.

5. Think about lighting individual seats in your living room so people can read. Swing arm 'book lights' are good for this or tall lampstands. Try to get a shade that emulates the type of base you've chosen. A Grecian urn style will probably not suit a square shade – like-for-like options tend to work best so square bases tend to look better with a square shade, Victorian bases work with a Victorian-style shade.

6. Go for simplicity on top and jazzy patterns at the bottom – or vice versa – don't do both and let the shade and the lamp compete with each other.

7. Always request a swatch of the shade fabric so you can match it against your colour scheme before you buy.

For further information please contact:

Annie Stirk
Absolutely Food PR & Marketing
T: 01347 810531
M: 07771 655756
E: admin@absolutelyfood.co.uk

Or visit: www.decorharrogate.co.uk
This press release was distributed by ResponseSource Press Release Wire on behalf of Absolutely Food PR in the following categories: Home & Garden, Women's Interest & Beauty, for more information visit https://pressreleasewire.responsesource.com/about.