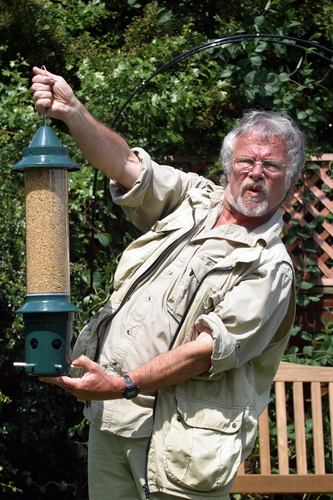 they were introduced into England early in the twentieth century, 'cos someone thought they were cute. Oops!
If you feed the birds, Grey Squirrels are probably the bane of your life. They will not only steal all the food, they will probably destroy expensive bird feeders, many of which may claim to be "squirrel resistant". Very few are!

TV Broadcaster and Britain's favourite bird food chef, Bill Oddie admits, it's hard – but not impossible - to beat the Grey Squirrel: "A friend of mine once designed and then built a home-made bird table. He was very proud of it, especially when it was almost immediately visited by birds. Unfortunately, it was soon also invaded by Grey Squirrels. He immediately resolved to invent a deterrent."

"He started by simply moving the table further from his hedgerow. No good. Squirrels can leap a very long way. Then he tried fixing a sort of circular baffle under the table. The squirrels fell off a few times, but soon clambered over it, and then chewed it to bits."

"Next, he fitted a length of piping over the pole, under the table, suspended on springs. He figured that the squirrels might be able to scramble over it, but at least he'd have the satisfaction of seeing the pipe spring back and whack them on their behinds! The last I heard, the squirrels had stretched the springs so far that they didn't spring any more. They had eaten all the bird food, and my friend decided to build a new Hi Fi cabinet instead!"

So, are any of these squirrel resistant feeders really squirrel resistant?

"Well, I've tried them all," says Bill Oddie "and so have my garden Greys! I'd say that most of them work, most of the time, but there's no denying the squirrels ingenuity or tenacity, and you almost have to admire them for it."

"One thing you do have to accept is that many of these contraptions look more like flying saucers, space rockets or pieces of modern sculpture than bird feeders. I can't say they exactly blend in with the concept of an old fashioned rustic garden! But if you do have a squirrel problem, Haith's the bird food specialist have a range of squirrel resistant feeders and you really have to try them. It's no coincidence, by the way, that many of the most successful squirrel resistant designs come from America, which is of course where Grey Squirrels actually belong (they were introduced into England early in the twentieth century, 'cos someone thought they were cute. Oops!)

Haith's - the bird food specialist - have a high-quality range of squirrel resistant bird feeders and SUPERCLEAN™ bird foods online at www.haiths.com and Bill Oddie's Bird Food Recipes can be found in the pet aisle at ASDA, Sainsbury's, Wilkinson and Waitrose - see www.billsbirdfood.co.uk for more information.

Editor's Notes:

For further information, interviews with Bill Oddie and photographs please contact: Simon King, Haith's Public Relations, Tel: 01472 357 515 Mobile: 0779 328 6412 Email: simon.king@haiths.com

Changing to feeding seed mixes (instead of peanuts) can reduce a Grey Squirrels interest in a bird feeder.

Niger seed (the Goldfinch magnet) fed from a Niger seed feeder has no appeal to squirrels.

Haith's stock Droll Yankee bird feeders which have a life time squirrel damage guarantee.

Links:

Haith's website: www.haiths.com

Bill Oddie's Bird Food Recipes' website: www.billsbirdfood.co.uk

August 31, 2012

This press release was distributed by ResponseSource Press Release Wire on behalf of Haith's in the following categories: Leisure & Hobbies, Home & Garden, Environment & Nature, for more information visit https://pressreleasewire.responsesource.com/about.