Aged 94, Dorothy proves you're never too old for an adventure!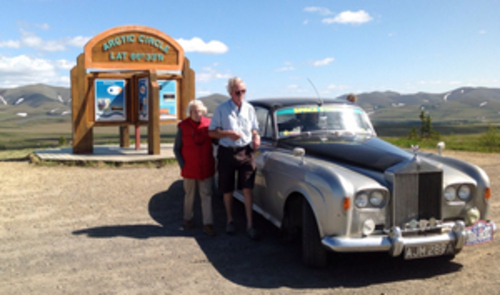 Dorothy Caldwell was only six years off her 100th birthday when she flew to America and entered the 2012 Trans-America Challenge as a navigator.
Dorothy Caldwell was only six years off her 100th birthday when she flew to America and entered the 2012 Trans-America Challenge as a navigator. She successfully navigated the month-long trip, from New York across America and Canada to Alaska and back - a feat that many women at her age would not even consider.

Dorothy explains, "It all started with my son, Alastair. As former manager of the McLaren racing team and with his vintage Rolls Royce Silver Shadow, he was keen to ride alongside other classic cars in the challenge. He needed a navigator - I was thrilled to be asked!"

Dorothy began her trip to the US with a visit to her sister, who was celebrating her 100th birthday. Mother and son then drove through the spectacular sites of North America, continually on the move and staying at a different hotel night after night as they continued their journey, encountering bison and bears on their path. At the end of the rally, Dorothy was awarded a special "Spirit of the Rally" award for her amazing achievement.

Run by the Endurance Rally Association, the Trans-America Rally is a road trip which is more than an extended jolly. Although intended as an enjoyable adventure for classic car enthusiasts, it requires energy, stamina, and your wits at all times. Dorothy rose to the challenge.

In reference to her age, she said, "It certainly wasn't against me. I'm not one to stay at home, I enjoy being as active as possible. There's always something new to see or do. How could I turn down such an opportunity?"

Opportunities like this don't come very often, especially as Alastair has moved on from the world of racing. Since he left the McLaren Team in 1976, he has set himself up as an entrepreneur, founder and managing director of Space Station self storage solutions.

Still, he continues to be a self-confessed classic car racing and historic rallying enthusiast, and although he works off the track, he wasn't going to miss driving with a fleet of classic cars in the Trans-America challenge, and rather extraordinarily, neither was Dorothy.

ENDS

For interviews, photography and more information, contact Nikki Proctor, Account Director Email: nikkip@insightgroup.co.uk.

Tel: +44 (0) 7921 189 048


Note to editors
The Trans-America Challenge
The Trans-America Challenge is an exciting classic car rally from sea to shining sea, through the spectacular sights of the 'land of the free and the home of the brave', organised by the hugely experienced ERA team with over 65 international events under their belt.
The journey from New York, on the east coast of the USA, to the furthest flung point of Alaska in the 50th State, will take the participants through some of the best and most spectacular scenery and roads that both the United States and Canada has to offer in the company of fellow enthusiasts.
Alastair Caldwell

Alastair Caldwell
Alastair was McLaren's Team Manager in their most successful years of '74 and '76, a time of great change and excitement. Alastair spent his childhood in New Zealand, evading the police after illegal street races and skipping school to play pool and work on cars. In 1967 Alastair returned to England and took a job as a cleaner at McLaren, ascending to Team Manager and the boss of racing legends such as Nelson Piquet and James Hunt. He has recently been consultant advisor to Ron Howard, director of the movie, Rush, about the great rivalry between James Hunt and Nikki Lauda on the racetrack. Stephen Mangan plays Alastair in the movie.

In 1983, Alastair started his company Space Station, the longest established self storage company in the UK, headuartered in Slough, Berkshire and with branches in Berkshire and across west London. In a quarter of an acre of land at the back of a friend's rubbish tip, Alastair put a number of shipping containers in rows for people to rent. Demand grew, he opened more sites with more containers, and continues to expand, running the successful company that Space Solution is today.



This press release was distributed by ResponseSource Press Release Wire on behalf of Insight Marketing Concepts in the following categories: Leisure & Hobbies, Women's Interest & Beauty, for more information visit https://pressreleasewire.responsesource.com/about.