BRITAIN'S OLDEST FARM SHOP SLAMS SUPERMARKETS FOR "OVERPRICED AND POORLY SOURCED" PRODUCE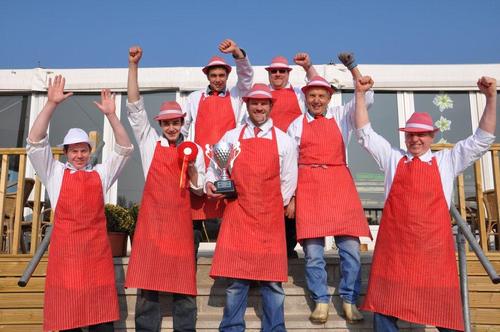 The supermarkets would have us believe they are cheaper than the farm shops and farmers' markets but, in many cases, this simply isn't true.
The boss of the UK's oldest farm shop has criticised supermarket giants for being too expensive and not providing consumers with enough good quality produce from their region.

Simon Hirst, partner in the family-run Hinchliffe's Farm Shop based in Netherton, West Yorkshire – which was established in 1974 – said consumers were "missing out" by being forced to buy from supermarkets.

"The supermarkets have had a stranglehold on our food chain for so long we've been given little choice but to trawl the multiples' aisles for food that is poor quality, poorly sourced and, particularly in the case of the meat products, over-priced," says Hirst, the fourth generation manager of the Yorkshire farm, which is famed for its top-quality beef, chicken and on-site butchers shop. "The supermarkets would have us believe they are cheaper than the farm shops and farmers' markets but, in many cases, this simply isn't true."

For two years in a row, Hinchliffe's meat cuts have proved to be cheaper than those from the nearest supermarket with its latest price comparison survey showing that 18 out of 20 products are the same or better value than the local Sainsbury's, with cooked ham, chicken breasts, pork chops and cooked beef more than half the price.

"Supermarkets may sell 'value' meat but really it has no value," says Hirst, the great-grandchild of Hinchliffe's founder Charlie Hinchliffe. "Our meat is hand reared on the farm, and we butcher on site too so we know exactly what has gone in to the meat from plot to plate. Because there's no middle man and zero food miles we can offer it at a cheaper price than the supermarkets but still ensure top quality."

Hinchliffe's butchers sell award-winning fresh beef from its own herd of South Devons, bred and fed on family-run farms – and the family are closely involved in every stage from feeding to handling. Hinchliffe's highly skilled butchers bone out and cure meat, and make award-winning sausages and homemade pies and pasties on site.

"Some 85% of the food and drink that is sold in the farm shop is sourced from trusted local producers," adds Hirst. "Giving our customers the confidence that what they buy will be top notch – and from their region – injecting money back into their local communities, and not into the pockets of the supermarket bosses.

"Like many local, family businesses, we're passionate about what we do, and can give that one-to-one personal service that supermarkets cannot. Multinationals and chains are stripping away the unique character of our high street – and our countryside – so let's make a stand before we all end up living in identikit towns and cities."

Hinchliffe's Farm Shop, Butchery and Restaurant, established in 1929, has been an integral part of the landscape of Huddersfield for generations, weathering eight prime ministers, four recessions, three royal jubilees and a great fire that completely destroyed its Netherton premises back in 2010. Hinchliffe's can say with all honesty that nothing stops its from serving its customers.

It's commitment to its customers saw it win a coveted 'Customer at the Heart' award this month, which is nominated solely by customers to celebrate and praise independent retailers who work hard to make sure their customers are happy, that they have great choice and that they leave the store feeling content.

Log on to www.hinchliffes.com

ENDS

Editor's Notes:

• Hinchliffe Farm is located in Netherton Moor Road, Netherton, Huddersfield, West Yorkshire, HD4 7LE, tel 01484 661 231, info@hinchliffes.com
• This year, Hinchliffe's Farm Shop received three 1 Gold Star Great Taste Awards for their Tomato Sausages, Black Pudding Sausages and Smoked Bacon.
• Hinchliffe's also received local recognition as one of the area's most successful small businesses, voted SME of the Year 2011 in the Huddersfield Examiner Business Awards.
• For more on Customer at the Heart, log on to www.customerattheheart.co.uk

For further information or to interview Simon please contact:

Annie Stirk
Absolutely Food PR & Marketing
Home Farm
Mill Lane
Stillington
York YO61 1JU
T: 01347 810531
M: 07771 655756
E: admin@absolutelyfood.co.uk



This press release was distributed by ResponseSource Press Release Wire on behalf of Absolutely Food PR in the following categories: Food & Drink, Business & Finance, Farming & Animals, for more information visit https://pressreleasewire.responsesource.com/about.