Going for Gold at Goldsmiths' Fair 2012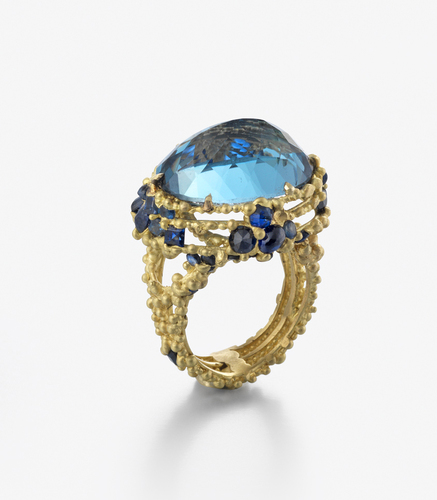 "Today contemporary design has permeated throughout the jewellery and silver industry raising the status of the designer.
GOING FOR GOLD!

GOLDSMITHS' FAIR 2012 CELEBRATES 30 YEARS OF FLYING THE FLAG!

JEWELLERY AND SILVER MADE IN BRITAIN
By leading and up-coming independent designer-makers

AN OPPORTUNITY TO MEET, AND BUY DIRECTLY FROM,
THE DESIGNER-MAKERS

Week One opens on Monday 24 to Sunday 30 September

(closed Monday 1 October)
Week Two: Tuesday 2 to Sunday 7 October
At Goldsmiths' Hall, London EC2

Admission by catalogue purchasable on the door
GBP7 for one week - GBP12 for two weeks

For the past three decades Goldsmiths' Fair 2012 has been flying the flag and supporting the skills and artistic talents of the country's most creative and dynamic contemporary jewellers and silversmiths.

Traditionally held in the magnificent Goldsmiths' Hall, 180 independent gold/silversmiths will be present to show-off their latest designs and creations providing a fantastic opportunity to see and to acquire high quality work directly from those who have created it.

30 years ago the Goldsmiths' Company noted that retailers had up till that point virtually ignored the existence of the incredible wealth of talent of designer silversmiths and jewellers. By establishing Goldsmiths' Fair, the Company sought to address this issue by raising awareness of the huge resource of artistic creativity and encouraging partnerships between designer craftsmen, manufacturers and retailers. In doing so, it hoped that "these partnerships could revitalise a flagging industry bringing prosperity to the partners and increased pleasure and satisfaction to their customers."

Birmingham based silversmith, Martyn Pugh who has been exhibiting at Goldsmiths' Fair since the beginning, feels that 30 years on there is now definitely a relationship between the retailer and the designer-maker. "Today contemporary design has permeated throughout the jewellery and silver industry raising the status of the designer. In turn the buying public has become more discerning and knowledgeable – demanding innovative, original designs and superlative craftsmanship. Who the designer-maker is, is now all important."

In 2012 Goldsmiths' Fair continues to champion the independent designer-maker. Five years ago the Fair expanded to two weeks doubling its capacity. It now features 90 makers in each week and attracts a national and international following. Exhibitors come from all around the country. An international element is introduced by the number of foreign participants, who all work and live in the UK thereby contributing an exciting dimension to the British contemporary design movement. The Fair also seeks out exciting, emerging young talent and offers a graduate bursary scheme to 10 recent graduates each year.

The Fair remains the ultimate show-case of what is up-to-the-minute in the world of contemporary jewellery and silver, demonstrating stylish, innovative design, combined with high quality workmanship.

Week One of Goldsmiths' Fair opens on Monday September 24 at 11am. Among the first time exhibitors is award-winning jeweller Leyla Abdollahi, renowned for her flamboyant palette of gemstones which she incorporates into unique and quirky designs, together with Polly Wales whose latest collections are made using her innovative, serendipitous approach to lost wax casting techniques. A doyenne of the British art jewellery movement, Charlotte de Syllas, known for her carved gemstone work, many pieces of which are to be found in distinguished collections around the world, is also exhibiting at the Fair for the first time.

Among the recent graduates is Stacey Bentley who explores the new possibilities that industrial liquid enamel can bring to contemporary jewellery, while Katie Roberts has developed a unique and innovative jewellery making technique, forming precious metal sheet by hand into dynamic three-dimensional pieces thereby creating soft undulating rhythms and patterns. Then there is Jack Row who at only 26 is making quite a name for himself as a designer and maker of exclusive, luxurious British writing instruments and accessories. Silversmiths Lee Simmons and Max Warren both produce striking silver that resonates with 21st century living. Through innovative use of hand engraving Max creates silver that explore the relationship between image and object, while function, aesthetics and ergonomic are the defining factors in each of Lee's creations.

No one visiting the Fair can fail to be impressed at the sheer breadth of variety, talent and superlative craftsmanship on display. Thirty years on Goldsmiths' Fair is still scaling new creative heights of excellence.

Notes to Editors:

FACTS:

• The 30th annual Goldsmiths' Fair (first Fair took place in 1983).
• A selling exhibition open to the public and trade.
• 90 exhibitors each week (jewellers and silversmiths).
• 115 jewellers and 63 silversmiths.
• All the exhibitors are vetted by the Goldsmiths' Company.
• 10 recent graduates have been granted a stand, a bullion loan and GBP1,500 cash by the Goldsmiths' Company. This years graduates include:
Stacey Bentley (jeweller), Barbara Macleod (jeweller), Katie Roberts (jeweller), Kerry Seaton (jeweller), Maud Traon (jeweller), Petra Kapralova (silversmith), Jack Row (silversmith), Lee Simmons (silversmith), Louise Walker (silversmith) and MaxWarren (silversmith).
• Prices at the Fair range from around GBP60 to GBP16,000.
• All the silver and precious metal jewellery is hallmarked by one of the four UK Assay Offices.
• Goldsmiths' Fair is financially subsidised by the Goldsmiths' Company, itself a charity, but takes no commission from the sales.

GOLDSMITHS' FAIR 2012 – 30th ANNIVERSARY
Week One: 24 September – 30 September
Closed October 1 for change over of exhibitors
Week Two: 2 October – 7 October

OPENING TIMES:

11am – 7pm Monday – Friday (last admission half an hour before closing)
10am – 6pm Saturday and Sunday (last admission half an hour before closing)

ENTRANCE:

Entrance by catalogue purchasable on the door (GBP7 for one week, GBP12 for two weeks)

VENUE:

Goldsmiths' Hall,
Foster Lane,
London EC2V 6BN
Tel: 020 7606 7010
www.thegoldsmiths.co.uk

FACIILITIES:
Licensed Café on site offering drinks and delicious food throughout the day

UNDERGROUND STATIONS:
St Paul's, Mansion House, Barbican, Bank, Blackfriars

BUSES:
8, 11, 25, 100, 242, 56, 521

For further information and images please contact:
Amanda Stücklin, the Goldsmiths' Company, Tel: 020 7367 5913
Email: Amanda.stucklin@thegoldsmiths.co.uk
www.thegoldsmiths.co.uk

This press release was distributed by ResponseSource Press Release Wire on behalf of The Goldsmiths Co. in the following categories: Entertainment & Arts, Home & Garden, Women's Interest & Beauty, for more information visit https://pressreleasewire.responsesource.com/about.