FeONIC's Whispering Window creates noise for Hush Puppies launch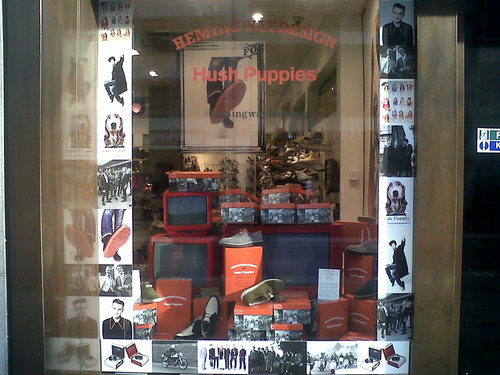 In today's retail environment, it is important to use a variety of methods to attract interest from shoppers.
To mark the launch of a new premium footwear collection by Hemingway Design for Hush Puppies, a multimedia window display has been launched at Schuh in Oxford Street, London, to showcase the new arrival to its AW12 collection. By incorporating a Whispering Window device from FeONIC Technology into the display, audio and music can be heard both inside and outside of the store, attracting additional interest from passers-by.

The new footwear collection, led by the designer Jack Hemingway, sees a new interpretation of Hush Puppies' with inspiration taken from British club culture and Hush Puppies' iconic heritage. To illustrate the design influences, the window display in Schuh incorporates retro television sets, which play a behind-the-scenes film of the AW12 footwear collection photo shoot. Audio from film can then be heard with walking distance of the window, creating extra impact.

Julie Bradley, Marketing Manager of Hush Puppies Europe - a division of Wolverine Worldwide Inc said: "We believe that the inclusion of audio branding for the launch of our new footwear collection by Hemingway Design will help us stand out from the crowd. In today's retail environment, it is important to use a variety of methods to attract interest from shoppers. Therefore, FeONIC's Whispering Window cleverly projects music out onto Oxford Street; not only does this add another element to the installation but it also draws the attention of passers-by and encourages them to take a greater look into the window."

Adds Brian Smith, Managing Director of FeONIC Technology: "We understand that the reaction to the Hush Puppies and Hemingway Design display has been really positive to date. In fact, if you have the opportunity to do so, I recommend you head to Oxford Street to see and hear the window display for yourselves. The installation will be in store until Monday 24th September."

For further details regarding the FeONIC range of invisible audio products, telephone +44 (0)1482 806688 or email info@feonic.com. More information on FeONIC Technology is available via www.feonic.com or via Twitter @FeONIC.

Ends

Notes to Editors:

About FeONIC Technology:

FeONIC originated from research undertaken at Hull University and was finally launched as FeONIC Technology in 2004. Its range of 'invisible audio' products have been designed to deliver a high quality audio output by attaching it to a resonant material, such as glass, wood, plasterboard or metal. This results in a high quality sound, which lend itself to a wide range of uses including supporting sales and marketing promotions and customer information announcements.

FeONIC continues to pioneer 'invisible audio' products, which lend themselves to a wide range of uses in both the commercial and consumer worlds. The products include the SoundBug2 for consumers, Presenter Pro for portable business use, the powerful F1 series, and the Whispering Windows range for retail and commercial environments.

FeONIC Technology Online:

http://www.feonic.com
http://www.facebook.com/FeONICTechnology
http://www.youtube.com/user/FeONICTechnology
http://blog.feonic.com/
http://www.twitter.com/FeOnic

Editor's Contact:

Peppa Sheridan
Peptalk Communications
01787 313822
peppa@peptalkpr.co.uk
This press release was distributed by ResponseSource Press Release Wire on behalf of Peptalk Communications in the following categories: Media & Marketing, Retail & Fashion, for more information visit https://pressreleasewire.responsesource.com/about.