I CAN unveils new Chatting with Children activity pack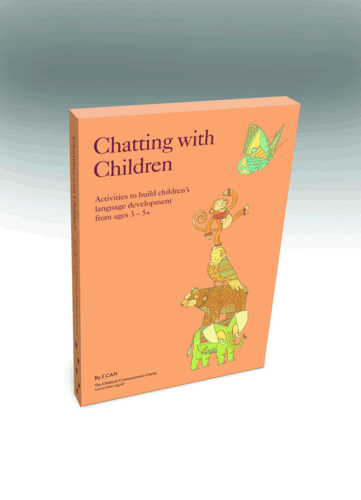 These activity packs will help parents to give their children the best start before they start school and throughout their lives
- Children's communication charity, I CAN launches beautiful Conran-designed pack to enhance speaking and understanding skills in 3-5-year-olds -

Following the success of 'Babbling Babies' and 'Toddler Talk', two activity packs launched last year to help parents enhance their children's speaking and listening skills, I CAN, the children's communication charity, is delighted to unveil a brand new pack – 'Chatting with Children'.

Picking up where Toddler Talk leaves off, Chatting with Children is a stunning pack of 30 fun and interactive activity cards aimed at helping parents and practitioners develop young children's communication skills. Containing a top tips activity guide, the pack is useful for parents, families or practitioners working with children aged 3-5 as it offers simple and effective ways of enhancing speaking, listening and understanding skills. Designed in association with Studio Conran and illustrator Owen Davey, each beautiful activity card has an activity to develop a different aspect of communication. Babbling Babies, Toddler Talk and Chatting with Children are each available in paperback for £7.99 or hardback for £12.99.

Communication underpins everything that we do. And while we may take our ability to communicate for granted, all children need help to learn how to talk, and interact with others. Parents are a child's first teacher and are central to helping to nurture and develop communication skills from birth onwards. Good speech, language and communication skills ensure a child can learn at school, make friends and express their thoughts and feelings. These activity packs will help parents to give their children the best start before they start school and throughout their lives.

Chatting with Children is also available as part of a brand new boxset being launched this month by I CAN – the 'Early Talkers Boxset' (£19.99). The boxset contains the original Babbling Babies and Toddler Talk as well as the new Chatting with Children, and has been created especially for parents and Early Years practitioners supporting babies, toddlers and young children in learning to talk. The three packs between them, contain activities for children from birth to school age.

Kate Freeman, I CAN Communication Advisor who compiled all three packs in the Early Talkers Activity Boxset, said, "Developing a child's speaking, listening and understanding skills from birth to five years plus will help them to make friends and learn throughout their formative pre-school years. These beautifully illustrated activity cards are designed for parents, families and practitioners to encourage children at all stages of development to improve their communication and language skills, a prime area in the revised Early Years Foundation Stage (EYFS). The activities will keep both adult and child entertained, as well as helping to further strengthen the parent and child bond."

All proceeds go towards I CAN's work with the 1.2 million children in the UK who have long-term speech, language and communication difficulties. To purchase Chatting with Children or the Early Talkers Boxset comprising all three activity packs, please visit www.ican.org.uk/bookshop.

-ends-

For more information, pictures, review product or interviews please contact Lesley Singleton at LS Media Ltd on 01234 752 663 / 07852 451 093 / Lesley@LSMedia.co.uk

Notes to Editors:

Babbling Babies, Toddler Talk and Chatting with Children are £12.99 plus p&p each in hardback and £7.99 plus p&p each in paperback. The complete Early Talkers Boxset is available in paperback for £19.99 plus p&p. To order and for other I CAN resources, please go to www.ican.org.uk/bookshop

For more information on StudioConran, please go to www.studioconran.com

For more information on Owen Davey, please go to www.owendavey.com

About I CAN:

• I CAN is the children's communication charity. www.ican.org.uk or www.talkingpoint.org.uk
• We are here to ensure that no child is left out or left behind because of a difficulty speaking or understanding.
• Nobody wants a child's potential to be wasted. It happens because communication difficulties are not visible, often mistaken for something else, or not noticed at all.
• I CAN's mission is to make sure that everyone in contact with children knows how important communication is, what a communication difficulty looks like and what they can do to help.
• We do this through:

- Increasing public awareness of the problems children face.
- Giving expert advice to parents and families about what to look out for and what to do. This includes our I CAN Help enquiry call-back service from a speech and language therapist (www.ican.org.uk/help)
- Providing assessments for children so that their families know what support will meet their needs.
- Giving teachers and people working with children the skills to help children who struggle.
- Campaigning to ensure children and families get a better deal.
- Producing resources, DVDs, posters and other information to help parents and practitioners support children with their communication development.
- At the very heart of I CAN are our special schools which give expert care and education to children with problems so severe their needs cannot be met elsewhere.
This press release was distributed by ResponseSource Press Release Wire on behalf of Playtime PR in the following categories: Children & Teenagers, Health, Women's Interest & Beauty, for more information visit https://pressreleasewire.responsesource.com/about.