Sculpted eers™, the world's first self-fitted custom earphones, distributed to retailers through Widget UK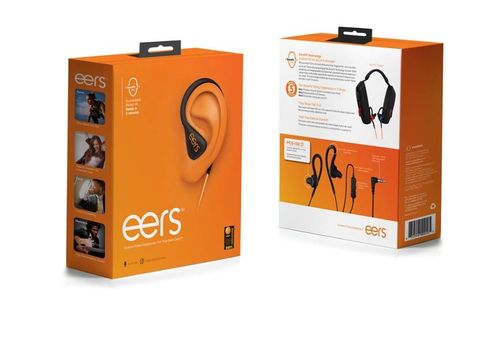 fitting earphones properly means that they can be worn all day long, or during sports, without falling out or hurting.
Specialist consumer electronics distributor Widget UK has been appointed the first distributor in Europe to ship eers™ custom earphones by Canadian manufacturer Sonomax Technologies Inc.

Custom fitting improves the performance earphones, reproducing music the way it was meant to be heard. It also means that music can be played at lower and safer volumes, safeguarding hearing.

Creating custom earphones used to require a trip to see an ear specialist. The Sonofit™ process moulds earpieces to the unique shape of customers' ears in about five minutes, at significantly reduced cost.

"Today's earbuds are uncomfortable, fall out, and potentially harmful for hearing," said Widget Managing Director, David Elder. "eers are as individual as fingerprints, and fitting earphones properly means that they can be worn all day long, or during sports, without falling out or hurting."

Widget does not sell directly to the public but supplies retailers, resellers and sub-distributors in Europe and the Middle East.

Product details

eers PCS-150 - SRP £199.99 inc VAT
Single Driver in custom bass-reflex enclosure
● Warm sound signature
● Extended Sub-Bass response

Ideal for today's music and films.

eers PCS-250 - SRP £299.99 inc VAT
Dual Drivers- balanced armature drivers with passive crossover
● Neutral sound signature
● High-Fidelity sound reproduction
● Very sensitive and highly detailed response
● Crisp high frequencies without sibilance

Ideal for serious musicians and for use with uncompressed sound sources.

Video resources on the eers products

How to setup eers Custom Fitting system
Sculpted eers commercial

About Widget UK Ltd

Widget UK Ltd distributes a tightly focussed range of satellite navigation, networking and video products, for manufacturers such as Cisco Systems and TomTom. Widget UK Ltd sells only to trade, and not directly to the public. Its customers include UK retailers and resellers such as Dixons Retail, Amazon.co.uk, Maplin, Comet, Dabs.com, Play.com, QVC, Ideal Shopping Direct, Computacenter and SCC. For more information visit http://www.widget.co.uk

Media contact for review units: mark.needham@widget.co.uk
Twitter feed: http://twitter.com/widget

About Sonomax Technologies Inc.

Sonomax® is a leader in the product development, research, and licensing of in-ear technologies. With more than 50 patents and trademarks worldwide, Sonomax's pioneering innovation SonoFit™ includes instant custom-fitting earpieces that deliver the most comfortable, protective and sound-enhancing experience in the world. SonoFit™ offers OEM, ODM and aftermarket clients a broader range of opportunities in customized earpieces for the consumer, industrial, military and health markets.




This press release was distributed by ResponseSource Press Release Wire on behalf of Widget UK in the following categories: Consumer Technology, Retail & Fashion, Computing & Telecoms, for more information visit https://pressreleasewire.responsesource.com/about.