Yepty.com rediscovers the value of content and suggests strategies for making it a rewarding asset.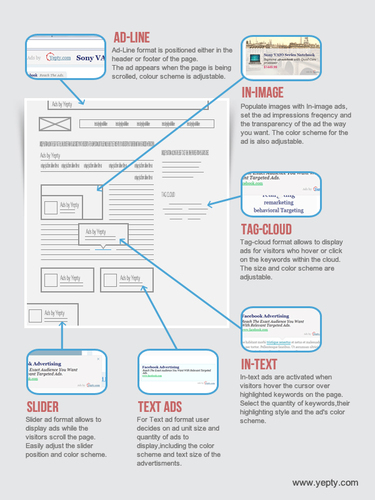 Emerging content monetization service Yepty.com targets webmasters and bloggers, by assisting to create new revenue streams.

Edinburgh, United Kingdom, September 28, 2012

Yepty.com comes into the industry with a newer approach, allowing webmasters to make most types of their site's content lucrative through relevant pay per click advertisement. The service has came up with a solution that answers the needs of internet entrepreneurs, adhering to 4 main principles identified as crucial: diversity of advertising formats, simplicity of user experience, ad relevance and respect for site's audience. Estimated amounts of monetizable content go up to 80% on average, without loss of loading speed or diverting the visitors.

"Production of unique content demands time and effort, meanwhile industry insiders are frequently experiencing a lack of tools to help their content pay off. Prior to start of Yepty's development (around 6 months ago) we have been doing a lot of research and analysis, attempting to find an Achilles heel that does not allow webmasters to get the most out of their content. Once we collected the data about the weak points of other companies in the niche and determined the strengths which Yepty was to posses, we got the vision of how the service should perform to be effective. Later on, we proceeded to development of the service in accordance with our vision. The next milestone we are planning to achieve is integration of Yepty.com with our larger project we're currently working on."

-Yepty.com founder Andrei Tsitovets.


Few words about how Yepty distinguishes itself from predecessors in the niche and fills in the gap:

Diverse collection of advertising formats is the key factor for webmasters seeking to monetize more of their content without hassle and unwanted distraction. Yepty proposes a collection of 7 ad formats, both content-integrated and static, ranging from In-text to In-image ads - all of them with customizable settings. Consequently, most types of content on a page may be involved in ad serving process.

It is worth mentioning that Yepty.com demonstrates care not only for webmaster's or blogger's income, but for their visitors' experience as well -all ad formats have been developed and designed in a manner that attracts visitors' attention, but doesn't divert them. This kind of approach proves itself right, as webmasters may keep loyalty of their returning visitors and serve yielding contextual ads with higher CTR.

One more fundamental innovation that may be of value to insiders of fast paced web-industry is the possibility to minimize the time one may need to get ads up and running to less than 5 minutes. So far, Yepty's team has already received praise from bloggers and site owners, emphasizing the service's usability.


About the company:

Yepty.com was developed and is managed by Inalto LLP, with an office in Edinburgh, UK. Inalto Technologies LLP operates in software and web services development market, related to internet advertising and marketing.


Contacts:

Inalto Technologies LLP
39 Duke Street,
Edinburgh, EH6 8HH
United Kingdom
This press release was distributed by ResponseSource Press Release Wire on behalf of Inalto Technologies LLP in the following categories: Children & Teenagers, Business & Finance, for more information visit https://pressreleasewire.responsesource.com/about.