Bake Your Own Festive Sweet Treats in Minutes!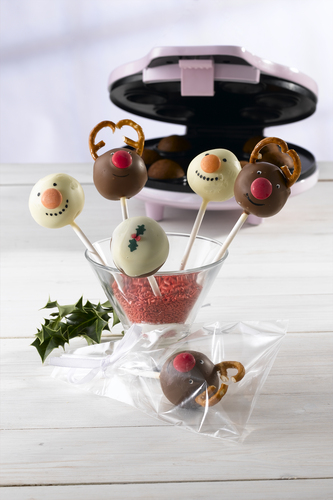 - Designed to give you and your family hours of fun baking at home – perfect for sharing!
- Sweet Treats Cake Pops Maker – bake 6 yummy cake pops for delicious festive treats!
- Sweet Treats Waffle Stick Maker – for the perfect fun Christmas breakfast!

For the latest twist on traditional festive bakes, why not create your very own Festive bite sized treats with the Cake Pops Maker and Waffle Stick Maker from the Sweet Treats home baking range. Bake an array of delicious cake pops in minutes - add sticks to the cake pops, then get creative with some festive icing and decorations. Try popping one into a gift bag for your guests as an extra treat and see how impressed they are! And if you're looking to create a fun festive breakfast, why not make a batch of stick sized waffles with the Waffle Stick Maker – this nifty machine will turn out six delicious waffle sticks in minutes, ready to dip or decorate with your favourite toppings!

Sweet Treats Cake Pops Maker

The Sweet Treats Cake Pops Maker is as easy to use as a sandwich maker – just plug in and the lights indicate when it is ready. For best results, simply prepare your cake mix using the handy recipes that come with the product and then pop into the non stick holders. Close the lid and your yummy Cake Pops are ready in minutes. Allow them to cool, then have fun decorating with your favourite tasty toppings – you might have to try more than one bite, to see just how delicious they are!

Sweet Treats Waffle Stick Maker

The mouth-watering smell of hot delicious waffles is hard to resist – now you can enjoy those same freshly made scrumptious waffles in an easy-to-handle stick shape, thanks to the new Sweet Treats Waffle Stick Maker. Perfect for sharing with family and friends for a fun breakfast or quick dessert, or even a tasty fondue, waffle sticks are quick and easy to make. Simply pre-heat the Waffle Stick Maker, wait for the green light, pour in the batter mix, close the lid and wait for approximately two minutes for six tasty waffles to bake. And the great thing about waffle sticks is that they can be frozen and reheated in the oven or toaster – perfect for those busy festive holidays!

Create your own Festive Cake Pops...

What you will need...
Cake pop sticks
Chocolate candy melts, melted
White Royal icing, stiff consistency
Red Chocolate covered sweets (e.g. Smarties)
Black edible icing pen

Pretzels

1. Dip the end of the cake pop stick in the melted chocolate candy melts, and insert in into a cake pop.
2. Dip the whole cake pop in the chocolate candy melts and tap off any excess, just before it starts to harden add a red sweetie to the centre of the cake pop to look like a nose, allow to completely dry.
3. Add a small amount of white royal icing onto the cake pops to look like eyes. Use the end of a cake pop stick to do this and flatten it down. Allow to dry.
4. Add black edible ink to the centre of the eyes to look like pupils and a smile for the mouth.
5. Break the pretzels into antler shapes and place them into the top of the cake pops one on either side. This is easier if you make a small hole first with a sharp knife, to ensure you don't damage the cake pop.
6. Enjoy!

Note to Editors: For further information, images or product loans, please contact Dianne Kenyon Communications – email: dk@diannekenyon.com or mobile 07891 225352

Sweet Treats Product Details
Waffle Stick Maker £22.99
Cake Pops Maker £19.99
Mini Cupcake Maker £21.99
Brownie Maker £24.99

This press release was distributed by ResponseSource Press Release Wire on behalf of Dianne Kenyon Communications in the following categories: Home & Garden, Women's Interest & Beauty, Food & Drink, for more information visit https://pressreleasewire.responsesource.com/about.