NEW BOOK: THE 'BLUEPRINT' FOR SELLING IN THE MODERN ERA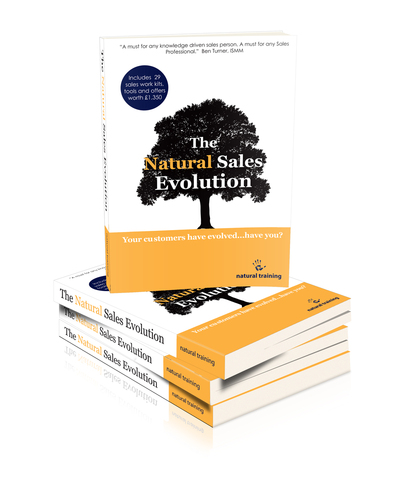 This powerful, practical book is loaded with strategies and techniques you can use immediately to increase your sales in any market
The Natural Training Co Limited
Level 1, Clergy House
Mark Street, Shoreditch, EC2A4ER

- - - - - FOR IMMEDIATE RELEASE - - - - -

NEW BOOK: THE 'BLUEPRINT' FOR SELLING IN THE MODERN ERA

Today, the award-winning sales training specialist The Natural Training Company Ltd is launching a revolutionary new sales book entitled The Natural Sales Evolution: Your Customers Have Evolved – Have You?

The comprehensive book (52,000 words, 14 chapters) looks at how buying and selling has evolved in the past five years. The book reveals fresh, modern-day sales strategies, techniques and approaches to help sales people and account managers at all levels consistently develop new business with today's buyers who are more educated and time sensitive than at any other time in history.

Drawing on experience of working with sales and management teams across organisations including Dell, Discovery Channel and British Airways, The Natural Sales Evolution offers its readers new sales insights in how to succeed in the modern era and has already been hailed by leading sales experts such as Brian Tracy as today's blueprint for how to sell:

"This powerful, practical book is loaded with strategies and techniques you can use immediately to increase your sales in any market." Brian Tracy – Author, The Psychology of Selling

The key message in the book is that the rules of selling have changed.

Customers have evolved in many ways – their buying cycle, research methods, communication styles and financial procurement processes. The UK economy also no longer supports "easy wins". Yet Natural Training's research of over 2500 sales professionals has shown that sales professionals are still selling the same way as they were five years ago.

Matt Drought, Founder of Natural Training, explains the motivation behind producing the book:
"The 80:20 rule has changed. It used to be that 20% of the sales people were hitting targets and earning a great living, and 80% were not. Now 10% of sales people are exceeding targets, while 90% are underperforming. The reason for this shift isn't about effort – most sales people are working harder than ever. It's just that the 90% are spending their selling energy in the same areas, probably out of lack of knowledge and fear of change. This leads to frustration as they are doing more work, for fewer results. The 10% however have embraced the modern selling era – they are selling more than ever because they have worked out how customers want to do business today. The Natural Sales Evolution is the perfect resource for sales people who still have that strong desire to succeed, yet need to modernise their approach. The book represents a significant step forward with simple ways to generate more pipeline and close more new business. The bottom line? Sell as you have always sold and you will miss out on revenue opportunities. Everything is changing around us and as sales professionals we need to keep changing, adapting and evolving. Evolve and prosper."

Uniquely written and designed, The Natural Sales Evolution offers its readers the opportunity to engage throughout in real-world exercises and examples of modern day selling techniques in action. For a limited time, owners of the book will get exclusive access to 29 FREE sales work kits, tools and offers worth £1,350. The offers are significant – for example a voucher for a free video appraisal of your sales pitch or presentation.

The book has been written with the help of 14 of Natural Training's expert trainers and coaches. Experts from across the sales training industry including Fiona Challis, Paul Owen, Fred Robson, Greg Keen, Sean Sydney, Neil Warren and Ben Turner, have all made contributions to the final version of this ground-breaking book. This is a book that has been written by the sales profession, for the sales profession.

***Ends***

Note to editors:

• Contact Fiona Challis, Training Director at Natural Training for further details +44 (0) 207 613 7830 or fiona.challis@naturaltraining.com
• Readers can download the first two chapters of The Natural Sales Evolution for free by clicking here Download free chapters
• E-Book RRP £7.97
• Paperback & Kindle RRP £9.57/ £6.47 Available for pre order on Amazon
• Review copies, signed copies for competition prizes, photography, interviews and editorial are available upon request

• Fiona Challis and Matt Drought are available for editorial commissions and interviews on how buying has changed and how selling has evolved

Five facts about Natural Training

• Natural Training is one of only a handful of sales training companies headquartered in London, with an office and training centre in a beautiful converted church a few minutes' walk from Liverpool Street Station.
• Established in 2005 by Matt Drought & Feena Coleman, Natural Training is an award winning training provider trusted by many big brand international companies such as Dell, IBM, British Airways and Discovery Channel.
• Natural Training's team of 30 people, including the world's highest-rated trainers, has delivered training, coaching and strategic thought leadership to over 3000 organisations encompassing 100,000 staff in 32 countries.
• In 2011 Natural Training won the Global Training Program of the Year Golden Peacock Award for an outstanding program written for Dell Computers, which was rolled out to 30,000 people, in 17 countries and 11 languages.
• Natural Training's blog is read by thousands of sales professionals every day, and the company newsletter goes out to tens of thousands of sales people and managers hungry for the latest human behavioural trends in selling.

More background about the book's contents:

In the foreword, Ben Turner from the Institute of the Sales and Marketing Management said "The sales professional is a different animal to that of the past 30 years. This book is a must read for any knowledge-driven salesperson; a must for any sales professional."

Chapters range from "How selling has evolved" to "Modern day negotiation skills and techniques", "Sales Presentations 2.0" and "How to use LinkedIn as a lead generation tool".

Some of the discoveries that readers will make in the book include:

• Exactly what has changed and what you, the sales professional, need to do to adapt and find the levels of success that you've been used to in the past
• High-impact strategies and techniques to attract and retain the right type of clients and close more deals at higher margins – all with less work and anguish!
• How to have a deeper understanding of modern day sales and what it takes to excel in this challenging profession
• The newest breed of salesperson – the 'sales maker'
• The modern day decision making process, how to be more aware of your buyers and, importantly, how to sell to them
• The multimedia strategies you need to utilise, rather than just the traditional phone.
• How to use the power of the internet to build a rich prospect database
• Uncover powerful strategies to generate leads using LinkedIn
• An objection handling process that will enable you to handle the world's toughest objections and power through barriers to unearth new opportunities and new levels of success.
• Understand the 8 natural negotiation principles to drive value and protect your revenue margins

The Natural Sales Evolution is fresh and innovative and it is already positively impacting the performance and results of modern day sales professionals globally. The book is currently in eBook form with 284 pages. A paperback and Kindle version are also due to be released on 31 October 2012.

This press release was distributed by ResponseSource Press Release Wire on behalf of Natural Training in the following categories: Business & Finance, Education & Human Resources, Media & Marketing, for more information visit https://pressreleasewire.responsesource.com/about.