Boston IT Solutions unleash their latest Venom 2304-7T workstation at Broadcast India 2012, powered by NVIDIA® Maximus™ Technology, that revolutionises design & performance for digital creative professionals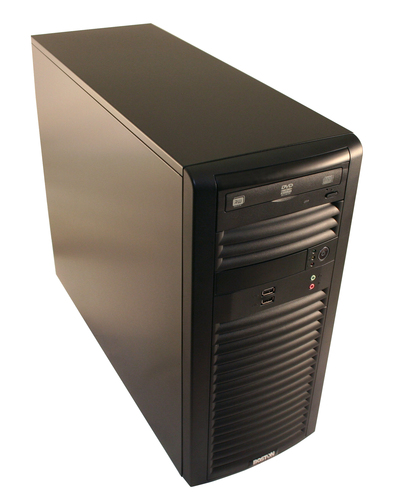 Mumbai, India (October 11, 2012).Boston IT Solutions (India) Private Limited, now in its 20th year as distribution partner for Super Micro Computer (NASDAQ: SMCI), is proud to announce an exciting new addition to their Venom range of high performance workstations at Broadcast India 2012; the NVIDIA® Maximus™-powered Venom 2300-series.For more information and a demonstration visit Boston on stand #A-103.

At this year's Broadcast India in Mumbai, Boston is unveiling their very latest NVIDIA Maximus-powered offering; the Boston Venom 2304-7T that offers a unique combination of Intel®'s powerful 8-core Xeon® E5-2600 series processors alongside a high performance NVIDIA Quadro® 5000 GPU and the NVIDIA Tesla® C2075 companion processor. For a live demonstration, highlighting the significant performance gains that are made available to creative professionals in harnessing the power of GPU-based technologies, please visit Boston at stand #A-103.

In partnership with NVIDIA and Supermicro®, Boston has engineered the Venom 2300-series to deliver incredible performance using NVIDIA Maximus technology. The Boston Venom 2300-series comprise of a unique combination of Quadro graphics cards and Tesla® GPU compute accelerators based on an Nvidia validated workstation that accelerates user's workflow for creative and design professionals – allowing them to focus on what is important: injecting their creativity into their projects with minimal delays!

The compact workstation combines the visualization capabilities of NVIDIA Quadro GPUs with the computational processing power of NVIDIA Tesla GPUs – all within a small yet practical Supermicro based midi-tower workstation solution. NVIDIA Maximus-enabled applications, such as Adobe Premiere Pro, Autodesk 3ds Max and Dassault Systèmes CATIA V6, make fantastic use of the sheer compute power made available by the NVIDIA Tesla companion processor, which in turn then frees up the Quadro GPU to power rich, interactive design.

Osborne Pimenta, Head of Sales – India, says, "Boston is honoured to be one of only a handful of major workstation manufacturers to partner with NVIDIA on their latest innovation. Our Venom range of GPU-accelerated workstations is optimised to provide digital content creation and VFX professionals with exceptional performance and local workstation based rendering time. With the introduction of our new Venom-2300 series powered by NVIDIA-Maximus technology we are proud to push the performance boundaries even further! Designers and engineers now have a range of workstations that are validated as able to handle interactive graphics and the compute-intensive processing associated with rendering; something that previously needed to be done in separate steps or on separate systems."

For a live demonstration, highlighting the significant performance gains that are made available to creative professionals in harnessing the power of GPU-based technologies, please visit Boston at stand #A-103.

About Boston

With nearly 20 years of trading within the distribution and OEM marketplace, Boston continues to lead the way in providing the latest high-performance, power-optimized technologies into the data centre, HPC, ISP, Military, VFX, Enterprise and Broadcast markets with multi-award winning server, storage, workstation and clustered solutions. Since the successful launch of Boston IT Solutions (India) Private Limited in 2009, we announced the launch of Boston Server & Storage Solutions GmbH in 2010. Expansion into both regions has been driven purely by market demand for alternate vendors providing high-performance and high value-add systems. As our global reach continues to expand we plan on opening further global facilities to improve and expand the services we offer. For more information about Boston, please visit www.bostonindia.in and follow @BostonIndia on Twitter.

About NVIDIA

NVIDIA (NASDAQ: NVDA) awakened the world to computer graphics when it invented the GPU in 1999. Today, its processors power a broad range of products from smartphones to supercomputers. NVIDIA's mobile processors are used in mobile phones, tablets and auto infotainment systems. PC gamers rely on GPUs to enjoy spectacularly immersive worlds. Professionals use them to create 3D graphics and visual effects in movies and to design everything from golf clubs to jumbo jets. And researchers utilize GPUs to advance the frontiers of science with high performance computing. The company has more than 5,000 patents issued, allowed or filed, including ones covering ideas essential to modern computing. For more information, see www.nvidia.co.uk.

About Supermicro

Super Micro Computer, Inc. or Supermicro® (NASDAQ: SMCI), a global leader in high-performance, high-efficiency server technology and innovation is a premier provider of end-to-end green computing solutions for Enterprise IT, Datacenter, Cloud Computing, HPC and Embedded Systems worldwide. Supermicro's advanced server Building Block Solutions® offers a vast array of modular, interoperable components for building energy-efficient, application-optimized, computing solutions.

To find out more and to download high resolution images, please visit:
• NVIDIA Maximus Technology
• The Boston Venom 2304-7T
• High resolution Boston logos

For more information and review samples please contact Anusuya John, Business Development Manager, anusuya.john@bostonindia.in.
This press release was distributed by ResponseSource Press Release Wire on behalf of Boston in the following categories: Consumer Technology, Media & Marketing, Computing & Telecoms, for more information visit https://pressreleasewire.responsesource.com/about.