Lyng Pharmacy and Quit Direct: Rates now top 80%!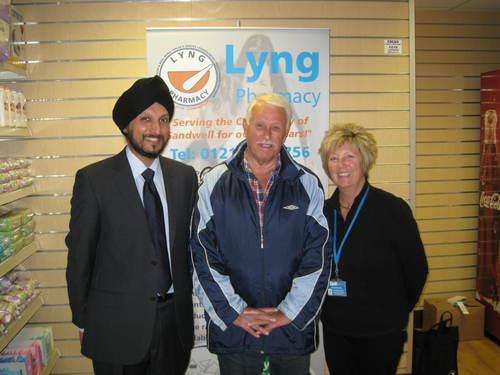 Sandwell has amongst the highest rates of social deprivation and health inequalities in the West Midlands. Numbers of smokers in Sandwell are some of the highest in the region. In the six months since Lyng Pharmacy teamed up with Quit Direct to provide a 'one-stop –shop' for patients and customers who want to stop smoking, it has averaged impressive quit rates of over 80%.

Since April 2012, Lyng Pharmacy in West Bromwich has been working closely with specialist smoking cessation organisation Quit Direct to further improve its healthcare offering. Quit Direct was awarded a structured contract to supply smoking cessation services for NHS West Midlands in September 2011.This enables it to provide its services for free to many organisations and at public clinics throughout the region. The move has already paid major health dividends for the community served by Lyng Pharmacy.

Pharmacist Jay Sahota said:
"Lyng Pharmacy is an independent pharmacy that truly belongs to the community. We provide a range of specifically catered healthcare services for our patients and have always delivered to an exceptional standard. I am pleased to say that our partnership with Quit Direct has proved to be an even greater success. Stephanie Haynes has worked integrally with our pharmacy team to achieve high quit rates. Patients receive a complete end-to-end service that works very well. We will be expanding the service to cater for the growth in demand of the smoking cessation service."


Lyng Pharmacy has served the community for over 10 years. The community has also actively supported Lyng Pharmacy - particularly following the controversial period in 2006 when it was announced that one of Europe's largest health centres was to be built on the Lyng estate.

Although compulsory purchase forced a move – and a major multinational competitor secured Lyng's preferred location (prompting a petition signed by 2000 residents) – Lyng Pharmacy went on to flourish. The site of an old engineering works at the back of the health centre eventually became the new Lyng Lane centre of operations in 2007.

In the words of Jay Sahota:
"We won't quit but we will help others to!"

Quit Direct's on-site Advisor Stephanie Haynes said:
"Giving up smoking is really the most important health resolution any smoker can make. I'm available at the Lyng Pharmacy every Friday from 10.30 am until 2pm – each client has twelve free sessions and I offer the particular level of personal support each smoker requires. The sessions help us build up a real rapport with the clients, which helps them to sustain the motivation to quit. We are delighted to have 22 clients on board at the moment with new people wanting to quit signing up most weeks. The pharmacists are incredibly proactive in referring clients – so when people come for their NRT products they are generally advised of the smoking cessation support we offer as well."

Quit Direct's programme includes behavioural counselling aligned with the recommended Nicotine Replacement Therapy product best suited to each individual. As well as free weekly group or 1:1 sessions, additional support is provided as required by telephone, SMS text and Skype on-line.

West Midlands pharmacies wanting to empower their customers to stop smoking, should first call Natalia Robinson at Quit Direct on 08000 33 75 06.

This press release was distributed by ResponseSource Press Release Wire on behalf of CN Creative in the following categories: Health, for more information visit https://pressreleasewire.responsesource.com/about.