MyGardenSchool launches Global Garden Photography Competition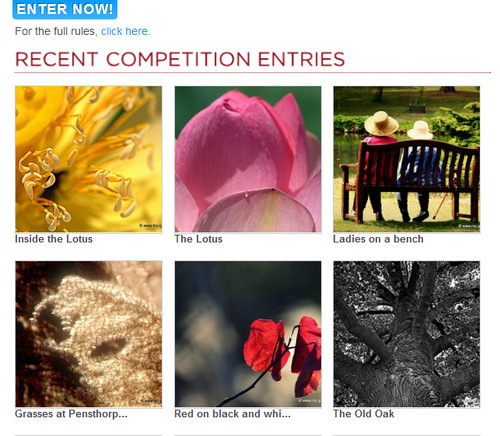 new competition will establish MyGardenSchool as the main destination on the web for enthusiastic garden photographers to share their work.
MyGardenSchool, the world's first virtual gardening school – where every course is taught by a world leading gardening expert – today launches its global garden photography competition. MyGardenSchool's garden photography competition features 5 categories: Landscape And Nature, Garden Photography, Flower Photography, Macro Photography and People In The Garden. The competition runs monthly and is open to garden photographers, amateurs or pro, all over the world.

The MyGardenSchool monthly garden photography competition is completely free to enter and is an exciting opportunity for members to showcase their work to a global audience. Winning entries will not only be exhibited on the MyGardenSchool homepage for a month – before being archived in the MyGardenSchool online gallery – but also will be actively promoted by MyGardenSchool via a monthly press release, which we will distribute to over 70 global news sites. The winning entry to each category will receive a 50% OFF (MGS) coupon code and be entered into the People's Choice Award for the best photo of the year and a chance to win a DSLR camera at the end of the year.

Awards will include the following; first place, second place, third place, fourth place and fifth place and five honourable mention awards selected from all of the entries. Depending on the amount and the quality of the entries there may also be Special Recognition awards posted as well. There is no limit to the number of images that a photographer can submit provided they only enter one photo per day.

For more information about the MyGardenSchool monthly photo competition, including rules, judging criteria, how to submit entries and the Five Golden Rules for entering the competition please go to The MyGardenSchool Competition Page

Becoming a member of MyGardenSchool is a very simple process. Registration takes less than two minutes and entitles members to a host of other benefits including a free newsletter.

MyGardenSchool members can enter one photo per category, per day. Every month there is first place, second place, third place, fourth place and fifth place awards given in each category. Five 'honourable mention' awards will also be chosen from all of the entries, and Special Recognition awards are also available.

MyGardenSchool is the world's first gardening school that offers a wide variety of gardening courses, for every level of expertise and experience, from the novice to the hobbyist to the aspiring professional. Students get 1-to-1 feedback with the best gardeners in the world, and build camaraderie with fellow students in the MyGardenSchool online classrooms.

Elspeth Briscoe, Managing Director, MyGardenSchool says 'The online gardening school aims to provide the best authors and designers in the gardening industry with a global stage on which to share their knowledge - and gardening enthusiasts, wherever they live, with a place to go to get first class teaching in their homes. We are the facilitators, fulfilling a hunger for high quality gardening expertise online in the global market. Our garden photography competition garden photography competition adds a new fun dimension to our site - and we believe MyGardenSchool's new competition will establish MyGardenSchool as the main destination on the web for enthusiastic garden photographers to share their work."

All MyGardenSchool courses cost from £120, last four weeks and begin on the first Saturday of every month. The beauty of the course being online is that students learn at their own pace, and in the comfort of their own home. Each course includes step by step video tutorials, downloadable course notes, and the facility to chat with tutors and fellow classmates online, in a 'virtual classroom'. The classroom may be 'virtual' but the camaraderie is real, and the technology is very intuitive and easy to use.

About MyGardenSchool

MyGardenSchool is the world's first online gardening school where students can learn from gardening experts about how to do absolutely everything in the garden from keeping bees or hens, landscaping, design, growing vegetables and herbs, building treehouses or growing the perfect roses. And everything in between. All of our tutors are outstanding in their field (and gardens), being accomplished gardeners and acclaimed gardening writers. Gardening courses are four weeks long, and video tutorials are delivered weekly, together with course notes and assignments assessed by your tutor. You also get to chat to your tutor online, as well as your classmates, in the 'virtual classroom'. MyGardenSchool will teach you everything about gardening – virtually. But don't take our word for it - check out our course pages here: http://www.my-garden-school.com/courses/

Contact For Further Information: Elspeth Briscoe Elspeth@my-photo-school.com 07884267306
This press release was distributed by ResponseSource Press Release Wire on behalf of MyGardenSchool in the following categories: Entertainment & Arts, Home & Garden, Environment & Nature, Education & Human Resources, for more information visit https://pressreleasewire.responsesource.com/about.