Pinsecure launches new PIN pad, PED and PDQ mount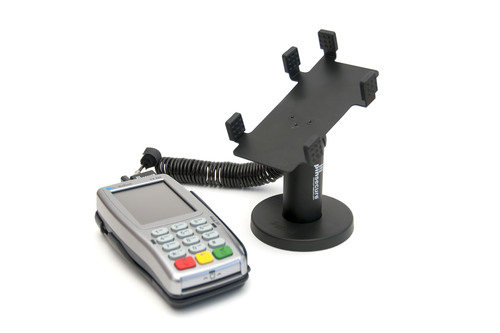 Designed with added security, durability and ease of use in mind, the pinsecure Mount takes pin pad security to a new level.
Building on our heritage of designing and manufacturing high quality harnesses and physical security solutions for PIN pads, PDQs and PEDs, we are pleased to launch the first pinsecure Mount.

Designed with added security, durability and ease of use in mind, the pinsecure Mount takes pin pad security to a new level.

With a rotation arc of 280 degrees, the pinsecure Mount can easily and quickly be turned from cashier to customer, facilitating a smooth payment process.

Incorporating a custom engineered mechanism within the mount to ensure a consistent rotation pressure, your staff and customers will benefit from it feeling like new, time after time, after time.

For added security and peace of mind, we have also incorporated an anchor point within the base of the mount. This allows you to tether your Verifone VX820 PIN pad directly to the mount – freeing up valuable sales surface space.

The powder coated durable steel ensures the pinsecure Mount is resilient to even the toughest of customers, and constantly delivers an excellent customer experience that will reflect well on your retail or hospitality environment.

The pinsecure Mount has been designed to firmly hold the Verifone VX820, with or without the pinsecure VX820 harness, whilst still allowing a user to pick up and hold the VX820 in their hands.

"Ease of use, security and above the counter installation are themes that many of our customers raise time and again," said Gordon Frewin, sales director, Autosafe International Ltd. "Our new mount helps them address these issues, and does so in a way that does not detract from a great customer experience."

Coupled with the optional harness and tether, our solutions can help you achieve your goals around DDA and PCI P2PE standards.

Available as a complete kit with the pinsecure VX820 harness and tether, or on its own; the pinsecure Mount is a cost effective solution, helping you to discretely protect your customers and your business against pin pad theft and security breaches, whilst positively impacting your customer service.

About pinsecure

pinsecure is a leading brand in PIN pad security. Our business philosophy is captured within three words; Dynamic, Simple, Secure.

pinsecure is a division of Autosafe International Limited, drawing upon the extensive design, manufacturing, solution development and sourcing expertise held within Autosafe. We are recognised globally for product innovation, simplicity in design and enhancing our customer relationships. Autosafe International Limited also designs and manufactures iPad display and security products under the name iPadsecure, and in-vehicle safes under the Autosafe name.

pinsecure at RBTE 2013
Join us at RBTE, 12th-13th March 2013 - the essential event for retail and hospitality organisations looking for the right tools and solutions.

For additional information please contact:
Autosafe International Limited
Surrey Technology Centre,
40 Occam Road,
The Surrey Research Park,
Guildford,
Surrey,
GU2 7YG

Telephone: +44 (0) 1483 688320
Press Contact: Tom O'Kill
Email: enquiries@pin-secure.com
Online: www.pin-secure.com
This press release was distributed by ResponseSource Press Release Wire on behalf of Autosafe International in the following categories: Business & Finance, Retail & Fashion, Computing & Telecoms, for more information visit https://pressreleasewire.responsesource.com/about.