How to become a 'Productivity Ninja' in the age of information overload – new book to transform UK workers' day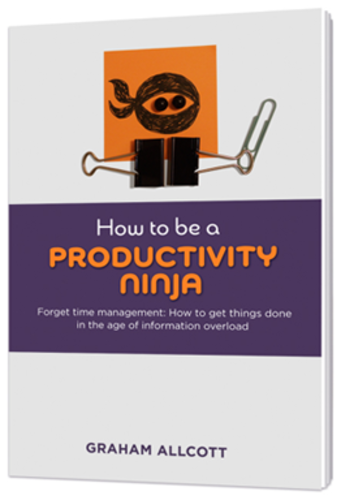 in the age of information overload, managing attention and information, not time, is the key to staying sane and being productive
'How to be a Productivity Ninja', the new book by productivity expert Graham Allcott, aims to challenge office perceptions of time management and provide an antidote to traditional ways of tackling information overload in today's 'always on' work culture.

Stale, outdated time management books fail to acknowledge that technology has become ever-present in people's daily working lives, so Allcott helps readers develop 'Ninja-level productivity' by managing their attention, rather than time, when faced with constant distractions from an array of devices including tablets and smartphones.

"Forget everything you've read - in the age of information overload, managing attention and information, not time, is the key to staying sane and being productive," says Allcott, founder of training company Think Productive.

"Ten years ago, dealing with new tasks was simple enough," he continues. "They came in the form of paper letters, delivered to your office first thing in the morning. Dealing with the new was a self-contained, limited activity that would take no more than an hour a day. Somewhere along the line, the game changed. We now live in an age of constant connection. The current potential to be bombarded with new information at any time would have been staggering to comprehend back then."

The book offers practical tips for professionals who want to regain control over their working lives and experience the thrill of getting things done. Allcott provides systems for keeping email inboxes at zero, creating to-do lists that really work and getting the most out of meetings, as well as taking a holistic approach to increasing productivity which includes monitoring physical, emotional and mental wellbeing.

One of Allcott's key principles is that attention is limited, and most people only have a few hours a day when their attention is at its peak. Studies show that interruptions can take up over two hours of every working day, so learning how to avoid them is a primary focus of the book.

'How to be a Productivity Ninja' gives readers tools to navigate the potential risks of working in a culture overrun with technology, including warnings about 'productivity porn', as well as advice on 'going dark' to shut out distractions.

"This book tackles both the head and heart of productivity," says Allcott. "It covers how to develop intuitive, logical and systematized approaches to your work, but also how to overcome stress and procrastination. It's time for UK workers to think like a Ninja - be calm, ruthless, choose your tools wisely and don't be afraid to break the rules. Be unorthodox if you can achieve the same result in a shorter time."

Founded in 2009, Think Productive provides in-house productivity training and workshops throughout the UK and Europe, and has worked with British Airways, The Cabinet Office, Blackberry, eBay, University College London and Barclays Commercial Bank.

Graham is a founding ambassador of the charity READ International and 100% of the sale proceeds from the e-book will be going to the charity. For every digital copy sold, at least five real text books will be sent to schools in rural Tanzania.



About Think Productive
Think Productive (www.thinkproductive.co.uk) provides fun workshops with practical at-desk coaching to help employees increase productivity, beat stress, feel more in control of their work and develop playful, productive momentum. Think Productive has worked with companies, government organisations and charities in the UK and Europe including British Airways, The Cabinet Office, Blackberry, eBay, University College London and Barclays Commercial Bank. Think Productive has offices in Brighton, but has an army of Productivity Ninjas situated in all major cities in the UK.

'How to be a Productivity Ninja' book website:
www.productivityninja.co.uk

'How to be a Productivity Ninja' on Amazon:
www.amazon.co.uk/Productivity-Ninja-Forget-Time-Management/d...

EBook download:
readinternational.org.uk/buy-a-book-change-a-life

To request a review copy of 'How to be a Productivity Ninja', please contact Sophie Banda on 01273 760997 or email sophie.banda@no-flannel.com.


This press release was distributed by ResponseSource Press Release Wire on behalf of Flannel Communications in the following categories: Men's Interest, Health, Women's Interest & Beauty, Consumer Technology, Business & Finance, Education & Human Resources, Computing & Telecoms, for more information visit https://pressreleasewire.responsesource.com/about.